Home > Children's Programmes > Whirligig

One of the first exponents of variety on children's television was Whirligig, a fortnightly Saturday afternoon treat, which began in November 1950, devised by Michael Westmore and which was the very first children's programme to be broadcast live from the BBC studios in Lime Grove. Merely to mention Whirligig is to invite sighs of nostalgia. Whirligig alternated with other Saturday afternoon children's programmes. The first was called Telescope and was later replaced by Saturday Special, presented by Peter Butterworth.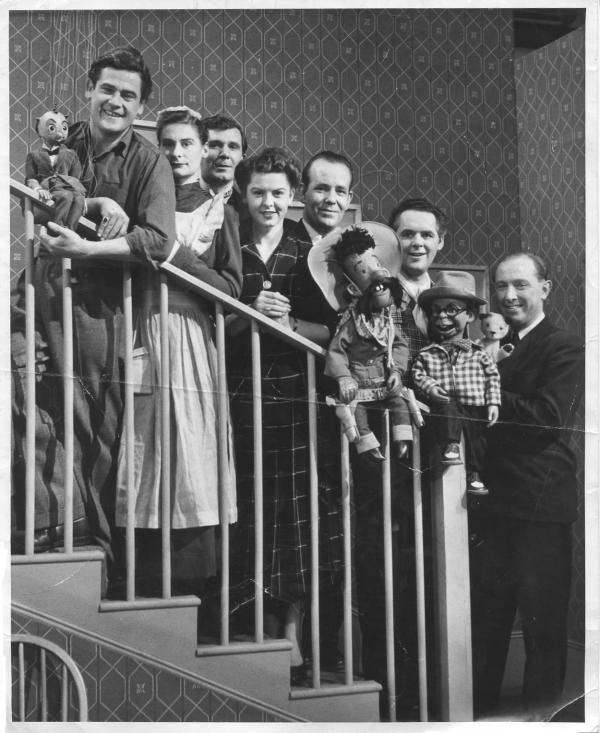 (l. to r.) Mr. Turnip, Humphrey Lestocq (HL), Sheilah Ward, Peter Hawkins, Patricia Driscoll,
Steve Race, Hank, Francis Coudrill, Cassy, Sooty and Harry Corbett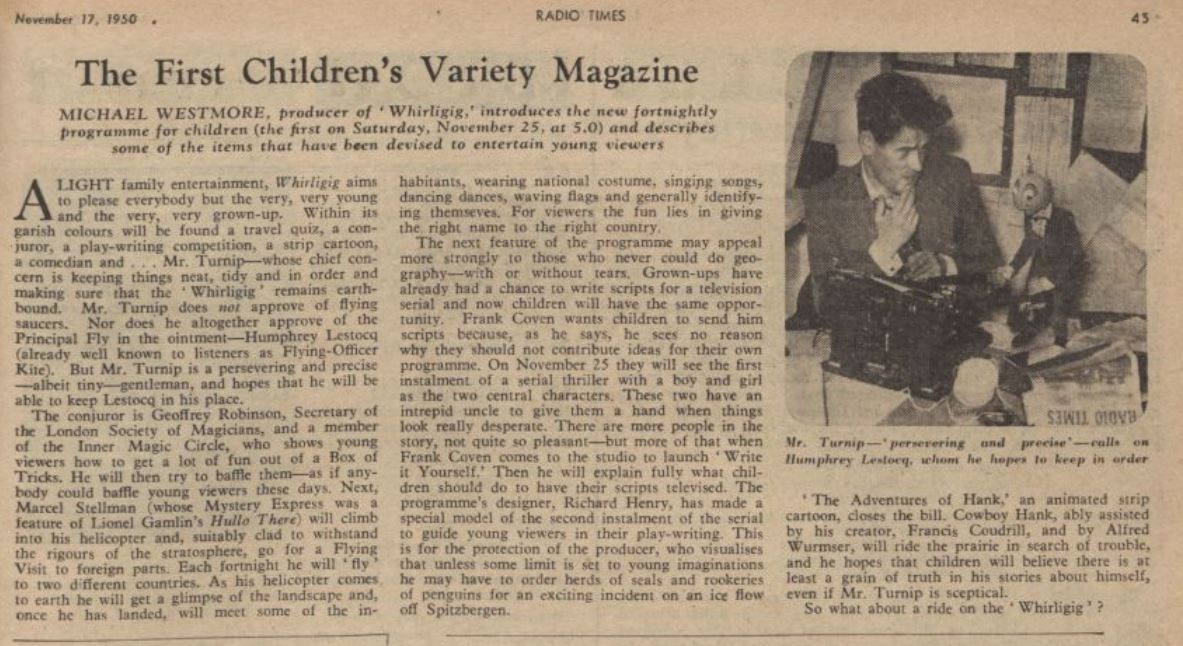 ---
The programme included the following:
Hank Rides Again
HOWDY FOLKS!! Would you like your old pal Hank to tell you a story? You would? Well it was likey this.....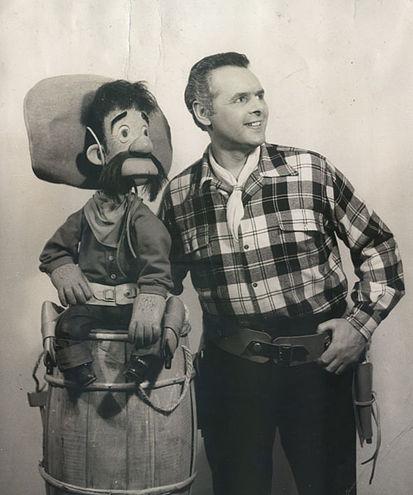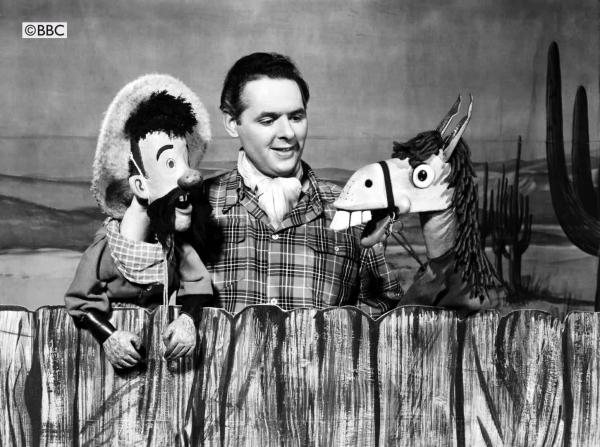 So began Hank the Cowboy tales with his goofy horse (his 'old timer'), Silver King and Big Chief Dirty Face ("Me Big Chief Dirty Face, Me always in disgrace") along with Mexican Pete the Bandit who sang to the tune of The Mexican Hat Dance:
"I'm Mexican Pete, zee bad bandit
Zee bad bandit I always 'ave bin
I tie Senor Hank to zee railroad
An' zat is zee end of 'im !"
"I'm Mexican Pete ze bad bandit
I've captured the little Cassy
Senor Hank he must pay ze fat ransom
Before little Cassy I free"
"I'm Mexican Pete ze bad bandit
Zees onions they makea me cry
Please letta me out of zis kitchen
Poor Mexican Pete he will die!"
Other characters were Hank's nephew, Cassy, Freddie Parrot and Little He-He (son of Big Chief Laughing Gas and Minnie Ha-Ha)
These characters were all the creation of Francis Coudrill (assisted by Alfred Wurmser). He used a simple technique of animated drawing by manipulating limbs, head and facial features on an otherwise static background. The method did not require time-consuming stop-frame animation. Coudrill had been a ventriloquist from the age of seven, and became a skilled painter as well as a science master at a Birmingham school. His work on the music hall stage led to trial TV programmes in the early '50s. The 'Hank' spots usually began and finished with his Hank dummy but the adventures, filmed by Coudrill at his Beaconsfield home, were animated. Many of the scenes involved quite complicated mechanics with cams and cogwheels moving the eight-inch-high figures. Coudrill produced the shows from start to finish, including the music and all the voices.
Yessir, well, Hank usually greeted the audience with "Howdy Folks!" and sang a song which went:

"Oh, they're tough, mighty tough in the West,
And your trigger must be quicker than the rest
When there's rootin' and a-tootin'
I'm the guy that does the shootin'
'Coz they're tough, mighty tough in the West"

The chorus was:

"Singing ai ai yippee yippee ai,
Singing ai ai yippee yippee ai,
Singing ai ai yippee, ai ai yippee,
Ai ai yippee yippee ai"
| | | |
| --- | --- | --- |
| 1950s Hank Jigsaw Puzzle | | 1950s Hank Bagatelle game |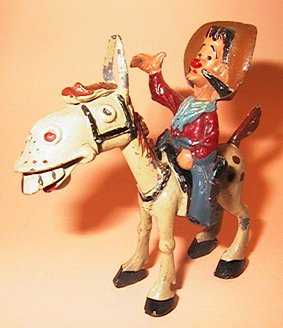 Metal model made by Sacul in the '50s
ADIOS AMIGOS! YIPPEEEE!!
Francis Coudrill moved down to St. Ives in Cornwall around the late sixties /early seventies and ran The Mermaid studio in Fish Street for some years (it is now the Mermaid Restaurant). He then moved to Cadgwith on the Lizard peninsula and opened Studio Golva where he died around 1991 and all his artwork, puppets and other paraphernalia were auctioned off by his family who still run the studio.
We have been contacted by Phil Jenkins who is offering life-sized charicatures of faces painted on plywood by Francis Coudrill (see below). Anyone interested should contact Mr. Turnip via email and your information will be passed on to Phil.
---
Mr. Turnip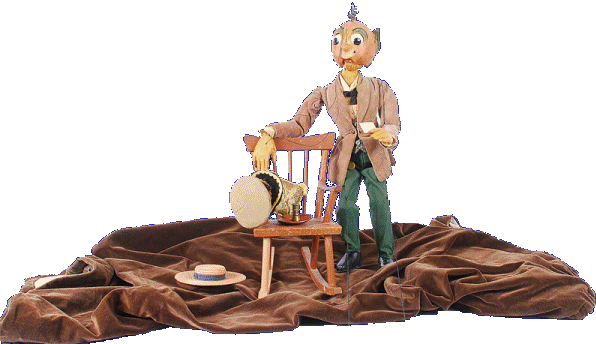 Then there was the obnoxious string puppet Mr. Turnip (the invention of Joy Laurey) and his hapless stooge Humphrey Lestocq, known to all as HL. Mr Turnip was often joined by his friends Sarah Swede and Colonel Beetroot. The voice of Mr. Turnip was created by Peter Hawkins who also went on to provide the voices for 'Bill and Ben the Flowerpot Men' and many other TV characters.
More here about the puppet and it's creator Joy Laurey
HL's catchphrases were "Goody, Goody Gumdrops" and "Jolly Dee" and Mr.Turnip's was "Lawky, Lawky, Lum".
Mr. Turnip Merchandise
Merchandise consisted of Mr Turnip Annuals, Painting by numbers sets, Picture play bricks, Soap, Felt bendy toys, a metal puppet, jointed cardboard cutouts on the back of cereal packets, a rubber doll, and Pelham puppets along with a few board games.
1950's Mr. Turnip Puppets (with Sarah Swede on the right)
1950's Books by Ariel Productions Ltd. featuring the Whirligig Children's TV programme

Glevum Games - Mr. Turnip's Aerial Rings Game


Zenobia - Mr Turnip Boxed Soap


Tower Press - Mr Turnip Boxed Jigsaw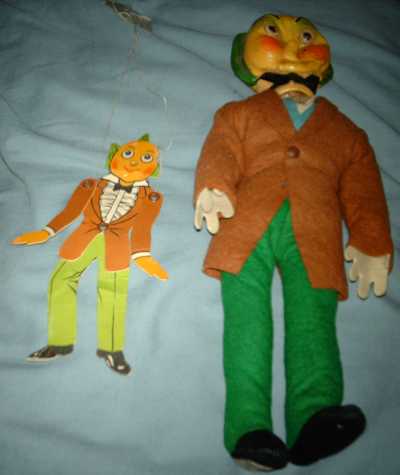 Cardboard cutout puppet from a cornflakes packet and a felt doll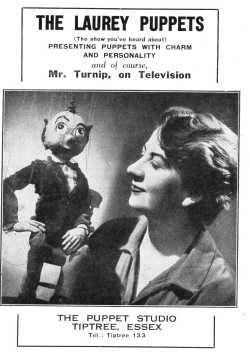 Advertisement for Joy Laurey's Puppet Studio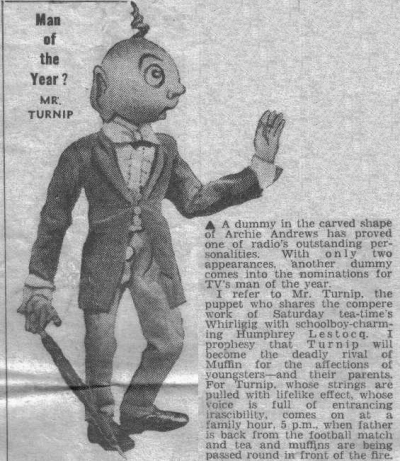 Extract from a 1950 'Evening Standard' article by George Campey
---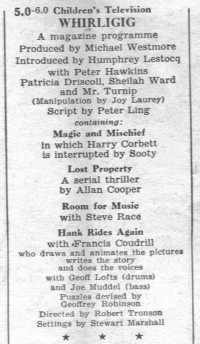 The first sci-fi series on British TV was a product of the Whirligig programme. Called 'Strangers From Space', the story was about Ian Spencer and his Martian friend Bilaphodorus who had crashed his spacecraft on earth. It was popular enough to gain a second series and in total 17 episodes were made. The cast included Valentine Dyall, radio's 'Man in Black', and later 'The Black Guardian' in 'Doctor Who'. The young audience were invited to send in their ideas for the next episode in an item within the programme called 'Write It Yourself'. Frank Coven introduced the lucky contestant whose story had been chosen to continue that week's serial.
Other Whirligig regulars were Steve Race at the piano and Edmundo Ros while Rolf Harris made his TV debut with Willoughby, a drawing board which sprang to life.
| | | |
| --- | --- | --- |
| Rolf Harris with his Willoughby character | | Tin plate dexterity toy by Mettoy UK |
Magician Geoffrey Robinson, with his "Box of Tricks" and his fawn coloured loveable docile rabbit called Whirly, used as his introductory theme tune, Dukas' "The Sorcerers Apprentice".
Whirligig arranged children's competitions and other forms of viewer participation. In a musical composition project, young viewers were invited to submit their own compositions, each programme focusing on a specific musical instrument. Here is an example entry.
| | | |
| --- | --- | --- |
| Steve Race at his old "Joanna" | | Geoffrey Robinson with Whirly |
Also appearing were Peter Butterworth (later of 'Carry On' fame) and Peter Hawkins (man of many voices including the Flowerpot Men and ,later, the voice of Captain Pugwash). Peter Hawkins appeared in a spot called "Can we Help You ?" with James Ottaway as 'Clibber', Tony Dawson as 'Smeeth'and Raymond Rollett as 'Sly'.
| | | | | |
| --- | --- | --- | --- | --- |
| H.L with Peter Butterworth | | Peter Hawkins | | Raymond Rollett |
The words to the Whirligig song went:
Whirligig, Whirligig: Round and round we go
Whirligig Whirligig: Time to say "Hello!"
Turnip, Hank and HL want us all to know
It's welcome to Whirligig - and on with the show!
Whirligig, Whirligig: Come and join the fun
Whirligig Whirligig: Room for everyone
Steve's at the Joanna, Hank's behind the gun
When Geoffrey gets his box of tricks - The Show has begun!
Whirligig, Whirligig: Boys and girls agree
Whirligig Whirligig: That's the show to see
Turnip, Hank and HL join us after tea
Oh one hour of Whirligig is the hour for me.
Whirligig was written by Peter Ling who went on to write countless television serials for children on both BBC and ITV and also later co-wrote 'Crossroads' with Hazel Adair. Producer was Desmond O'Donovan.
Here is the record from The BBC Archive for Whirligig as broadcast on 7th January 1956
17.06.00
WHIRLIGIG - 7.
Taking Part:








Conjuror:


Clibber:
Smeeth:
P.C. Podger:
Artist:

15' linking script
15' "can we help you" Script:

FILM SEQUENCE USED
BBC Stock Film Footage: 90' Silent
MUSIC PLAYED 'LIVE'
HENRY ZEISEL & ORCHESTRA













DISCS USED 'LIVE'










MUSIC PLAYED 'LIVE'
ZEISEL ORCHESTRA


PRODUCED BY DESMOND O'DONOVAN

Humphrey Lestocq
Joy Laurey manipulating Mr. Turnip
and supplying 2nd Manipulator
Peter Hawkins, Voice of Turnip,
Willoughby and Albert
Raymond Rollett Voice of Colonel
Beetroot and playing Sly

Geoffrey Robinson
Henry Zeisel and Orchestra of 8.

James Ottaway
Tony Dawson
Kenneth Thornett
Rolf Harris

Sheilah Ward
Desmond O'Donovan





Foto in Santa Lucia / Ferraris
(2'00")
Poppa Piccolino / Maschtroni
(1'05")
Cor'n Grato (Cataree) / Cardillo
(2'00")
Chiri Biri Bin / Postalotza
(1'05")
Chio, chio / Turner & Parsons
(1'30")
Funiculi, Funicula / Denza
(1'05")


Whirligig Song (S. Race)
BBC DLO 36610
Tom McCall (MS)
(1'00")

Sorcerer's Apprentice (Dukas)
Columbia LX 1068
Philadelphia Orchestra
(0'20")



Can We Help You
O'Donovan, Cordeaux MS
---
LINKS:
---

If you have any comments or further information of interest, please e-mail mr-turnip@whirligig-tv.co.uk