Home > Children's Programmes > Saturday Special
Saturday Special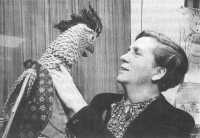 Porterhouse the Parrot with Freda Lingstrom (BBC Head of Children's Programmes 1951-56)
Saturday Special was broadcast between 1951 and 1953 on alternate Saturdays with Whirligig and featured many new faces who were to go on to become household names in children's television for many years to come.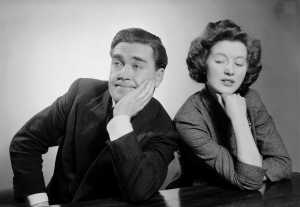 Peter Butterworth and Janet Brown
The programme was presented by Peter Butterworth (later of 'Carry On' fame), and his wife Janet Brown who went on to become a TV impersonator (particularly memorable as Mrs. Thatcher). At that time Janet seemed to be forever singing a song about a horse called Walter, while Peter, with his beaten-up bowler, wire rimmed glasses, muffler and screwed-up face, was Mr. Chadwicke-Bugle, a night watchman whose job was to mind a hole in the road. He was always to be found trying to boil a kettle over a candle. He would then be interrupted by a visitor and would go on to tell a story before returning to try to boil his kettle again over the candle. Also appearing regularly was John Hewer who later went on to portray Captain Bird's Eye in the fish finger commercials.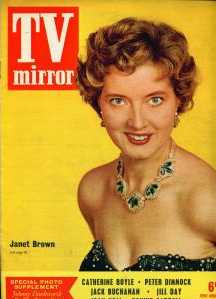 Puppetwise, it featured a parrot called Porterhouse (voiced by Peter Hawkins) and Merlin and later gave Sooty his first regular television appearances.
Reginald Jeffryes appeared with his cartoon characters Mr. and Mrs. Mumbo along with an ink-blot character called Splat.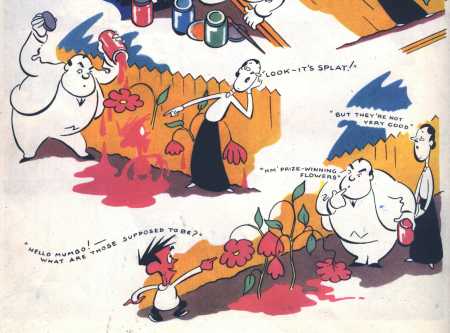 Tony Hart also made his TV debut on this programme as an artist and illustrator and Martin Lukins appeared as a cook who played the piano accordion in the programme.
The show was written by Shaun Sutton, then an actor and stage manager, who a few years later was to be responsible for many classic drama productions and become head of the Drama Group on Television.

If you have any comments or further information of interest, please e-mail mr-turnip@whirligig-tv.co.uk