Home > Children's Programmes > Captain Pugwash
Captain Pugwash
(1957-58, 1974-5)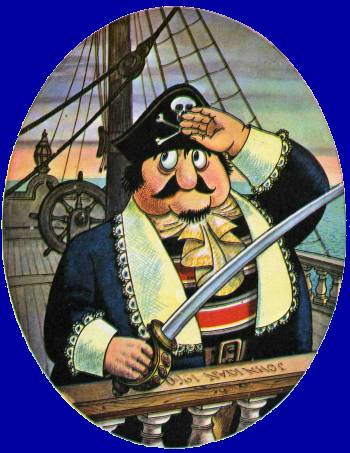 Click on the picture on the right for Real Movie
"Plundering Porpoises! Jumping jellyfish! Harrowing hurricanes!"

blustered pirate Captain Pugwash to the work-shy crew of his ship the Black Pig as they sailed the Seven Seas and encountered adventures. The rotund Captain. always bold before the event, with a tendency to get into scrapes (and make a speedy exit forthwith) was a star of this, originally, very basic animated programme, in which speech was simulated by moving a piece of card behind the character's open mouths. The Good Captain was a simple man and no match for his various shiver-me-timbers foes but fortunately he was regularly rescued from the clutches of black-bearded arch villain Cut-Throat Jake (of the 'Flying Dustman') by the cunning and courage of the Black Pig's cabin boy Tom.

All the characters were voiced by Peter Hawkins (who also spoke for The Flowerpot Men and, later, some of the Daleks) and the catchy sea-shanty signature tune, called The Trumpet Hornpipe, became a firm children's favourite.

Author-artist John Ryan, creator of Captain Pugwash and, later, Sir Prancelot recorded the Captain's adventures for over twelve years through four series.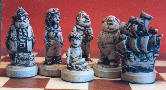 Pugwash chess peices are available at Chessnuts
Visit Captain Pugwash's owner's site

If you have any comments or further information of interest, please e-mail webmaster@whirligig-tv.co.uk