Home > Children's Programmes > Robin Hood
The Adventures of Robin Hood (1955-58)
The Buccaneers

Robin Hood TV theme
Composed by Edwin Astley


Robin Hood Song
sung by Dick James
Starred Richard Greene as Robin Hood, Archie Duncan as Little John, Alexander Gauge as Friar Tuck and Paul Eddington as Will Scarlet. Bernadette O'Farrell and then Patricia Driscoll played Maid Marian and Alan Wheatley was Sheriff of Nottingham.
The series was set in the Nottingham area in the last years of the twelfth century when noble King Richard the Lionheart was away on crusades in the Holy Land and evil Prince John schemed to usurp the throne. One nobleman, Robin of Locksley, remained loyal to King Richard and, outlawed by Prince John, became Robin Hood the rebel hero.
Shot at Nettlefold Studios, Walton-on-Thames, Robin Hood pioneered an entirely new technique in TV film-making, enabling the studio to turn out a complete 26-minute programme every four and a half days, was used in the production of this series. This unique system, specially devised for the series, was used not only to speed up production but also to ensure that the completed programmes exactly met essential TV requirements.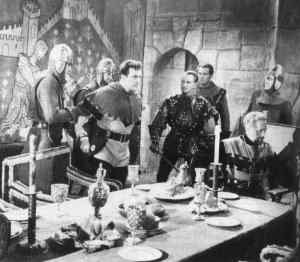 The man responsible for this development in TV production methods was Peter Proud, a well-known art director in the British film industry who brought to television his experience of 28 years of film making. He devised a new principle of erecting the massive and authentic scenic sets which provided the all-important background for Robin Hood's adventures.
In normal film making, the studio technicians built huge sets on which the cameras were lined-up for each sequence. To cut out delay and speed up production, Mr. Proud did away with sets of this nature. Instead he used stock items of scenery such as a baronial fireplace, serf's hut, staircase, corridor and entrance hall. All these items were mounted on wheels so that they could rapidly be moved into position.
"The big difference between film-making for television and for the cinema is that the massive sets used on the cinema screen are lost on the small area of the TV screen," said Peter Proud. "So by using smaller sets we could speed the job. In fact, we could change a whole set in six minutes. Instead of taking the camera to the set, we took the set to the camera. We used these same items over and over again, but we arranged them differently. The fireplace, turned upside down, became a pulpit! The result is that the viewing audience got an impression of many different corridors, rooms, archways. Actually, of course, they were seeing the same pieces of scenery each time. The secret was that we shot them so that they looked different."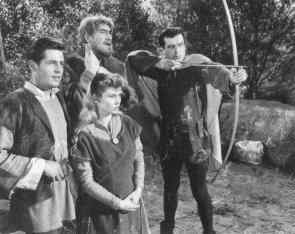 Another gimmick used by Mr. Proud was a real hollow tree-trunk, 20 feet high, "planted" on a fake mossy bank. This trunk, mounted on wheels, was used again and again in the Robin Hood stories, but each time, by moving it around, it looked different. When Proud had to give the appearance of Sherwood Forest he built another enormous tree-trunk out of wood and plaster, giving it an overhanging branch to match its companion. Both trees, wheeled into the right position, provided a most realistic impression of a forest glade.
Filming of the outdoor sequences was greatly assisted by the fact that the studios, at Walton-on-Thames, lay close to the historic Runnymede Meadow where King John signed the Magna Carta in 1215. This enabled the production to use authentic backgrounds among the English countryside which have remained unchanged for centuries.
The knights and soldiers were kitted out in chain-mail made of knotted string sprayed with silver paint. All the fight sequences and battle scenes for the series were carefully planned on paper before one blow was struck for the screen. All the swords used in the films were copies of genuine weapons in museums. The kind of close-in man-to-man fighting in those days had to be recreated, and records of the kind of blows used then were consulted.
Among authentic medieval weapons used in the films was the massive long bow, and its shorter, more powerful version, the cross bow. (A good English bowman could bring down a man or a deer at 120 yards.)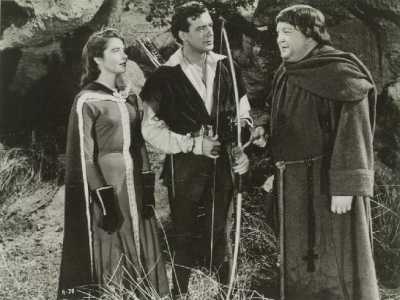 Alexander Gauge, who played Friar Tuck, was a well-known English character actor who first appeared on the New York stage in 1945. He was born in a Methodist Mission station in China, and went to school in California before coming to England. He had done much Shakespearean acting, and in British films has often played sinister parts. But many considered his strong line to be comedy: he was a great hit in the London stage production of The Seven Year Itch.
Rufus Cruickshank, a Scots actor, replaced Archie Duncan as Little John for about ten episodes of the series after an accident on the set. A heavy piece of scenery was about to fall on some children and Duncan pushed the kids out of the way. The set fell on him and broke his leg. He received a medal for his good deed. Cruikshank was well fitted for the part as he stood 6 feet 5 inches and he grew a red beard for his stand-in role.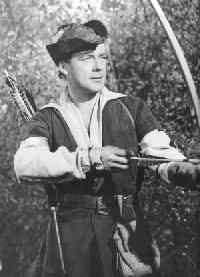 There were actors who played dozens of different roles on the series. Victor Woolf was a regular Merry Man from the very early episodes (originally called Cedric, and later Derwent) but he still did many guest parts. Paul Eddington played a variety of guest parts (heavys, fops, etc.) for three years before finally becoming Will Scarlet.
Bernadette O'Farrell, who originally played Maid Marian, was a 30-year-old Irish actress who originally worked in a solicitor's office. Sir Carol Reed gave her a small part in a film he was making in Ireland, and the Rank Organisation then offered her a contract. But she turned this down, believing she needed dramatic training, and enrolled as a student at the Liverpool Repertory Company. Later, she made a number of films.
There were guest stars a plenty. Richard O'Sullivan was one of three actors to play young Prince Arthur. Other guests included Thora Hird, Leo McKern, Nicholas Parsons, Jane Asher, Ian Bannen, Sidney James, Leonard Sachs, Patrick Troughton, Irene Handl, Bill Owen, Wilfred Brambell and his partner-to-be in Steptoe and Son, Harry H. Corbett who played no less than four different roles during the shows 143 episode run.
Richard Greene and Patricia Driscoll as Robin and Marian
Cast
Richard Greene .... Robin Hood
Bernadette O'Farrell .... Maid Marian (1955-1957)
Patricia Driscoll .... Maid Marian (1957-1958)
Alan Wheatley .... Sheriff of Nottingham
Alexander Gauge .... Friar Tuck
Archie Duncan .... Little John (1955, 1956-1958)
John Arnatt .... Deputy Sheriff of Nottingham
Paul Eddington .... Will Scarlett (later eps.)
Rufus Cruickshank .... Little John (1955-1956)
Victor Woolf .... Derwent
Donald Pleasence .... Prince John (1955-58)
Simone Lovell .... Joan
Brian Alexis .... Will Scarlet
Peter Asher .... Prince Arthur
Jane Asher .... Prince Arthur's sister
Alfie Bass ... Edgar / Lepidus
Jonathan Bailey .... Prince Arthur
Richard Coleman .... Alan-a-Dale
Jill Esmond .... Queen Eleanor
Hubert Gregg .... Prince John
Brian Haines .... Prince John
Ronald Howard .... Will Scarlett (2 eps. only)
Ian Hunter .... Sir Richard
Richard O'Sullivan .... Prince Arthur
Anne Reid .... Barmaid at the Blue Boar Inn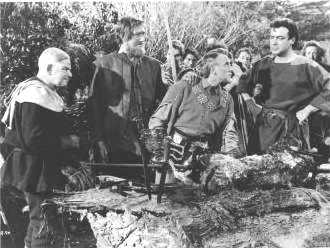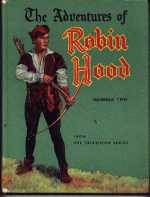 1950's book based on the series
The Adventures of Robin Hood Appreciation Society
The Adventures of Robin Hood on Electromusications
All four TV series are now released on DVD

If you have any comments or further information of interest, please e-mail webmaster@whirligig-tv.co.uk