Dear Whirligig,

In 1962, having enjoyed much success with the Jerry Allen Trio for many years, Jerry realised a dream and formed the Jerry Allen Big Band to be based in Birmingham and administered from his office near to the ATV Lunchbox studios at Aston Cross. The Trio comprising Jerry on Hammond organ, Allan Grahame on vibes, Ken Ingarfield on bass and Lionel Rubin on drums was extended with all the traditional sections of a big band and to include top Midlands jazz pianist John Patrick. A few years later, the band was taken over by John and became the John Patrick Big Band. Over many years the band was to back many of Central TV's most famous nationally broadcast programmes including the Golden Shot.

What of the original Trio? When Lunchbox came to an end after 8 years of almost daily shows, Jerry set up several music shops where the teaching of the organ, especially, coincided with the boom in home ownership of organs in the 1970s. He became involved in a new record company and diversified by becoming a worldwide 'travelling salesman' for Lowrey Organs using his extensive musical skills to give demonstration concerts exhibiting to potential purchasers and organ fans alike, the enormous range of sounds that could emanate from the latest electronic organs of the 1970s and 1980s. Jerry was at home with all styles of music, having 'learned his trade' via his father's church organ and a local theatre organ as a teenager. His arrangements of the well known classics, pop, swing, and the coolest jazz are known to this day amidst organ enthusiasts, his style utterly unique and all his own. He supported the huge spread and popularity of Electronic Organ Societies, his name and performances still remembered with affection amongst members in 2005. Although, sadly, Jerry died in the mid 1980s just before his 60th. birthday, his recordings are still passed around and enjoyed, as are memories of Lunchbox from the early 1950s and 1960s. The Lunchbox 'gang' as they were called were household names for many years.

Trio bass player, Ken Ingarfield played with the Digby Fairweather Jazz Band at the 2004 Marbella Jazz Festival. Ken is listed as a resident out there these days! There is an Allan Grahame Quintet listed on an ad for the 100 Club in London this year. Could this be vibes player, Allan, of Jerry Allen Trio days? John Patrick, the Big Band pianist has enjoyed a very successful, long career in music, playing with his trio these days. What of Lionel Rubin, the Trio drummer?
As has been mentioned elsewhere, Jerry's recovery from a polio-type illness in his early teens was greatly assisted by playing the organ, all his limbs being used to great degree. By the age of 16 he was playing the Regal cinema organ in Cecil Square, Margate and playing in the interval at another local theatre at the invitation of impresario, Jan Ralfini. Comedian, Tommy Trinder, appearing in Margate, was to 'discover' him and assist in his joining the cast of STRIKE A NEW NOTE at the Prince of Wales Theatre in 1943. This was a variety show to showcase young talent - most of the 18-plus male performers having been called up for war service - all theatres coping with this major departure of performers. Perhaps, then, this was impresario/director, George Black's 'raison d'etre' as he staged a show of young people at a time when entertainment both live and by radio was a major part of morale boosting the British public.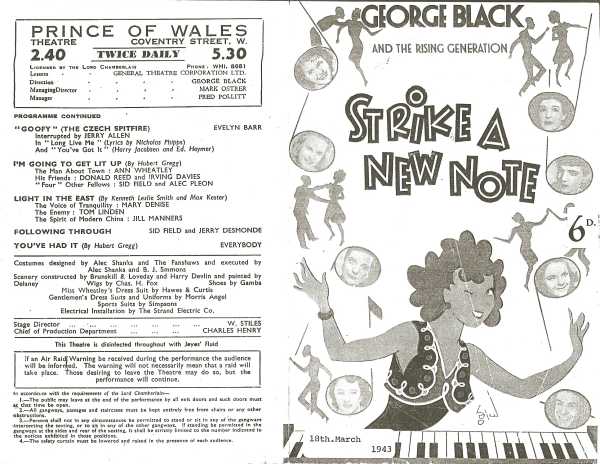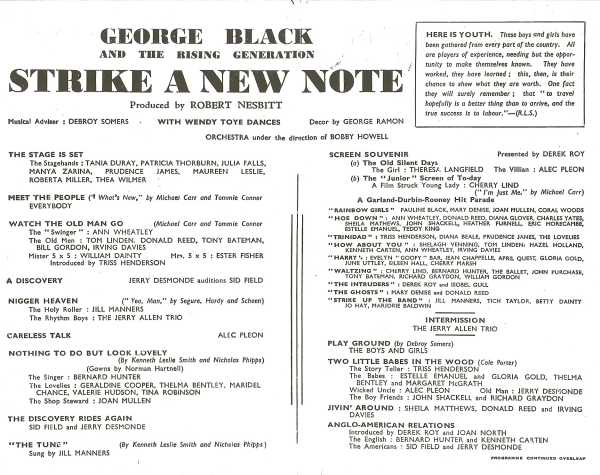 It is interesting to note the unsophisticated programme design - perhaps due to wartime shortages - or perhaps people were just less sophisticated then? It is amusing to see stated on the back page above the procedure should there be an air raid during a performance that 'This Theatre is disinfected throughout with Jeyes' Fluid!!! This longlasting household name is not the only name listed and familiar to baby boomers such as myself!
Director, George Black, later part of the very successful impresario George and Alfred Black (brothers) duo. Patricia Thorburn - actress? Irving Davies - the Irving Davies Dancers graced many TV shows in the 50s/60s onwards. William Dainty - comedian Billy Dainty? Jerry Desmonde - later question master of Dotto and £64,000 Question - ATV shows of 50s/60s for which the Jerry Allen Trio provided the music and the memorable and catchy signature tunes, I believe, were both composed by Jerry. Sid Field - a comedian? Also an impresario later, I believe. Derek Roy - musician - had a trio - I remember seeing his name on posters and in The Stage in the 1950s. Cherry Lind - my memory says 'dancer/choreographer' - later with her own dancers on TV in the 1960s? Sheila Mathews - Jerry's teenage girlfriend - perhaps a singer/dancer? A memory of a story that she was a championship golfer? Eric Morecambe - well - what can one say?
Jerry's teenage musical successes were frequently reported in the Isle of Thanet Gazette. Again, the style of reporting was unsophisticated - quite paternal - as compared with the blood, guts and glory reporting of young musicians in current national newspapers. At a time when Jerry's home, Thanet on the East Kent coast was known as 'Hell's Corner' (constantly under bombardment by enemy aircraft) and the London Blitz was in full throttle, the teenage Jerry was to trade his organ seats at Margate cinemas and theatres, the outdoor stage of the Margate Lido and choir stalls of his family church, All Saints' Church at Westbrook, for London's war ravaged West End then starting UK tours and summer seasons over many years. His father, Mark Allen, organist and choirmaster at All Saints' Church whose younger son had recently died tragically and whose older son, my father, was serving in the Mediterranean on a Royal Navy destroyer, acquired a roomy red van large enough to transport Jerry's trusty Hammond organ. Mark built music stands, became business manager, local publicist (that accounts perhaps for the paternal style of reporting!) and 'anonymous' leader of the Jerry Allen Fan Club for many many years. The early touring required Jerry and his father to take the Hammond to Margate Railway Station in the red van, lift it into a railway guards van and for Mark to see his remaining home-based young son off - to what? London? The Blitz? They only had 'steam radio' and much guarded newspaper features to tell them 'how the war was going'. Brave times.
In spite of great success with extensive radio and TV performances - month by month touring and summer seasons the across the UK - Jerry never forgot his roots in East Kent, playing the Granville Theatre, Ramgate in the early 1970s with his then widowed but very proud father in the audience. Mark - Pa to the Allen family - was to suffer a heart attack that evening at the theatre and not survive. Age 80, an accomplished musician and dedicated supporter of his family and particularly Jerry's superb musical career, what a way to go! Just as his father and classical singer brother, Jerry was always available to entertain, teach and advise and play for charitable concerns the length and breadth of the country in his warm comfortable friendly way. Just before Jerry's own demise in the mid 1980s aged just 60-something, he played what I think was his last concert - at the Barbican - on that impressive teak panelled stage. A few months later, the cream of the professional organ community staged a tremendous memorial concert at the Queensway Hall, Dunstable. A very large theatre - and with Harry Stoneham heading the bill - it was packed! The management must have even waived the fire regulations as all aisles at the back and side were filled with 'standing room only promenaders'. Jerry was a stalwart of the UK Organ Societies - a fine composer and arranger. In recent years, in my research as Editor of art'icle - the magazine and arts review of the Bedford Arts Forum, I have been delighted to find that the Bedford Organ Society members remember Jerry with great affection and still perform and refer to his arrangements of great tunes. Someone even presented me with an LP called Sump'n Else recorded by Jerry in 1966 which, for me, contains the best of Jerry's unique jazz style and ability to 'stretch' organ playing to such astounding extremes. The cover states '... young musicians owe a great debt of gratitude to Jerry Allen, through whose dedication and skill so many pop players in Britain became aware of the possibilities of the electric organ'. From the classics - I particularly like Jerry's arrangement of Sonata Pathetique on his cassette 'Jerry Allen organises The Royal Free' - to jazz, bebop, the big band tunes and popular music, his expertise was and is first class. TV occasionally uses snippets from his recordings - I find I recognise them as his immediately - and bet I am not the only one! From the Hammond of the 1940s to the amazing versatility of the Lowrey D325 and MX1, Jerry made the organ sound all his own.
SANDRA (ALLEN) DUDLEY
Editor and Publisher
August 2006