Home > Adults' Programmes > Sunday Night at the London Palladium
This ATV show ran from 1955-1967 and 1973-1974 and was produced by Val Parnell.
The presenters included: Tommy Trinder, Dickie Henderson, Bruce Forsyth, Don Arrol, Norman Vaughan and Jimmy Tarbuck and the Orchestra was led by Eric Rogers, who served as the theatre music director for three years. Cyril Ornadel took over as Musical Director when Eric left and was later followed by Jack Parnell and his Orchestra.
Originally comperes were appointed to the show on a sort of rota basis (four shows at a time) and Dickie Henderson, Alfred Marks, Bob Monkhouse and Robert Morley were involved in this way.
Early top-billers were Gracie Fields, Guy Mitchell, Bob Hope, Dorothy Dandridge and Johnnie Ray.

Introduction clip including The Tiller Girls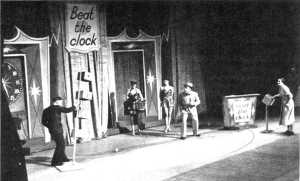 It always included the American parlour Game 'Beat the Clock' - ("You'll have the time of your life, beating time for big time prizes"). Members of the audience were invited to complete odd tasks, like catching table tennis balls in a butterfly net, within a short period of time measured by a large clock at the backdrop. Bruce Forsyth made the most of this game-piece, indeed it was the forerunner of "The Generation Game", a highly popular BBC programme of later years.

Beat The Clock video clip
| | | |
| --- | --- | --- |
| Tommy Trinder, The first regular host | Dickie Henderson was a friendly and reassuring host. Here presenting the 'Beat the Clock' segment of the show. | Sept. 1958 saw Bruce Forsyth as compere. For him at the age of 30, after years of grafting in the lower echelons of show business, this was stardom! |
| | | | | |
| --- | --- | --- | --- | --- |
| Don Arrol took over from Bruce Forsyth in Sept. 1960. He was a virtually unknown comic. At 31 he had spent his adult life in show business doing stand up comedy working in music halls all over the country before his big break at The Palladium. However his stint only lasted a year as Forsyth returned in Sept. 1961 and Arrol moved on to compere the Black and White Minstrel Show and Candid Camera amongst others. He was at the height of his career and had been doing the Black and Whites for three years when he died suddenly in 1967. | | Norman Vaughan leapt to stardom in 1962 when he took over from Bruce Forsyth after Bruce was ordered to rest. His fame led to a long-running commercial for Cadbury's Roses chocolates. He was 34 when he took over at the Palladium and he had first appeared on TV in 1954. He left in June 1965 when Jimmy Tarbuck took over. He later hosted "The Golden Shot" and "Bullseye". | | Jimmy Tarbuck introduced such stars as The Beatles to the show. |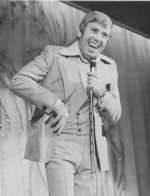 Comedian Johnny Hackett who made many appearances on the show

Sunday Night At the London Palladium Theme
The Theme is called STARTIME and was composed by Eric Rogers who was musical director at the London Palladium.
Richard White remembers:
"Filling out the show's traditional format were the high-kicking Tiller Girls and the revolving tableaux at the end of the show - this consisted of two concentric revolves, centre stage, which moved in opposite directions so that whilst the stars and acts moved one way, the large vertical letters
(S_U_N_D_A_Y_ N_I_G_H_T_A_T_T_H_E_L_O_N_D_O_N_P_A_L_L_A_D_I_U_M)
turned the other".
"A memorable slap-stick routine with Bruce Forsyth and Norman Wisdom involved stepladders, buckets of slosh or paste and the whole stage becoming covered in mess. Then the commercials would interrupt and, as if by magic, the programme returned with a pristine stage. It took me years to twig that it may have had recorded sections or lots of cleaners."
"Lastly, I remember the motorised microphone stand that grew up out of the stage as the compere approached".
Full listing of Sunday Night shows from 1955 to 1974
Link to London Palladium Pantomimes website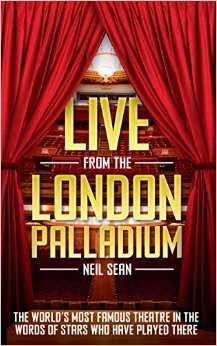 This new book (2014) features so many TV greats like:
Larry Grayson, Frankie Howard, The Comedians, Mike Winters, Eric Morecambe,
Tommy Trinder, Ernie Wise, Marti Caine, The ATV years and many more...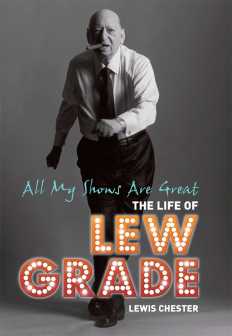 Lew Grade was the last of the old-time media moguls - a genuine show business tycoon. From humble Jewish immigrant beginnings in east London, he became the world Charleston dance champion (and could dance it well into his eighties), from which he drifted into theatrical agenting, at which he discovered he was extremely good. Soon he was a top impresario, with his brothers Bernard (Delfont) and Leslie Grade putting together variety bills, owning theatres, and eventually booking showbiz's biggest names from both sides of the Atlantic.
The birth of commercial television saw him win a franchise with ATV, where Grade was a pioneer of popular culture, responsible for such TV hits as Sunday Night at the London Palladium, Robert Powell's epic portrayal of Jesus of Nazareth and bringing shows like Thunderbirds and The Muppets to British TV screens. He then went into films, most notoriously with Raise the Titantic! whose cost over-runs inspired his most memorable witticism, that "It would have been cheaper to lower the Atlantic".
Grade was still working until he died in his early nineties, in the office at dawn, puffing on his trademark giant Montecristo cigars, and never losing his love of a deal. "Some of my shows are good, some are bad," he once said. "All of them are great".
Lew Chester's biography - the first to be written, is an endlessly entertaining portrait of someone who was truly larger than life. Lew Chester was a member of the celebrated Sunday Times Insight Team of investigative journalists. His last book was The Troublemaker.

If you have any comments or further information of interest, please e-mail webmaster@whirligig-tv.co.uk