Home > Snippets >Memories of Jerry Allen
Whirligig Snippets
Memories of Jerry Allen
I respected Jerry's organ playing for many years,and enjoyed hearing his all too rare appearances on BBC radio--probably most of these when it was still the Light Programme.
I have just one LP--"Jerry Allen plays some of the Oscars"---it features some spectacular arrangements,and of course Jerry's perfect playing. "Buttons and Bows" is particularly brilliant,with chords and timings that even today seem very bold!
But my memory that I hope will amuse readers consists of a moment during a concert at the Moot Hall,Colchester,at a Lowrey publicity event.JA had progressed through a single manual model,through one or two larger models,to,finally,a three manual "Concert" model. He pointed out that electronic organs are capable of playing any type of music,classical/church etc. As he commenced "In a monastery garden",he raised his eyes to the massive organ pipes of the built in pipe organ in a rueful gesture--as if to say--Sorry,but I had to say that"!
My pal and I laughed loudly,and were astonished that no one else of the 50 or 60 others in the audience even raised a titter!. I don't know if this was a regular part of his demonstration,if held in premises with a church or theatre organ,with prominent pipes--but I will never forget that moment,and recall,it every time I drive through Dunstable and past the shop.
It is a lovely thought that Jerry,somewhere,somehow,could see this and smile with me!
Mike Plant
---
Hello,
Relating to your interesting site and article about Jerry Allen:
I remember there was a Jerry Allen Organ Shop at 144, Shenley Road, Borehamwood (sometime between 1973 and 1975).
It had a yellow shop-front sign (see photo, which I copied from the following internet site for film locations for the 1976 film 'Confessions of a Driving Instructor')
https://www.reelstreets.com/films/confessions-of-a-driving-instructor/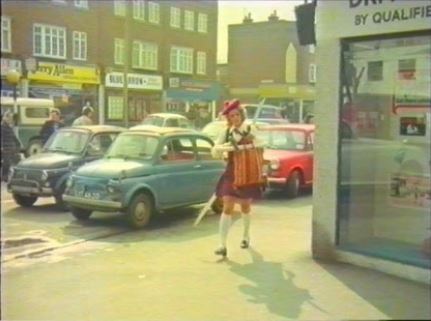 As a teenage schoolboy (around grade 7 piano at the time) and helping out most Sunday's as the organist in the local church, I'd often visit the Jerry Allen shop.
I loved playing the church-like wooden organs they stocked and at that time cost a pretty penny. However, I was more interested in the new electronic keyboards they'd also started to sell.
The Gerry Allen shop started selling the legendary Minimoog synthesiser (for I believe around £330) and let me 'mess about' on it (although being monophonic, it didn't take much keyboard skills - more an understanding of how to work all the controls) - but I'm forever grateful for being allowed to try it out in the Jerry Allen shop.
A chance to play the Minimoog, which became the staple diet of Prog Rock bands from the late 60s and 70s - Oh, amazing sounds, which I'm afraid couldn't all be made by the larger wooden organs that the shop stocked (and that Gerry Allen played) despite all their fancy buttons and foot pedals. Anyhow, I understand that Jerry Allen had several shops, but I'm not sure where the others were.
The Borehamwood shop (a town famous for its connections to the film industry) wasn't around for too long unfortunately, but as a lover of keyboards, it's sadly missed and there's never been a local keyboard shop like it since.
Many thanks,
Dave O'Gorman
---

If you have any comments or further information of interest, please e-mail snippets@whirligig-tv.co.uk