Home > Adults' Programmes > Quiz Programmes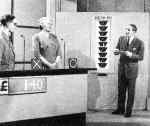 'Criss Cross Quiz' (1957-67)
was a crossword quiz presented on ITV by Jeremy Hawk in which two contestants competed against each other to complete a line diagonally, vertically or horizontally with either noughts or crosses; for each correct answer the value of the game (worth up to 100 pounds in the early days) increased. 324 episodes were produced. Later there was a children's version of the quiz which was revived with Chris Kelly as the quizmaster. Other presenters over the years were: Bob Holness, Mike Sarne, Chris Howland, Gordon Luck,Peter Wheeler, Mark Kelly, Bill Grundy and soccer star Danny Blanchflower.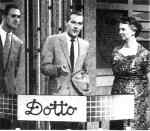 'Dotto' (1958-60)
Early ITV quiz show presenting a game in which two contestants each faced a screen which concealed, in fifty dots, the portrait of a personality. When the contestant gave the correct answer, the appropriate number of dots was filled in and the first to identify the personality was awarded five pounds for every dot not yet filled. Robert Gladwell (centre) presided. Later hosted by Jimmy Hanley and Shaw Taylor. Jerry Allen and his Trio provided the music while the dots were joined up.
'Tell the Truth' under the chairman ship of David Jacobs where three people claimed to be somebody but only one was telling the truth.
'Play Your Hunch' - hosted by Alan Freeman, this was a game show that contestants had to guess which was the real one X, Y or Z. For instance they would have 3 people dressed as chefs with a wedding cake in front of them. Only one would be a real chef with a real cake. The other cakes would be made out of concrete or wood.

If you have any comments or further information of interest, please e-mail webmaster@whirligig-tv.co.uk