Everyone feels some nostalgia for the TV programmes that they watched when very young, so here we attempt to bring back to you some of the flavour of television in the Fifties.
---
Webrings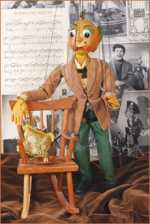 If you have any comments, questions
or further information of interest,
please e-mail: mr.turnip@whirligig-tv.co.uk
Whirligig-tv.co.uk is a participant in the Amazon Europe S.à r.l. Associates Programme, an affiliate advertising programme
designed to provide a means for sites to earn advertising fees by advertising and linking to Amazon.co.uk.
Website design and management by:



All copyrights acknowledged. This website is offered for noncommercial, educational and entertainment purposes only.
Copyright © 1999 -