BFI have released two vintage Enid Blyton Famous Five film serials on DVD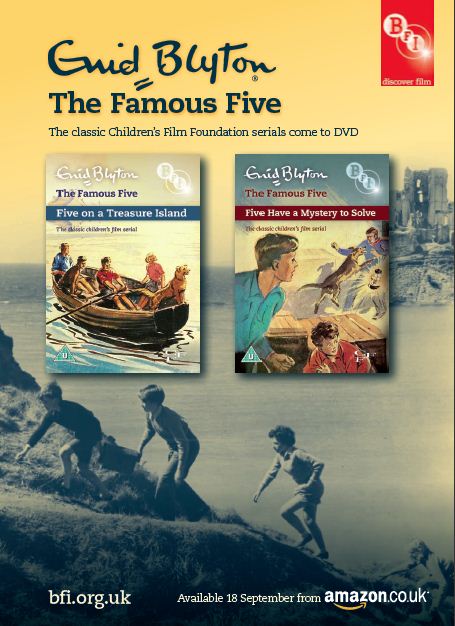 Enid Blyton fans, young and old alike, are in for a nostalgic treat when the BFI releases on DVD two rare film serials made in the 1950s and 1960s of the much-loved Famous Five adventure stories.
Five on a Treasure Island (1957) and Five Have a Mystery to Solve (1964) featuring Julian, Dick, Anne, George and Timmy the dog, have been re-mastered to High Definition from original film elements preserved in the BFI National Archive and were released on 13 September 2010, cert U.
Filmed mainly on location in Dorset, both serials were made by the Children's Film Foundation. They were a highly popular staple of the 'Saturday Morning Pictures' and were shown at cinemas around the country, and all over the world. Both volumes feature original illustrations by Eileen Soper on the sleeves and contain comprehensive booklets with essays and biographies. Contributors include Enid Blyton expert Norman Wright, author of The Famous Five: Everything you ever wanted to know!; BFI Curator Vic Pratt and Natalie Morris, Senior Curator of BFI Special Collections.
Five on a Treasure Island, which stays true to the spirit of Enid Blyton's perennially popular first Famous Five novel, is a ripping adventure tale in eight exciting installments. The author herself helped to cast this serial which follows the celebrated chums as they search for buried treasure in the ruins of Kirrin Castle. Will the intrepid Five manage to foil dastardly antique shop owner Luke Undown's desperate attempt to steal Kirrin's treasure from under Uncle Quentin's nose?
Five Have a Mystery to Solve, the Children's Film Foundation's second Famous Five serial – with a new cast – sees the Five head off to the discover the secrets of the closely-guarded Whispering Island. Befriending young Wilfred, whose strange gifts include an ability to communicate with animals; the gang find themselves in grave danger when they try to find the truth behind the mystery.
With enthusiastic and memorable performances from the well-cast young actors and offering a glimpse into gentler, more innocent times, these are two delightful vintage releases which no Famous Five fan should be without.
More information on Enid Blyton and the Children's Film Foundation can be found at www.enidblytonsociety.co.uk and www.cftf.org.uk