September 2020
West Australian Symphony Orchestra

(From Peter Elsdon)
The Aussies, like Guy Noble, can't quite wait until November for The WASO Last Night of The Proms so here's a special treat.
---
September 2020
BBC Instrumental Sessions
As part of the BBC Instrumental Sessions, the bassoons of the BBC orchestras perform Eric Coates's Calling All Workers, arranged by Steve Magee.
More information about these sessions can be found HERE
---
August 2020
Viennese Night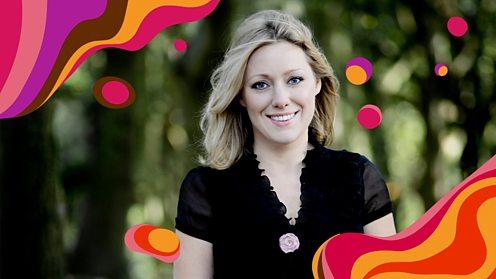 Sophie Bevan
Bank Holiday Monday's Promenade Concert live from the Royal Albert Hall at 7.30 pm on Radio 3 was devoted to Operetta and features compositions by Franz Lehar (the 150th anniversary of whose birth was on 30th April) as well as Oscar Straus, Emmerich Kalman, Richard Heuberger, Josef and Joseph Strauss. The soloists were Sophie Bevan (soprano) and Robert Murray (tenor) and the BBC Concert Orchestra was conducted by Bramwell Tovey.
This is a rare opportunity to listen to the kind of music that used to feature on Radio 2 every week in Glamorous Nights with Sam Costa.
It is available on BBC Sounds here: https://www.bbc.co.uk/sounds/play/m000m7c1
and here are the full details: https://www.bbc.co.uk/proms/extra/Wu9Dk7FVu4/Viennese-Night
---
August 2020
Did you hear Brian Reynolds on Serenade Radio?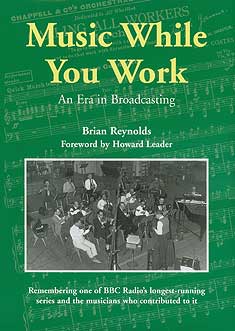 CALLING ALL WORKERS
Remember 'Music While You Work' on the BBC? The programme began 80 years ago this year.
Announced in the Radio Times as a "half hour's music meant specially for factory workers to listen to as they work", it soon proved a favourite with all listeners, as its familiar signature tune by Eric Coates rang out.
On August Bank Holiday Monday, Serenade's Brian Savin traced the programme's fascinating history along with Brian Reynolds.
You can listen to the programme again via our Streaming Audio page HERE
---
August 2020
'Lockdown' videos from The Aspidistra Drawing Room Orchestra

'Heather on the Pampas' by Sydney del Monte, arranged by Anastasia Arnold

La Morenita by Mátyás Seiber arranged by Roy Bell

The Donkey Serenade by Rudolf Friml arranged by Adam Bakker
---
August 2020
Light music featured as background music for TV shows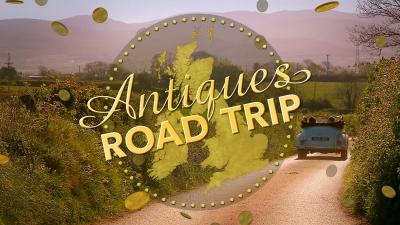 You might like to know that light music is often used as background music in the BBC TV programme 'Antiques Road Trip'.
A recent episode in the series was particularly productive with the following items spread over two programmes:
On a Spring Note
Coronation Scot
Runaway Rocking Horse
also
Swedish Rhapsody, Tick Tock Tango and Fun Fair (these three items were played by Ray Martin and his Orchestra, the latter two being adjacent items on a CD.
Not all of the programmes feature as many items of light music as the example above but there is quite often something to delight us. Also 'Car SOS' uses light music in some episodes.
If you feel so inclined you might still be able to view these programmes on 'catch-up' TV.
Peter Luck
---
August 2020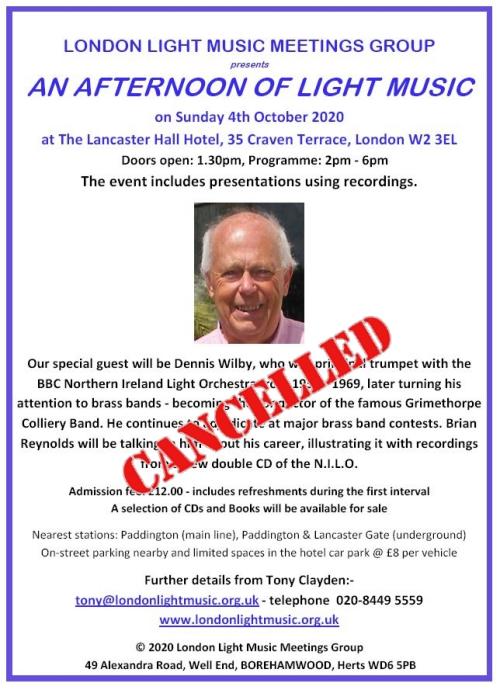 IMPORTANT INFORMATION TO
ALL OUR SUPPORTERS
Further to our recent survey, we regret to announce that we have taken the decision to cancel our October event.
The number of responses indicating support was very small and the great majority did not reply at all.
It appears that most people are not comfortable with the prospect of attending, because of the on-going – and likely to worsen – COVID-19 situation.
It is possible that new Government restrictions might be in force by October, which could well preclude our ability to hold the meeting anyway.
We are hopeful that we will be able to resume 'normal service' in 2021, and we have provisionally earmarked Sunday May 9th for the Spring meeting, to be held at the usual venue,
The Lancaster Hall Hotel, London, W2 3EL.
In the meantime, please take a look at our website. In addition to regular news updates, articles and CD reviews, the new audio streaming service is really taking-off !
Click here to listen to an ever-widening selection of programmes. These include presentations by the late David Ades, André Leon, David Corbett, and some specially created for us by Steven Wills.
For your future listening pleasure, we are planning to regularly add more of the latter, by other presenters as well, and it is intended to make
LONDON LIGHT MUSIC ONLINE
a permanent feature of our activities.
Our organising team join me in extending very best wishes to you during this most unfortunate time – enjoy the summer, keep safe and stay well.
Tony Clayden
Co-ordinator –
London Light Music Meetings Group
email: tony@londonlightmusic.org.uk
phone 020-8449 5559
---
Click here for archived news items