June 2022
David Lloyd-Jones [1934-2022]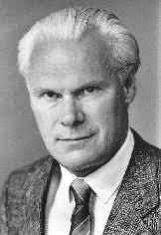 It is with regret that we record the death – after a short illness –
of the conductor David Lloyd-Jones, who passed-away on June 8th 2022.
The founder of Opera North, he was principally associated with the 'serious' end of the musical spectrum and showed a particular interest in British and Russian music.
Mr. Lloyd-Jones was a prolific recording artiste, whose name appeared on several labels, including Philips, Hyperion, MRF, Marco Polo, Dutton Epoch, Chandos, Melba and Oriel.
He conducted well over thirty CDs for the NAXOS company, including four volumes of English String Miniatures, featuring Light Music works by many celebrated composers, including Haydn Wood, John Rutter, George Melachrino, Frank Cordell, Cecil Armstrong Gibbs, Philip Lane, Peter Hope, Adam Carse, Ernest Tomlinson, Gustav Holst, Paul Lewis, Frederick Delius and Peter Warlock.
© Tony Clayden June 2022
---
June 2022
Aspidistra Drawing Room Orchestra
New CD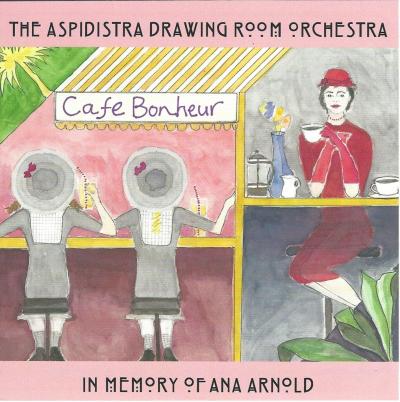 The Aspidistra Drawing Room Orchestra have now received the CDs of 'Café Bonheur', their brand new recording.
More CD information on their website
---
May 2022
British Vintage Wireless and Television Museum
Afternoon of Music - May 14th 2022
A very warm and sunny Saturday saw the first musical gathering of 2022 at the Museum. Although the numbers were [rather disappointingly] lower than customary, those attending were treated to enjoyable presentations by Brian Reynolds [on orchestras which used to appear on BBC radio], Alex Gleason, [who played a selection of his favourite musical compositions written for films], Chris Money [on the American composer Leroy Anderson] and Tony Clayden [on the English composer and arranger George Melachrino]. Tony also organised and introduced the programme.
Visitors were able to view [at a distance] the progress of the site improvements – including the new cabin and groundworks – which were nearing completion in time for the forthcoming Garden Party at the beginning of June.
Brian Reynolds – whose grandfather and then father ran a very successful Radio and Television business in Bromley for many years – was delighted to see that the shop's signboard, which had languished for many years in Brian's garage, has now been awarded pride-of-place on the front of the TV room.
As always, a light lunch was provided by Eileen Laffey and the whole afternoon was 'overseen' by John Thompson.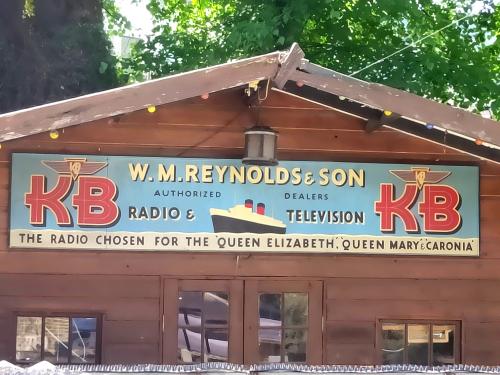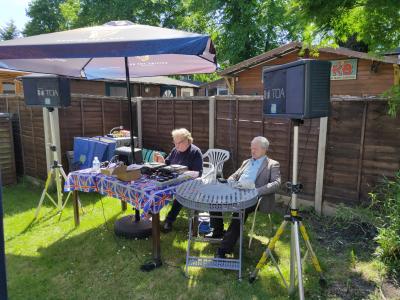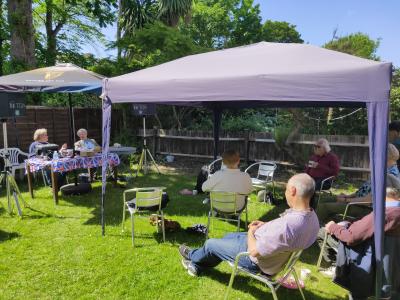 © Tony Clayden 2022
Further music events at the Museum are scheduled for:
Saturday 27th August and Saturday 15th October 2022 both at 1pm
---
May 2022
A new Hospital Radio fund raising CD
compiled by Steven Wills
Intermission Accomplished
European Sound Stage Orchestra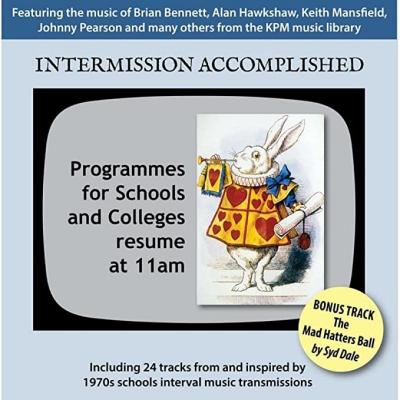 Featuring the music of Brian Bennett, Alan Hawkshaw, Keith Mansfield, Johnny Pearson and many others from the KPM music library.
Full CD details can be found on Amazon here or click on the CD cover above
---
January 2022
1952 - A Royal Year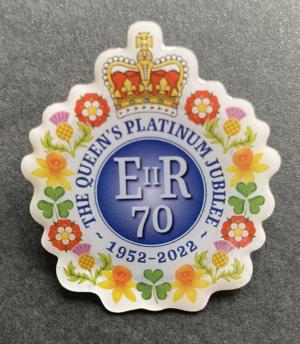 Steven Wills celebrates The Queen's Platinum Jubilee with a programme of music from 1952
---
Click here for archived news items