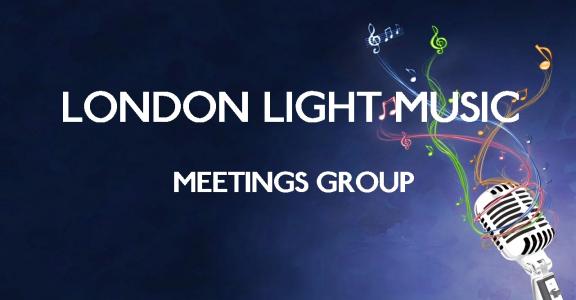 Presents.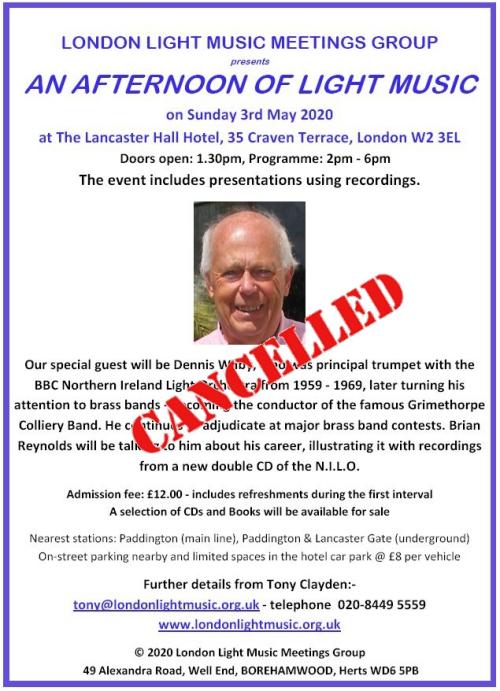 IMPORTANT ANNOUNCEMENT TO ALL LLMMG ATTENDEES
It is with much regret that we have decided to cancel our Spring 2020 meeting at the Lancaster Hall Hotel on May 3rd, in view of the seriously worsening coronavirus situation.
We are nevertheless hopeful that our October meeting will take place as planned, although it will – of course – be dependent upon a favourable outcome during the next few months.
We are sure that you will understand the reasons for this decision, which is felt to be in everyone's best interest.
Thank you for your continued interest in our group. Wishing all our supporters well at this most difficult time, and looking forward to convening once again on October 4th.
Tony Clayden
(on behalf of the organising team)
London Light Music Meetings Group
49 Alexandra Road Well End
BOREHAMWOOD - Herts WD6 5PB
Telephone :- 020-8449 5559
Everyone is welcome at our events!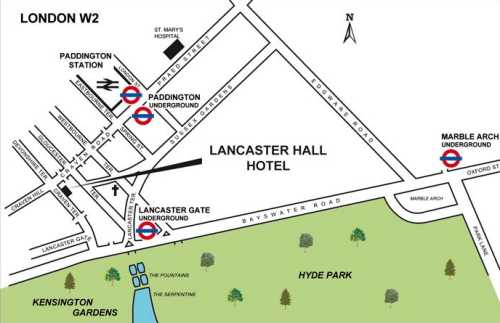 Click the map for Google Map
---
Read the report on our Autumn meeting
held in October 2019
---

Subscribe
to our e-mail list to be kept informed of our events



© 2013 - London Light Music Meetings Group
Website management by TurnipNet.
New
CD reviews
added:
16/03/2020
SAINT-SAËNS
Ascanio – Ballet
Malmö Symphony Orchestra / Jun Märkl
03/03/2020
BERLIOZ SYMPHONIE FANTASTIQUE & other works
Utah Symphony / Thierry Fischer
28/02/2020
CHERUBINI DISCOVERIES
Filarmonica Della Scala / Riccardo Chailly
8/2/2020
MADEMOISELLE IN NEW YORK
Lucienne Renaudin Vary (trumpet)
BBC Concert Orchestra, Bill Elliott
8/2/2020
LITTLE WOMEN
Original Motion Picture Soundtrack
Music by Alexander Desplat
The London Light Music Meetings Group was formed in 2014 to continue to hold the meetings which were formerly organised by the Robert Farnon Society.
Each of these takes the form of a Sunday afternoon event during which recorded musical items are presented and discussed; they are held in May and October of each year.
The range of music genres is broadly as before embracing Light Orchestral, Film, TV and Theatre - related, Big Band and similar material.
The previous successful format is retained with a central feature/guest speaker and includes live performances from time to time.
We have now expanded this website to include news items, details of other musical events, CD and book reviews, and obituaries.
We welcome contributions in respect of any of the above, also comments and articles.
Please contact our webmaster
web@londonlightmusic.org.uk
or Tony Clayden
tony@londonlightmusic.org.uk
- telephone 020-8449 5559.