December 2022

Eric Coates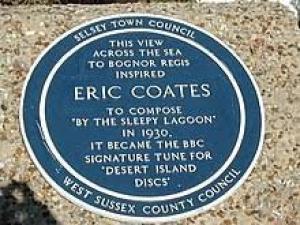 Wednesday 21st December will see the 65th anniversary of the death of Eric Coates (1886-1957).
He is best known for his By The Sleepy Lagoon which has been used as the signature tune of BBC Radio 4's Desert Island Discs since the programme started 80 years ago in 1942, although Coates wrote it in 1930. Other compositions of his that were used by the BBC were Calling All Workers (for Music While You Work, 1940-67) and Knightsbridge March (for In Town Tonight, 1933-60).
---
December 2022
Celebrate the New Year with Aspidistra.
The Aspidistra Drawing Room Orchestra are presenting their New Year's Celebration Concert at 8pm on Tuesday 3rd January 2023 at Sands Films Studios, 84 St Marychurch Street, Rotherhithe, London SE16 4HZ.
(Nearest Underground station is Canada Water and even nearer is Rotherhithe Overground station).
Entrance is by voluntary donation. If you can't make it to Rotherhithe you can watch the live-stream on your own screen at home. To book a seat or for access to the on-line broadcast follow this link.
(Note: There is a possible train strike on this day)
---
December 2022
It's A Musicals World
2 – 9 December 2022
Friday 2 December
8 pm **Strictly Come Dancing: The Musicals Special. Not usually included in these listings but this is a special edition** (BBC1)
9 pm *** Elaine Paige At The BBC: Elaine gets the full BBC4 treatment with archive clips and informative subtitles*** (BBC4) followed by..
10 pm Elaine Paige: I'm Still Here – In Concert at the Royal Albert Hall in October 2014 (BBC4) followed by…
11 pm ***Evita: The Making Of A Superstar: promising sounding documentary which includes Elaine's trip to Argentina to find out more about the real Eva Peron. Did you know that the show was inspired by a face on a postage stamp?*** (BBC4)
Midnight (!) **The Funk Of Forty Years: a two part tribute to the legend that is Quincy Jones (89 and going strong). The peg is the 40th anniversary of the release of Michael Jackson's seminal album Thriller, which Jones produced. This first programme is of greater interest as it focusses on his work with Frank Sinatra in the 1950s up to the 70s, in which he wrote the scores for several films** (I have complained to CR2 about the late scheduling of this programme) (BBC Radio 2)
Saturday 3 December
6.20 pm Film: Dirty Dancing (1987) – Radio Times says it "defies age and still casts a spell for what seems like a flimsy reason: you fancy either one or both of the two leads". (I thought you weren't supposed to say things like that anymore??) (Channel 5)
7 – 11.40 pm Tina Turner Night on Sky Arts (Freeview 11)
9.15 – 11.45 pm Don McLean Night on BBC2: he must be more than a one-hit wonder with American Pie to merit this…. (BBC2)
Take your pick or watch half of both, OR choose…
9.20 – 11.15 pm Tommy Cooper: 30 Funniest Moments (a two hour countdown - see if you agree with the judges) (Channel 5)
Sunday 4 December
Where do I start?
6 am Discovering Bing Crosby (Sky Arts)
7 am Discovering Frank Sinatra (Sky Arts)
(This long-running Sky Arts series is really worth watching: the panel of film critics who run through film careers like these in just one hour really know their stuff, and you get clips as well)
10.40 am **Doddcast: a rare 2002 recording of dear Ken** (BBC Radio 4 Extra) (the drama Happiness starring David Threlfall as Doddy will be broadcast at 8 pm on the same channel)
1 pm Elaine Paige on Sunday (BBC Radio 2)
2-4.30 pm Buddy Holly: his life and his music (Sky Arts)
6 pm Scala Radio's Christmas "Live"! Highlights, actually, of last Sunday's London Palladium concert featuring Michael Ball, Alfie Boe, Anne Dudley (I gave her her first ever BBC session), Luke Evans & guitarist Milos Karadaelic. Penny Smith presents. (Scala Radio)
6.40 pm Film: Scrooge (1970) with an all-star cast including Albert Finney, Alec Guinness, Edith Evans & Kenneth More. It didn't really come off but anything with songs by Leslie Bricusse deserves our attention. (Channel 5)
7.30 pm ****Drama: Rodgers and Hart and Hammerstein: the story of the unravelling of one musical partnership and the birth of another. Among a crowded field today this has to be the highlight of your listening and viewing**** (BBC Radio 3)
8 pm Anything Goes: The Musical… a recording of the recent Barbican production. A lot of people raved about this, I didn't because I found the story so creaky and the male stars somewhat embarrassing. I may tune in to see Broadway star Sutton Foster, who had left the company by the time I caught up with it. (BBC4)
8 pm Sunday Night Is Music Night: a 2016 edition marking the 400th anniversary of Shakespeare's death. Seasoned MD Richard Balcombe presides over the BBC Concert Orchestra and also on hand are singers Hannah Waddington & Graham Bickley, the National Youth Jazz Orchestra and the National Youth Chamber Choir. If Music be the Food of Love, play on! (BBC Radio 2)
Tuesday 6 December
8 – 10 pm Vintage Comedy Night on BBC4 including episodes of Sykes, The Young Ones and the history of Comedy Playhouse, which launched series like Steptoe & Son and Last Of The Summer Wine (which I loathed). Those brilliant writers Alan Simpson and Ray Galton contribute and are always worth watching (BBC4)
Wednesday 7 December
8 am Carmen: a complete performance of everyone's favourite opera (which is coming to the London Coliseum in February – book now!) No further details available (Sky Arts)
8 pm I Write The Gags: a 2015 Radio 2 two part conversation between the late great Barry Cryer and the "late" Steve Wright (BBC Radio 4 Extra)
9 pm **Spike Milligan: the unseen archive. This could be well worth a look – we are promised a treasure trove of home movies, scripts, audio tapes, letters and mementoes.** (I was once told never to book Spike live, nor Hughie Green either…) (Sky Arts)
Friday 9 December
11 am **The Truth About Jazz: Reporter and Mastermind Chairman Clive Myrie has been revealing his passion for jazz on Radio 4 and Jazz FM of late, and here he begins a four-part series with a look at the roots of jazz. The budget allowed him to go to New Orleans** (BBC Radio 4)
9 – 11.25 pm **** An Evening With Dusty Springfield: her life, her career, clips from her appearances on BBCTV between 1961 & 1995, plus a complete edition dating from 1967 in which her guest was the enigmatic Scott Walker. Unmissable**** (BBC4)
Midnight (!) **Quincy Jones: 40 Years Of Funk… he has won 28 Grammy Awards so far (!) and this second programme looks at his work with Michael Jackson, George Benson & Donna Summer, among others (Radio 2)
Anthony Wills 30.11.22 (och aye!)
PS. News just in: I gather that, after the disaster of his Cinderella, the noble Lord Lloyd Webber has withdrawn from producing and intends to concentrate on composing.
---
November 2022
Bramwell Tovey & the BBC Concert Orchestra record Poulenc for Chandos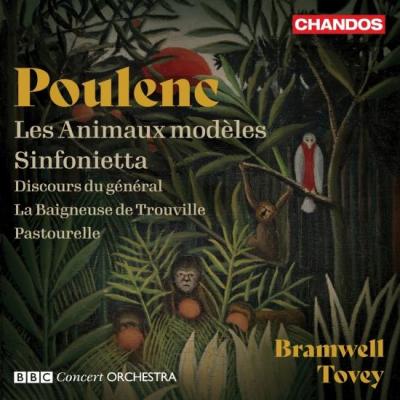 Recorded in April at the Watford Colosseum, the BBC Concert Orchestra play a programme of music by Francis Poulenc (1902-60), conducted by the late Bramwell Tovey who died in July.
Chandos CHSA 5260 [SACD] was released on November 4th.
https://www.chandos.net/products/catalogue/CHAN%205260
---
November 2022
Click above to book tickets
---
June 2022
Aspidistra Drawing Room Orchestra
New CD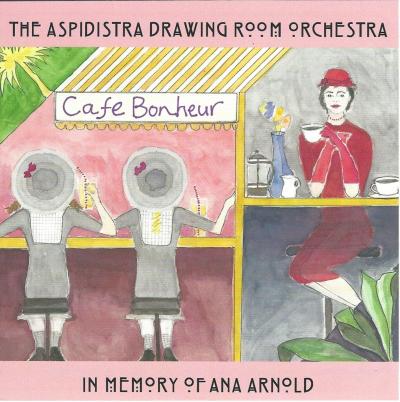 The Aspidistra Drawing Room Orchestra have now received the CDs of 'Café Bonheur', their brand new recording.
More CD information on their website
---
Click here for archived news items