May 2021
Aspidistra Drawing Room Orchestra
Bank Holiday Afternoon Concert 2021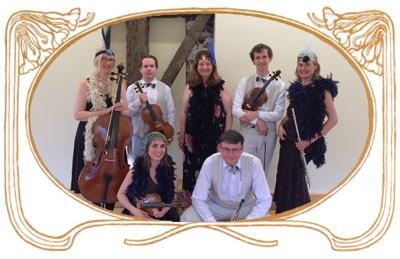 Monday 31 May 2021 at 2:30 pm
Lauderdale House, Highgate Hill, London N6 5HG
A real live concert is just around the corner! On the 31st May (Bank Holiday Monday) Aspidistra will be performing again in Lauderdale House, Highgate Hill.
It is their first concert for well over a year and it will also be the first performance with an audience for Lauderdale House staff since the start of the pandemic. They are naturally anxious to fulfill all the Covid requirements, so the experience might be a little different from previous years. Seating will be arranged around 'household bubbles' and Lauderdale House staff are in charge of selling the tickets this year. This will enable them to arrange appropriate seating for each household in advance, well separated from other households. The maximum capacity of the Lower Gallery is just 30 'bubbles', so they recommend that you buy your tickets well in advance if you want to be sure of a seat. There will be no tickets for sale at the door.
However, if you are unable to attend in person, you will still be able to enjoy it because, for the first time, they will be recording the concert and the video will be available shortly after the concert or possibly even during it. They are currently experimenting with the necessary equipment. As usual, the concert programme focuses on material in the Palm Court style that they have found particularly gratifying to play in the last couple of years. The provisional programme can be viewed below but because they have not been able to meet as a group, there might be some last minute changes.
Tickets for the live event at Lauderdale are available via this link.
'Tickets' for the link to the on-line broadcast can also be obtained from their website:
https://www.aspidistra.org/concert/bank-holiday-afternoon-concert-2021
Aspidistra Drawing Room Orchestra look forward to seeing you on the 31st of May.
The programme includes:
Amparito Roca - Jamie Texidor
Mello Cello - Neil Moret
Lo ! Here the Gentle Lark - Sir Henry Bishop
The Continental - Con Conrad
Creole Love Call - Duke Ellington
Gallantry - Albert Ketèlbey
Sæterjenten Søntag - Ole Bull
Heather on the Pampas - Sydney Del Monte
Crackerjack - Mathias Seiber
Habanera - Georges Bizet
Beachcomber - Clive Richardson
---
May 2021
Vintage Wireless and Television Museum
Music Afternoon – Saturday July 24th 2021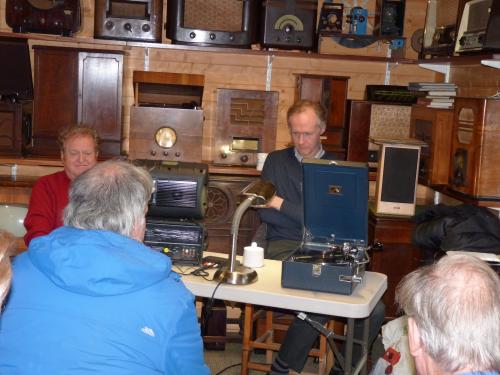 We are delighted to announce that we are planning to hold the first music afternoon since the start of the Covid-19 Lockdown in March 2020.
Over many years, these events have been a regular and popular feature of the Museum's activities. They were originally hosted by the late Gerry Wells, and more recently have been organised and introduced by Tony Clayden, along with guest presenters.
Our programme will – as is customary – include a mix of Easy Listening and traditional Light Music and this time will include some 'Big Band' jazz as well.
We look forward to welcoming friends old and new, and we hope that you will be able to support us on Saturday July 24th. Admission is £10 'on the door' – however, it is essential to book in advance, see below*. The event, which will include a buffet lunch and refreshments, will take place outside, although an open-sided tent will be available in case of inclement weather.
The Museum galleries will be open only for attendees to the music event. The doors will open at 12 mid-day and the music will commence at 1 pm.
*Because of space limitations and to assist with catering requirements, please notify Eileen Laffey [on 020-8670 3667] that you wish to attend.
Please note that the Museum will naturally comply with all Government regulations in force at the time, and the event could therefore be subject to cancellation if required by subsequent legislation.
---
April 2021
A plea for research documentation - old catalogues
Our supporter, Alex Gleason, is trying to find old catalogues of Francis Day and Hunter, DeWolfe -2100 series, Phil Green Photoplay / Capitol Hi- Q, and EMI EP/EPX catalogues. If anyone is willing to dispose of any unwanted catalogues, please contact Alex by emailing alexgleason@londonlightmusic.org.uk
Alternatively you can contact Alex on our Light Music Forum, where he is identified as 'filmusicuk', here: www.tapatalk.com/groups/lightmusic/index.php
Message from Alex:
Could I ask if anyone has old publishers catalogues they no longer need, could they get in touch, as I am frankly getting desperate now. I am in the closing stages of a very substantial music reseach project, and am stymied through lack of information on some of the great libraries of the last century!
Amazingly I don't have a complete Francis Day and Hunter catalogue, and despite having a useful 70s DeWolfe catalogue, and a photocopy of their 50s catalogue, kindly provided by a member of the Meetings group - I have no 30s or 40s DeWolfe information (and neither do DeWolfes!!)
Likewise the EMI EP and EPX series boasted marvellous compositons by Melachrino, Leslie Bridgewater and Leighton Lucas - they MUST have produced a catalogue at some point (the custodian of the EMI Archive had never even HEARD of the series) but I've never been fortunate enough to find one.
I won't go on, obviously there are many other libraries, like Southern, Berry and Impress, that are moderately well covered online, but if anyone is doing a clearout PLEASE DON'T BIN THESE
Let me know, I badly need help!!
Thanks
---
April 2021
The Mark Fitz-Gerald Orchestra in lockdown
The light music classic "Puffin' Billy" by Edward White performed by members of the Mark Fitz-Gerald Orchestra in lockdown to provide a little joy for The British Home, which the orchestra would usually perform at each year. Arranged and produced by John Holland.
---
March 2021
News from The Aspidistra Drawing Room Orchestra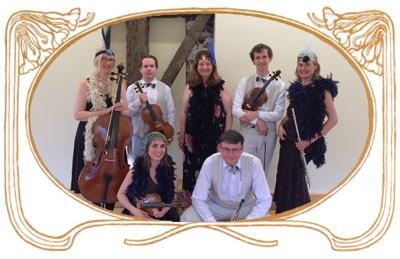 Listen to us on Spotify
Some years ago we signed up to make our music available on Spotify. The process has taken a long time but we are pleased to report that from now on you can download our recordings from Spotify as well as from several other streaming platforms.
Not all our CDs are available as yet but it is likely to be only a matter of days before over 80 tracks will be accessible this way. So watch this space.
If you prefer to listen to actual CDs, we still have plenty of copies of 'Happy Frog and Hot Canary' and 'Beguine and Bugatti Step' and we are happy to sell these to subscribers of our newsletter for half price. Unfortunately, we had to cancel our plans to record another CD last year because of the pandemic but we hope to realise these plans later this year.
We have not yet been able to meet up as a group but have recorded another piece of music in our individual homes. This time we choose 'Die Lustige Fiedel' by Rudi Rischbeck. It was assembled by Ana, our flautist, together with a clip of Charlie Chaplin's 1916 film 'The Vagabond' for our YouTube channel.
We hope you enjoy the video; Please press 'like' if you do. You might also like to subscribe to our YouTube channel which links all our videos and many of our recordings.
We need 100 subscribers for us to continue the YouTube channel for free. It doesn't cost anything to subscribe - all you need to do is follow this link and then click on 'Subscribe' in the right hand corner in the text below the video.
Please visit our website at www.aspidistra.org
March 2021
'HEHR Archive' on Youtube
This USA Youtube channel contains many playlists some of which Light Music enthusiasts will find of interest:
https://www.youtube.com/channel/UCdw7kJeC2h7oZ8StCdQUjYg/playlists
Here is a selection of some of the playlists available on the channel:
'World of Light Music'
'The Story of Light Music'
BBC 'My Music'
'Melody Time'
'The Andre Kostelanetz Show'
BBC 'Sing Something Simple'
'Bands and their Music'
'On Parade'
'My Kind of Music'
and there are a lot more including over 40 BBC 'My Word' programmes!
---
February 2021
Another new 'Lockdown' video from
The Aspidistra Drawing Room Orchestra
Hard Hearted Hannah, the Vamp of Savannah by Jack Yellen, Bob Bigelow and Charlie Bates. Performed by the Aspidistra Drawing Room Orchestra in lockdown. Published in June 1924 by Tin Pan Alley, this popular song tells the story of a femme fatale of Savannah. Included in this recording is the first film to feature Stan Laurel and Oliver Hardy together (The Lucky Dog, 1921), although here we only see Stan.
---
February 2021
Sunday Bandstand
For those of you who like Brass Bands, Chris Helme produces a two hour weekly programme of Brass Band music which you can stream online here
We have linked to his programmes from our streaming light music page.
---
Click here for archived news items