June 2020
It is our sad duty to record the deaths of two more former members of the Robert Farnon Society, both of which have occurred during the last few months.
John White was a regular attendee at RFS and then LLMMG meetings. By profession a Group Manager for London Underground, latterly at Kings Cross Station, John passed away at West Middlesex Hospital in December 2019, having unfortunately suffered two strokes. He was a great devotee of Frank Sinatra and possessed a huge collection of recordings of the latter. He would be seen taking copious notes throughout our meetings and was always on the lookout for new CDs that interested him.
Ralph Thompson will be remembered by many for his video recordings of RFS meetings, particularly those which had taken place on special occasions. A civil engineer in professional life, Ralph had a number of interests, including photography and videography, cycling and old London buses, in addition to Light Music and record collecting. Regrettably, he had suffered kidney failure towards the end of 2019 and died during February of this year.
Another of our supporters, Peter Luck, was a friend of both John and Ralph, and we are obliged to Peter for providing this information.
Tony Clayden
---
June 2020
Vera Lynn [1917-2020]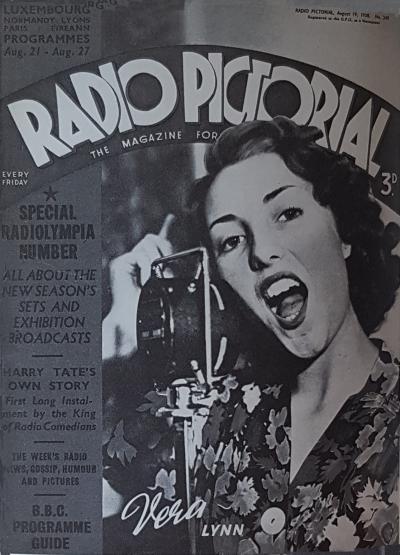 The cover of Radio Pictorial - August 1938
One of the most highly regarded figures in the world of entertainment during World War II - and for many years thereafter – has finally left us after an amazingly long life of 103 years.
Dame Vera, the Forces' Sweetheart, captured the hearts and minds of our nation, and her voice was regularly heard on radio broadcasts almost up until the present day.
For our own special LLMMG tribute to Vera, we are pleased to present a rare recording dating from 1958 – The Vera Lynn Show – with the Eric Robinson Orchestra, together with guests Bill McGuffie (piano) and vocal group The Keynotes.
This has been made available to us by kind courtesy of The Golden Sounds Collection and may be heard below:
---
June 2020
BBC Concert Orchestra
Afternoon Concert
Friday 12th June 2020 on BBC Radio 3 at 2pm
Available for 30 days on BBC Sounds at https://www.bbc.co.uk/programmes/m000jwyp
A concert of Broadway songs from Clare Teal and Tom Solomon recorded in January 2020 at the Chichester Festival Theatre, with the BBC Concert Orchestra and conductor Stephen Bell, introduced by singer, Liz Robertson.
Presented by Penny Gore
2.00pm
Sherman & Sherman: 'Mary Poppins' Overture
Sondheim: Not While I'm Around from 'Sweeney Todd'
Rodgers & Hammerstein: Hello Young Lovers from 'The King & I'
Fain, arr Barker: Secret Love from 'Calamity Jane'
Styne, arr Campbell: Old Time Fantasy
Lerner & Lane: Hurry! It's Lovely Up Here! from 'On A Clear Day You'
Herman: I Am What I Am from 'La Cage aux Folles'
Gershwin: Embraceable You
Gershwin: Crazy For You Overture
2.50pm
Kern: A Kern Kaleidoscope
Kern: The Folks Who Live on the Hill from 'High, Wide & Handsome'
Cole Porter: Always True To You from 'Kiss Me Kate'
Lerner & Loewe: I remember it well from 'Gigi'
Styne: People from 'Funny Girl'
Loesser: Luck Be A Lady from 'Guys & Dolls'
Lane: 'On A Clear Day' – Main Theme
Leigh: The Impossible Dream from 'The Man from La Mancha'
Artie Butler: Here's To Life
Berlin: Annie Get Your Gun Overture
Clare Teal and Tom Solomon, singers
Liz Robertson, singer and presenter
Catherine Moore, trumpet
BBC Concert Orchestra
Stephen Bell, conductor
---
June 2020
Obituary : Jim Palm
It is with regret that we record the death of former Robert Farnon Society member Jim Palm, on April 6th.
Many LLMMG supporters may remember Jim, who, back in the 90s, used to attend our London meetings. For several years he assisted David Ades with the editing of Journal Into Melody, to which he was also a regular contributor.
He hailed from Edgware, Middlesex [on the NW periphery of London] and in professional life worked for the BBC in the latter's gramophone library.
Upon his retirement from the Corporation, he moved to Salisbury, where he amassed his own sizeable collection of recorded music, much of it comprising discs from the libraries of publishers such as Chappells and Boosey & Hawkes.
Jim had an encyclopaedic knowledge of Light Music, which was put to good use
in the many articles he wrote for JIM and also for newspapers and periodicals in his locality.
Tony Clayden
June 2020
---
June 2020
Award Winning singer Robert Habermann
sings daily on Facebook at 6.05pm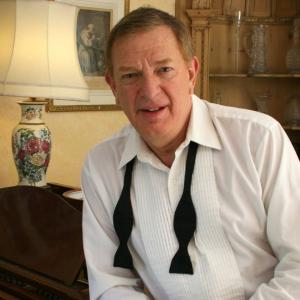 To chase the Covid Virus Blues away Award Winning singer Robert Habermann is singing 'live' everyday, one popular song from The Great American Songbook on Facebook at 6.05pm. So far he has sung over 100 songs on Facebook since the start of the lockdown!
Thanks to the wonderful world of technology, Robert is accompanied by big bands / orchestras, using the original arrangements and also introduces each song.
Songs include: You Make Me Feel So Young, That Old Black Magic, Summer Wind, I'll Be Seeing You, Close To You, I Won't Dance, Unforgettable, All Of Me, Magic Moments as well as current hits, Skyfall, She Bangs etc.
Tune into Facebook everyday at 6.05pm under Robert Habermann, and you will hear one of your favourite songs from The Great American Songbook to take your mind off this unprecedented time by one of the country's most popular singers
---
May 2020
"Heather on the Pampas"
As the Aspidistra Drawing Room Orchestra's Whit Monday Concert had to be cancelled due the COVID-19 problem, they have compensated by producing a "lockdown" performance of "Heather on the Pampas" by Sydney Del Monte which you can view below.
Also, Adam Bakker, the organiser of the orchestra, has sent us a podcast entitled "Beguine and Bugatti" which you can find within the Streaming Audio section of our website here.
---
May 2020
Johnny Gregory (1924 – 2020)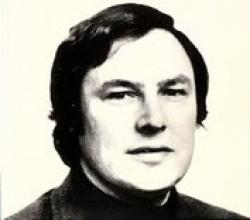 It is with regret that we record the death of the conductor, composer and arranger Johnny Gregory, who died at his home in Gerrards Cross, Buckinghamshire on April 23rd 2020, about six months short of his 96th birthday.
During his long career, he wrote the scores for fourteen films, (the last in 2000) and TV shows, and was principal conductor of the BBC Radio Orchestra between 1973 to 1974.
He made numerous recordings, both under his own name and (possibly more famously) as Chaquito.
Gregory used a number of other pseudonyms and his orchestra often appeared under the name of The Cascading Strings.
A comprehensive article about his life and work is in preparation and will be published on the LLMMG website in due course.
Tony Clayden
---
May 2020
May 2020 Update
We were very sorry to be unable to present our May Meeting due to the ongoing COVID-19 problems. We trust that you and yours are all well and are staying safe. It is hoped that we will be able to go ahead with our planned October meeting and will keep you informed as soon as we have any further details.
In the meantime, we have added a new section to the website where you can listen to past programmes of Light Music courtesy of our member David Corbett whose 'Light Programme' is streamed over the web on Sundays.
This section will be updated and expanded to include other presentations over the coming months, including some programmes specially created for London Light Music Online.
Tony Clayden
---
Click here for archived news items