September 2022

Scarborough Spa Orchestra Summer Season 2022
Sample Programme

Below is a sample of one of this year's summer season programmes: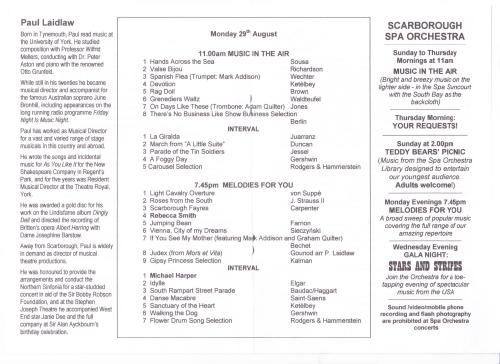 (click to enlarge)
September 2022
Iain Sutherland updated Discography
Conductor Iain Sutherland has just sent revised his complete discography which you can now access from our Articles page.
---
September 2022
Real Bard of Brum
From The Daily Mail, Friday, 2nd September 2022
Click on the article to enlarge...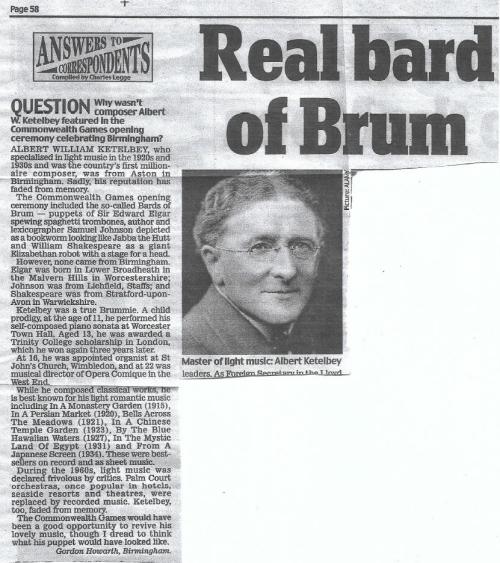 from Tony Foster
---
September 2022
Jenny Worsley
We are very saddened to learn that Jenny Worsley, wife of Peter Worsley, passed away on August 30th, at Gloucester Royal Infirmary, after a protracted illness borne with great dignity and fortitude.
Peter has been a very loyal and enthusiastic supporter of the LLMMG and was, for many years prior to the formation of the latter, a long-standing member of the Robert Farnon Society. Although he was not usually able to attend our London meetings, his constant input, comments and advice have been extremely valued.
Our sincere condolences are extended to Peter and his family.
Tony Clayden
---
August 2022
---
July 2022
Bramwell Tovey
1953 - 2022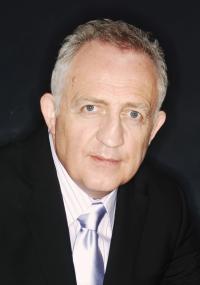 We regret to record the death of Bramwell Tovey, the principal conductor of the BBC Concert Orchestra, after a protracted illness, on 12th July 2022.
An obituary by Roderick Elms can be found on our website here.
(Some may remember Roderick Elms as the speaker at our October 2019 meeting.)
---
June 2022
David Lloyd-Jones [1934-2022]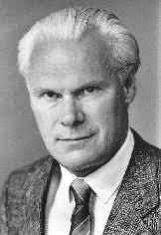 It is with regret that we record the death – after a short illness –
of the conductor David Lloyd-Jones, who passed-away on June 8th 2022.
The founder of Opera North, he was principally associated with the 'serious' end of the musical spectrum and showed a particular interest in British and Russian music.
Mr. Lloyd-Jones was a prolific recording artiste, whose name appeared on several labels, including Philips, Hyperion, MRF, Marco Polo, Dutton Epoch, Chandos, Melba and Oriel.
He conducted well over thirty CDs for the NAXOS company, including four volumes of English String Miniatures, featuring Light Music works by many celebrated composers, including Haydn Wood, John Rutter, George Melachrino, Frank Cordell, Cecil Armstrong Gibbs, Philip Lane, Peter Hope, Adam Carse, Ernest Tomlinson, Gustav Holst, Paul Lewis, Frederick Delius and Peter Warlock.
© Tony Clayden June 2022
---
June 2022
Aspidistra Drawing Room Orchestra
New CD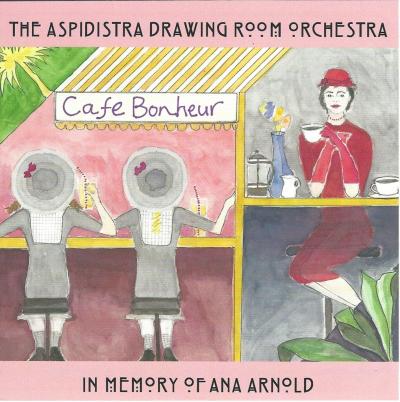 The Aspidistra Drawing Room Orchestra have now received the CDs of 'Café Bonheur', their brand new recording.
More CD information on their website
---
Click here for archived news items