*SAVE THE BOWIE BANDSTAND & LEAVE A TRIBUTE MESSAGE*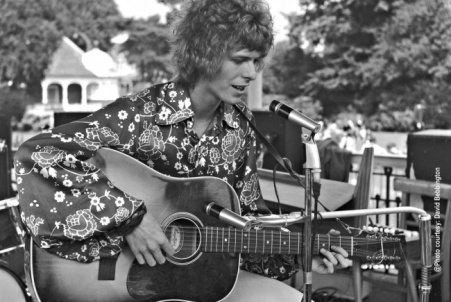 The Beckenham Bandstand is now indelibly linked with David Bowie. He performed on it at the free festival, wrote a song about that festival which ended up on his Space Oddity album, and wrote Life on Mars? on the steps of this bandstand. However, the bandstand has unfortunately fallen into disrepair and now requires funds for restoration.
Following David's incredibly sad passing, the bandstand is now a focal point for tributes. As David had always supported emerging artists, We believe that getting this bandstand repaired and ensuring its long term survival would be a suitable tribute. It would provide a platform for future generations of musicians to perform on and in doing so would allow audiences to continue to enjoy live music in the park. It's also a unique Victorian bandstand, now the only one of its kind, so was already worthy of saving irrespective of the amazing cultural and musical legacy it carries.
The Friends of Croydon Road Recreation Ground are working in partnership with Bromley Council to fundraise for the bandstand restoration. You can support the restoration campaign by:
Making a direct donation on the London Borough of Bromley website to the bandstand restoration fund: www.bromley.gov.uk/bowiebandstand
For donations of ?15 or over, Zizzi's have kindly offered to give donors 30 per cent off main meals on Mondays to Thursdays in their Beckenham branch. To claim this offer, supporters need to take a copy of the automated receipt they receive when making a donation.

Buying a personalised Bandstand Brick that will be installed on the circular path around the bandstand : www.bromley.gov.uk/bowiebandstand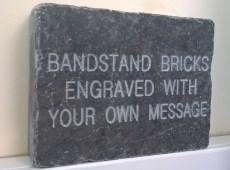 Each brick will contain a maximum of 48 characters. Please be aware that the characters will be divided into three lines of maximum 16 characters each including spaces. You will be free to write your own message for the brick, however, you will only have 48 characters in total and if you wanted to put your name on the brick this would be included within the word count.
Once sufficient funds have been secured for the restoration project, we will contact you regarding details of your preferred personalised inscription.
Please also let us know if you would like to become a Friend of the park and join us with our on-going efforts to improve this local greenspace.
If enough people donate, even just ?1 each, we will hit our target! All donations are eligible to leave a tribute message which will be viewable when the tribute page is up.
Once the Bowie Bandstand is repaired there will be a celebratory opening party & surely many future festivals to look forward to. History will recall that it was Bowie's fans both near and far who generously donated to get this unique Victorian bandstand restored to its former glory.
Thank you.