2018 Events in the Recreation Ground
Saturday 11th August
Bowie's Beckenham Oddity 12 noon until 8.30pm
Saturday 8th September
Dizzy's Open Air Cinema showing 'Minions' at 7.30pm
Sunday 16th September
Lewisham Concert Band at the Bandstand at 3pm
Saturday 22nd September
Soultown Festival 12pm 'til 9pm
Saturday 3rd November
Beckenham Fireworks in the Park
https://www.facebook.com/events/1158982407565045/

---
NEXT EVENT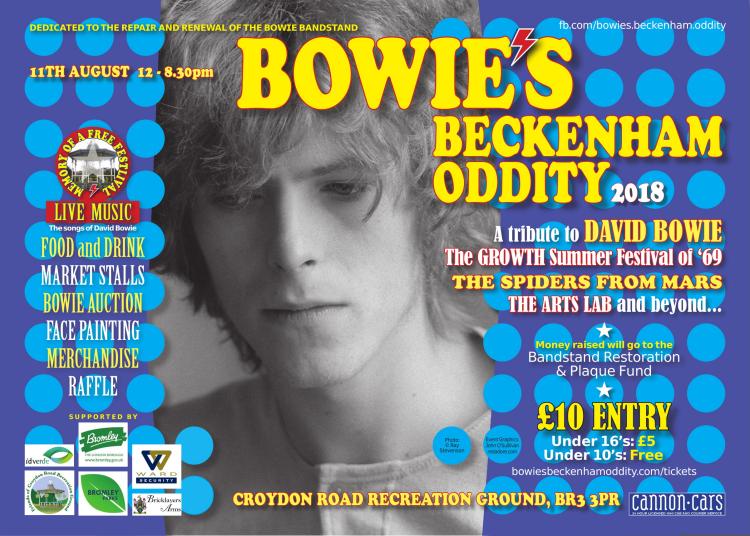 Photograph by Ray Stevenson
click to enlarge
BOWIE'S BECKENHAM ODDITY is an annual fundraiser, supported by David Bowie when he provided signed items for auction at the event.
This year the Bowie Archive has donated another item signed by him, more details of which will follow before the festival in August.
Money raised goes to the Bandstand Restoration & Plaque Fund. Meanwhile here's the press release, with ticket links, etc...
+ - + - + - + - + - + - + - + - + - + - + - + - + - + - +
BOWIE'S BECKENHAM ODDITY 2018:
Saturday, 11th August – 12 noon to 8pm
Croydon Road Recreation Centre, Beckenham, BR3 3PR
A festival celebrating the life and legacy of David Bowie, his time in Beckenham and beyond.
Fans and music lovers worldwide are invited to come together on Saturday 11th August 2018, in Beckenham, South London, to celebrate David Bowie's songs, life and influence, in the park where his rise to stardom began back in 1969.
The third "Bowie's Beckenham Oddity" will take place at Croydon Road Recreation Ground, centred around the same iconic bandstand where Bowie and friends from the Beckenham Arts Lab held the UK's first Free Festival - "The Growth Summer Festival" - on 16 August, nearly 49 years ago. The festival coincided with the release of David's first hit single "Space Oddity" and the day was later immortalised with another Bowie single release: "Memory Of A Free Festival".
This year's event kicks off at 12 noon, with a line-up of musical talent who will reprise Bowie's greatest songs, including "Life On Mars?", the career defining classic he wrote whilst sat on the bandstand steps as well as doing some of their own songs.
Other attractions include food and drinks by local vendors, a raffle of donated prizes, and the auction of Bowie related memorabilia.
Tickets cost £10 adults, £5 for 10 to 16 year olds, and under 10's go free! Tickets are available online in advance from http://smarturl.it/BBOtix2018 or at the gate on the day of the event.
Fans can also support the event via the personalised brick sales, which will be laid in their name around the bandstand on restoration. They can also donate to the "Bowie Bandstand Restoration & Plaque Fund", which will honour not only David Bowie, but all of the people who took part in the initial 1969 festival: http://smarturl.it/BowieBandstandAppeal
+ - + - + - + - + - + - + - + - + - + - + - + - + - + - +
B.B.O. Organiser Wendy Faulkner
After being actively involved in previous fundraiser events for the bandstand, when news broke of David Bowie's death, Wendy felt they had to do this tribute for him and to get this unique piece of musical history restored in his name:
"It's not just about Bowie, but also all the people who were involved with him along his path to stardom. Brixton has its mural, Aylesbury now has its Earthly Messenger statue, but for me the most real and meaningful place has to be at the bandstand. His ties to the borough and the bandstand are without question; he thrived here, having found the freedom to develop the songs that would later change him, change music and change the world. Slightly off the beaten track, it's well worth the journey to come along to see it and experience it first-hand.
I'm pleased that David Bowie knew of the fundraising efforts, and donated signed items for the events before his passing. We will never see anyone like Bowie again, a true legend and star, and this is our way to keep the memory alive and put the iconic bandstand on the map."
+ - + - + - + - + - + - + - + - + - + - + - + - + - + - +
"Bowie's Beckenham Oddity" is supported by idverde, Bromley Parks, and The London Borough of Bromley, who have named the bandstand "The Bowie Bandstand" in his honour.
Tickets: http://smarturl.it/BBOtix2018
For further information, images and interviews please contact:
Wendy Faulkner
Email: bowiesbeckenhamoddity@gmail.com
Mobile: 07538 984631
---
*SAVE THE BOWIE BANDSTAND & LEAVE A TRIBUTE MESSAGE*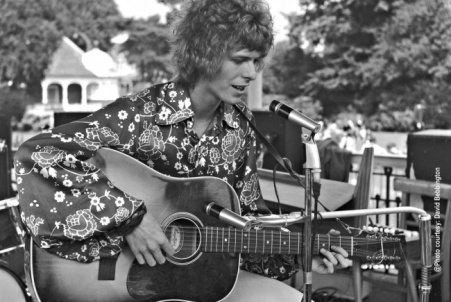 The Beckenham Bandstand is now indelibly linked with David Bowie. He performed on it at the free festival, wrote a song about that festival which ended up on his Space Oddity album, and wrote Life on Mars? on the steps of this bandstand. However, the bandstand has unfortunately fallen into disrepair and now requires funds for restoration.
Following David's incredibly sad passing, the bandstand is now a focal point for tributes. As David had always supported emerging artists, We believe that getting this bandstand repaired and ensuring its long term survival would be a suitable tribute. It would provide a platform for future generations of musicians to perform on and in doing so would allow audiences to continue to enjoy live music in the park. It's also a unique Victorian bandstand, now the only one of its kind, so was already worthy of saving irrespective of the amazing cultural and musical legacy it carries.
The Friends of Croydon Road Recreation Ground are working in partnership with Bromley Council to fundraise for the bandstand restoration. You can support the restoration campaign by:
Making a direct donation on the London Borough of Bromley website to the bandstand restoration fund: www.bromley.gov.uk/bowiebandstand
For donations of £15 or over, Zizzi's have kindly offered to give donors 30 per cent off main meals on Mondays to Thursdays in their Beckenham branch. To claim this offer, supporters need to take a copy of the automated receipt they receive when making a donation.

Buying a personalised Bandstand Brick that will be installed on the circular path around the bandstand : www.bromley.gov.uk/bowiebandstand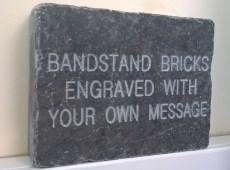 Each brick will contain a maximum of 48 characters. Please be aware that the characters will be divided into three lines of maximum 16 characters each including spaces. You will be free to write your own message for the brick, however, you will only have 48 characters in total and if you wanted to put your name on the brick this would be included within the word count.
Once sufficient funds have been secured for the restoration project, we will contact you regarding details of your preferred personalised inscription.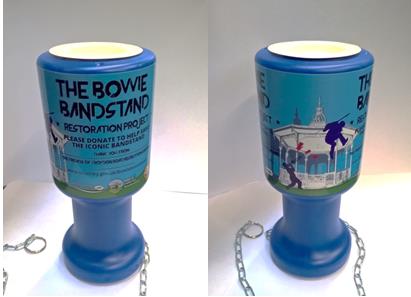 Bella Donata delicatessen (324 Croydon Rd)
Paydens Pharmacy (399-401 Croydon Rd)
Wanted Music (415 Croydon Rd)
Beckenham High Street:
Bricklayers Arms pub
Dizzy's Diner restaurant
Fee & Brown coffee shop
Red Boutique
White Horse pub
Wimpy Bar
Zizzi restaurant
Please also let us know if you would like to become a Friend of the park and join us with our on-going efforts to improve this local greenspace.
If enough people donate, even just £1 each, we will hit our target! All donations are eligible to leave a tribute message which will be viewable when the tribute page is up.
Once the Bowie Bandstand is repaired there will be a celebratory opening party & surely many future festivals to look forward to. History will recall that it was Bowie's fans both near and far who generously donated to get this unique Victorian bandstand restored to its former glory.
Thank you.