Bandstand Restoration Project

As at 1st April 2021

£159,000 from events, donations, bricks etc.

£85,000 pledged by London Borough of Bromley
Since its opening in 1891 by Tom Thornton, the owner and editor of the Beckenham Journal, the bandstand has been part of the rich and varied history of this popular park. The structure was used by Beckenham's Harold Bride, the junior wireless officer on the ocean liner RMS Titanic, to address cheering crowds in the park and has witnessed civic and royal ceremonies, balloon flights and flower shows which rivalled Chelsea in popularity.
---
We are pleased to report that the proposals for restoration were granted Planning approval and Listed building consent at the Council's Plans Sub-Committee No. 4 on 24th November 2022.
https://www.bromley.gov.uk/news/article/416/famous-beckenham-bandstand-set-for-restoration-after-planning-approval-granted
---
Bowie Bandstand, Croydon Road Recreation Ground
Indicative timetable
December 2022
Bromley Council has now issued the following timetable,
which should allow works to finish before Bowie's Beckenham Oddity
planned for mid-August 2023.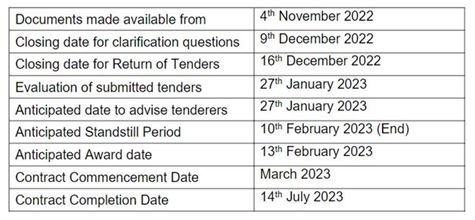 ---
Previous Project Progress....
(in reverse order)
---
Bowie Bandstand Planning Application - August 2022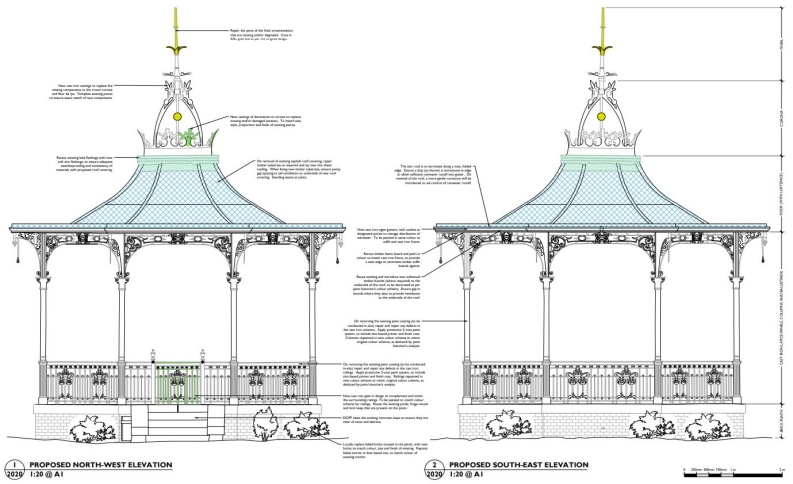 (The above image may be viewed in more detail as part of PDF document 'PROPOSED NORTH-WEST & SOUTH-EAST ELEVATION PLANS' within the planning application documentation via the Planning Permission link below)
We are pleased to announce that the proposals for restoration were granted Planning approval and Listed building consent at the Council's Plans Sub-Committee No. 4 on 24th November 2022.
The planning documents may be viewed on the London Borough of Bromley's planning portal via the links below:
London Borough of Bromley Bandstand News:
https://www.bromley.gov.uk/news/article/372/planning-application-for-restoration-work-to-the-bandstand-at-croydon-road-recreation-ground
Planning Permission:
https://searchapplications.bromley.gov.uk/online-applications/applicationDetails.do?keyVal=RFKMBNBTLO100&activeTab=summary
Listed Building Consent:
https://searchapplications.bromley.gov.uk/online-applications/applicationDetails.do?keyVal=RFKMBOBTLO200&activeTab=summary
---
Council discuss Bowie Bandstand restoration report
In March 2022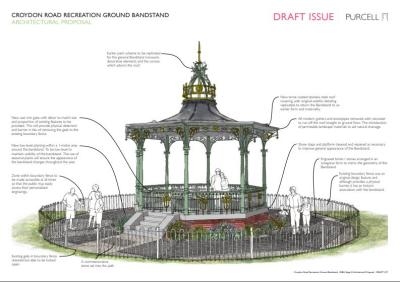 (See Architectural Proposal link below to view the document)
The London Borough of Bromley Environment and Community Services Policy Development and Scrutiny Committee will be discussing the Bowie Bandstand Restoration Architectural Proposals report during a meeting which will take place on the 21st March 2022 at 7.00pm at Bromley Civic Centre. Anyone can attend.
After passing through this committee it will then go to the Executive Committee on the 31st March 2022 at 7.00pm at Bromley Civic Centre.
The links below provide the information being discussed:
---
Initial plans for the restored bandstand - 2016
Bandstand plan (pdf)
Bandstand elevation and sections (pdf)
---
Bowie Bandstand restoration appeal
Efforts to restore the historic bandstand where David Bowie performed at the Beckenham Arts Lab Growth Summer Festival in 1969 are being redoubled following the desperate news of his passing in January. The Bowie Bandstand, once restored, is planned to not only become a permanent and fitting tribute to a superstar musician admired and missed by millions, but hopefully a site where future legends might also one day cut their teeth as well.
The Council is continuing to work closely with the magnificent Friends of Croydon Road Recreation Ground and other local partners to raise the funds still needed, which has already been backed by many supporters. You can help restore the bandstand by making a cash donation towards the Bowie Bandstand restoration project. Please visit our donation page to make your contribution via the London Borough of Bromley. Donors will have the opportunity to leave a memorial message and print a certificate to mark their gift.
---
Initial Survey Report - 2013
The findings of the initial survey carried out in September 2013 can be viewed here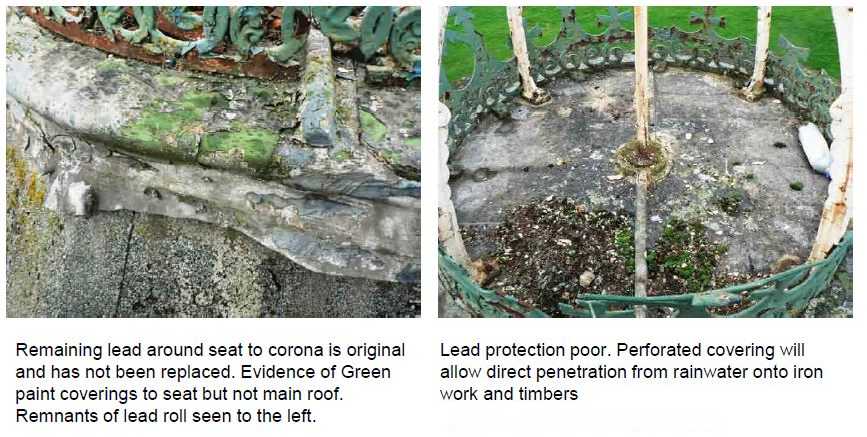 Sample pictures from the survey report
---
Peter Hopkins from Beckenham submitted a project in 2019 featuring the Bowie Bandstand
authored during his MSc course on Building Conservation
MSc. Building Conservation
Unit BC4: Conservation of Metals
Part 1 (Conservation of Metalwork)
Assignment title: A Report of 19th century iron structure
---
*SAVE THE BOWIE BANDSTAND & LEAVE A TRIBUTE MESSAGE*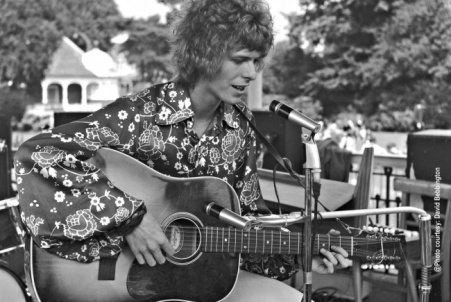 The Beckenham Bandstand is now indelibly linked with David Bowie. He performed on it at the free festival, wrote a song about that festival which ended up on his Space Oddity album, and wrote Life on Mars? on the steps of this bandstand. However, the bandstand has unfortunately fallen into disrepair and now requires funds for restoration.
Following David's incredibly sad passing, the bandstand is now a focal point for tributes. As David had always supported emerging artists, We believe that getting this bandstand repaired and ensuring its long term survival would be a suitable tribute. It would provide a platform for future generations of musicians to perform on and in doing so would allow audiences to continue to enjoy live music in the park. It's also a unique Victorian bandstand, now the only one of its kind, so was already worthy of saving irrespective of the amazing cultural and musical legacy it carries.
The Friends of Croydon Road Recreation Ground are working in partnership with Bromley Council to fundraise for the bandstand restoration. You can support the restoration campaign by:
Making a direct donation on the London Borough of Bromley website to the bandstand restoration fund: www.bromley.gov.uk/bowiebandstand
For donations of ?15 or over, Zizzi's have kindly offered to give donors 30 per cent off main meals on Mondays to Thursdays in their Beckenham branch. To claim this offer, supporters need to take a copy of the automated receipt they receive when making a donation.

Buying a personalised Bandstand Brick that will be installed on the circular path around the bandstand : www.bromley.gov.uk/bowiebandstand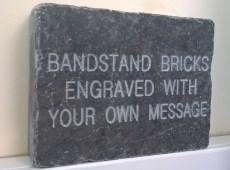 Each brick will contain a maximum of 48 characters. Please be aware that the characters will be divided into three lines of maximum 16 characters each including spaces. You will be free to write your own message for the brick, however, you will only have 48 characters in total and if you wanted to put your name on the brick this would be included within the word count.
Once sufficient funds have been secured for the restoration project, we will contact you regarding details of your preferred personalised inscription.
Please also let us know if you would like to become a Friend of the park and join us with our on-going efforts to improve this local greenspace.
If enough people donate, even just ?1 each, we will hit our target! All donations are eligible to leave a tribute message which will be viewable when the tribute page is up.
Once the Bowie Bandstand is repaired there will be a celebratory opening party & surely many future festivals to look forward to. History will recall that it was Bowie's fans both near and far who generously donated to get this unique Victorian bandstand restored to its former glory.
Thank you.
---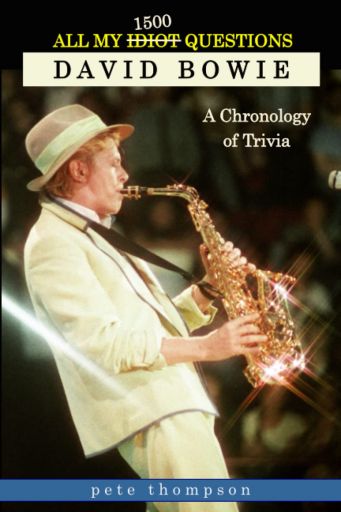 A comprehensive David Bowie Trivia book, compiled for charity and presented in the form of 1500 questions, offering even the most obsessive of fans the opportunity to test themselves on all things Bowie. The questions are presented in a chronological order, decade by decade, thereby giving the reader a timeline, and hopefully at least some small insight into what a certain David Robert Jones did with his life. It is hoped that the book proves to be both enjoyable to work through, and informative at the same time. Proceeds donated to the 'Bowie Bandstand Restoration Appeal' in Beckenham and to 'Macmillan Cancer Support'.
Buy from Amazon and support our appeal
---