Home > Snippets > Tim and Bengo
Whirligig Snippets
Tim and Bengo
My Mum was a guest on the same show as Tim & Bengo and Tim drew and dated a picture of Bengo for my birthday on the back of a piece of the show's script paper – which I still have!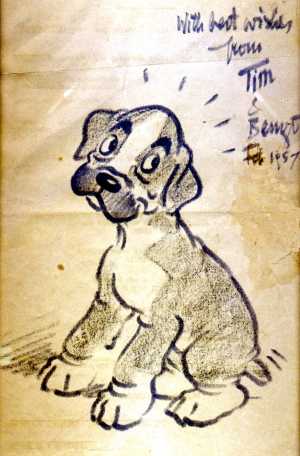 It was my 6th birthday on 4th February 1957 and my Mum had gone to London that day with a chinchilla to appear with George Cansdale on BBC TV. On the same programme was Tim. My Mum asked Tim if he would draw a picture of Bengo for my 6th birthday and here it is. I suppose after all these years I am lucky it survived. I had it carefully framed and it now has pride of place on one of my walls.
I suppose the interesting thing is I ended up working in Television (Yorkshire Television) from the age of 17 until I retired and worked on many children's programmes (The Riddlers, Puddle Lane, Moon Cat ......).
Brian Cooke
If you have any comments or further information of interest, please e-mail snippets@whirligig-tv.co.uk