Music Programmes
Concert Hour : The hour was between noon and 1pm, on weekdays on the Home Service from March 1946 to December 1964, when music was commonplace on the Home Service - as opposed to the much rarer event which it is today.
Memories for You : requested tunes played in strict tempo by Victor Silvester's Ballroom Orchestra in a series heard on both Light and Home services.
Your Hundred Best Tunes : Gentle, quiet and serene record programme presented by Alan Keith on Sunday evenings since 1959. (It was called 'The Hundred Best Tunes in the World' until February 1960). Alan Keith was the longest-serving disc jockey on British radio; his rich and mellifluous tones could be heard every Sunday evening for 44 years on Radio 2's Your Hundred Best Tunes, bringing a touch of solace and relaxation to the airwaves.
The programme was devised by Keith in 1959 and first broadcast in November that year. It was a simple formula; Keith would choose a selection of light classical music from the BBC gramophone library and introduce each extract in his matchless modulated style. He died, whilst still presenting the programme weekly, in March 2003. Richard Baker then took over the programme until it was axed in 2007, after 48 years, to make way for a new-look schedule.
Mid-Day Music Hall : was a variety show which started in 1953 and was broadcast live every Monday and Friday (alternating with Worker's Playtime on Tuesday and Thursday). It was originally compered by Michael Miles and then later, in the sixties, it was introduced by Bill Gates. Max Miller appeared in the programme regularly once a month towards the end of his career when he had more or less retired. The signature tune was 'Over The Sticks'.
Henry Hall's Guest Night : One of the major musical figures from the golden age of wireless, Henry Hall's 'chat show' saw Britain through the dark days of war, and bearing a famous signature tune in 'Here's to the Next Time', it ran for 972 editions until the late '50s. Hall's regular greeting, 'Hello everyone, this is Henry Hall speaking', became something of a national catchphrase.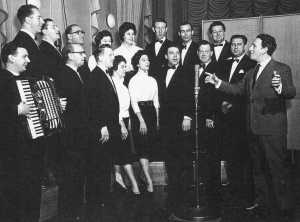 Sing Something Simple with the Cliff Adams Singers (right) : "Songs simply sung for song-lovers" was the subtitle for this half-hour of non-stop pop-songs. It became a warm, smooth, cosy and sentimental Sunday-evening institution. Beginning on the Light Programme in 1959, initially on Fridays but soon moving to Sunday nights where it stayed every week until the death in October 2001 of Cliff Adams. The Adams Singers were originally accompanied by accordionist Jack Emblow and his quartet.
Pick of the Pops began in 1955 and was presented by Franklin Engelmann as 'a choice of current popular gramophone records'. He was succeeded by Alan Dell and then David Jacobs who hosted it at 10.40pm on Saturday nights. In 1961 it was incorporated into 'Trad Tavern' with presenter Alan Freeman. Its theme tune was 'At the Sign of The Swinging Cymbal'. It Later it moved to Sunday teatime.
Tip-Top Tunes : Bandleader Geraldo's 'Tip-Top Tunes' series that ran on both the BBC Light Programme and General Overseas Service featured mostly the regular Geraldo line up heavily augmented into a large concert orchestra personnel. The earlier programmes featured singers Carole Carr, Dick James, Sally Douglas and Archie Lewis and top big band soloists playing everything from small group swing to adventurous concert arrangements by the likes of Robert Farnon and Wally Stott (later Angela Morley). The 'Tip-Top Tunes series ran mainly from 1946 to 1954 after which there were some revivals later on in the era as well as one off occasional specials later on. (Information kindly provided by Phil Farlow)
Kings of the Keyboard : was a showcase for piano music, broadcast in the late fifties. The writer recalls getting out of school football on Friday afternoons to visit the Concert Hall, Broadcasting House to attend the recordings of this series, transmitted on Sundays.
The idea of the programme, which had been entitled 'Concert Grand' several years previously, was to present contrasting styles of piano music performed by a number of well-known pianists. A typical programme from August 1959 featured Valerie Tryon (concert pianist), Reub Silver and Marion Day (two pianos), Bill McGuffie (latin-american music) and the Ian Stewart Quartet (rhythmic piano music).
The fact that female pianists took part may explain why, when the series was revived in the early seventies, it reverted to its original title 'Concert Grand'. (Information kindly provided by Brian Reynolds).
Continental Serenade : Ran from 1942-53 on Saturday afternoons on the Light Programme. Jacques Vallez and his Septet broadcast from 1956 and featured Jacques on cello and Musical Saw (he often played the saw on TV in the fifties). The programnme continued to be broadcast with the Septet until 1963.
Music Box : Ran from 1958 until 1967 and was one of several well-remembered shows occupying the 10 a.m. slot on the Light Programme, hitherto occupied predominently by theatre organ programmes. Initially, it featured one of several small ensembles, such as the Billy Mayerl Rhythm Ensemble, Cecil Norman and the Rhythm Players and Sidney Davey and his players. By 1959 it had its own resident group, The Charlie Katz Novelty Sextet, with a guest instrumentalist or singer (sometimes both). It also acquired a resident presenter, Tim Gudgin, whose humorous ( seemingly unscripted) interactions with the players added to the charm of the programme, as did the distinctive high pitched laugh of Charlie Katz - a fine violinist who, as a 'fixer' was one of the most powerful men in the music business. The series spawned two long-playing records entitled 'Every Tuesday 10.a.m. Music Box'. They began and ended with the programme's signature tune 'The Pied Piper' - played on the ocarina! There was a special 'last ever show' in 1963 but public demand soon brought it back and it ran on until 1967, when the Light Programme became Radio 2, and several light music shows ended. (Information kindly provided by Brian Reynolds).
Bright and Early : was a cheerful programme of uninterrupted music, rather in the style of Music While You Work, which was broadcast six days a week in the Home Service at 6.30 a.m. for 25 minutes. Commencing just after the war,initially as a record programme, it started using studio sessions in May 1947 with a different ensemble every day - light orchestras, dance bands, cinema organists and brass bands had their allocated slots each week. Popular contributors included Troise and his Banjoliers, Frank Baron and his Sextet and Primo Scala and his Accordion Band. The show continued until September 1958, the last year featuring predominantly BBC staff orchestras. It returned in January 1962, this time on the Light Programme for a full half hour but as a brass band slot on Thursday mornings. Although this delighted many, the BBC received a few complaints from people who preferred to be soothed out of their slumber - one correspondent to 'Radio Times' suggesting that every note was created 'in the devil's forge'! In the Autumn of 1963 the programme reverted to a six days a week format ,once again featuring mostly BBC orchestras. An exhiliarating start to the day, 'Bright and Early' finally bowed out on 1st January 1965. (Information kindly provided by Brian Reynolds).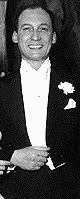 Semprini Serenade : 'Old Ones, New Ones, Loved Ones, Neglected Ones....' A series, produced by Alastair Scott-Johnston, had previously featured pianist Arthur Young, but he was emigrating to Australia. An actor, Michael Brennan, during his army service, had heard a pianist in Italy, became his agent, and brought him to Britain. His name was Albert Semprini (left). He was accompanied by Harry Rabinowitz and the BBC Revue Orchestra. Some critics dismissed it as musical treacle but a loving and loyal audience lapped it up for more than 25 years during which he made more than 700 programmes.
The Ted Heath Band Show : Ted Heath and his Band



Introduction
Peter Calls the Tune : Saturday evening show on the Light Programme with Peter Haigh playing records.
The Jack Payne Record Show : Saturday lunchtime show on the Light Programme with Jack Payne introducing 'popular gramophone records from here, there and everywhere'.
Melody Hour : was a light music programme, broadcast on Sunday afternoons from 1954 to 1961 and featured well-known orchestras contrasted with a guest vocalist as well as an instrumental ensemble, such as George Scott-Wood and his Music or Henry Krein and the Montmartre Players or maybe a two-piano partnership. The programme boasted some of the top names when it came to the orchestras used: High profile conductors such as Robert Farnon, Cyril Ornadel, Peter Yorke, Frank Chacksfield, Ron Goodwin, Sidney Torch, Geraldo, Jack Coles, Gilbert Vinter, Bernard Monshin, Max Jaffa, Michael Collins and Lou Whiteson were amongst those who contributed programmes over the years. The BBC Concert Orchestra also sometimes took part and, on one occasion in 1957 combined with the BBC Midland Light Orchestra for a special edition, broadcast live to Germany as well as simultaneously being seen on BBC television! In 1960, the programme was extended to 90 minutes and additional guest artists were included in the line-up. Because of the extra time, the programme was retitlled 'Melody Time'. Although the Sunday series ended in 1961, a similar show entitled 'Midday Melody Hour' was broadcast at 11.30a.m during the sixties. (Information kindly provided by Brian Reynolds).
Desert Island Discs was originally introduced by Roy Plomley in 1942 and has had over 2000 castaways in its long run, including Royals, Prime Ministers, stars of stage and screen, legions of the great and the good - and invited each to chose eight records to spend the rest of their lives with. The signature tune is called 'By the Sleepy Lagoon' by Eric Coates. The first castaway in 1942 was Vic Oliver, comedian.
Saturday Club : Two hours on Saturday morning on the Light Programme which weaned a generation of youngsters on squeaky clean pop music. Brian Matthew was mine host from 10am. to noon. It ran from 1957-69.
A Golden Treasury of Music and Song : Home Service series at noon on Saturdays from 1956-65
Flat Spin : Jimmy Young's first programme as DJ in 1953.
See Also: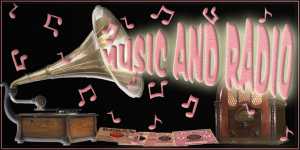 Yahoo Group - Music and Radio 1920s-1950s

If you have any comments, questions or further information of interest, please e-mail:
radiodays@whirligig-tv.co.uk