1998
SEE HOW THEY RUN…Director…Graeme Harper…Producer…Jo Ward…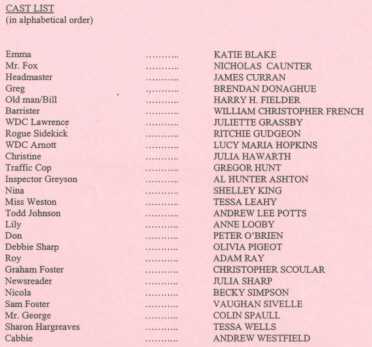 IT HAD TO HAPPEN ONE DAY. I'M CAST AS OLD MAN/BILL.
My thanks to Graeme and Jo for using me on this show..
MOTTO…It doesn't matter what they call you in a show, as long as they call you..

ENTRAPMENT…Director…Jon Amiel…
Cast Inc…Sean Connery…Catherine Zeta Jones…
Filming at The Borough Market South London for a week. (A very hot week)
Dressed up in winter clothes as a stall holder on the hottest days of the year..
Fake snow all around us and me wearing gloves, a body warmer and scarf.
This is the last film I worked on. (Bless)

I did a couple of episodes of EASTENDERS and that was it.
THE PHONE STOPPED RINGING…
NOW TO ANSWER MY GRANDSON'S QUESTION AT THE BEGINNING OF MY WRITING.
I CAN SAY TO HIM
"I WAS A PART OF IT"
I'd like to thank all the people I worked with for the thirty two years I was in the business and tell them:
"IT WAS F***ING WONDERFUL!"
Love Aitch
Now it's only the middle of 1998 and I'm running out of money.The job centre try sending me for jobs that I know nothing about. They ask me when my last proper job was and I tell them 1966... I know the film game's finished for me and I've got to get indoor money... It's another seven years before I'm due a pension.
Now a funny thing happened...I went to a large DIY/GARDEN center to buy a few plants at Hemel Hempstead only ten minutes from home. I got talking to the garden manager about the plants and the nice display they had. He said ''Do you like gardening?'' I said ''I've always tried to keep my garden neat and tidy'' He said, '' Would you like to work part time (three days a week) for us?''
It wasn't a lot of money but it would help with the house bills. So I said ok... After a couple of weeks of humping bags of compost around a customer asked me if I knew anything about timber..... (that's what I did for eight years in the 50s and 60s) I could still answer all his questions and he asked me if I could cut him some chipboard... We had a huge cutting machine but you had to be trained on how to use it. So I took him to one of the guys that was trained...
Now before the customer left the store he told the main manager, John, that I'd been very helpful. John spoke to me the next day...... ''Aitch, I hear you know about timber'' and I told him my story about my years in the timber trade and he said.. ''Next week we'll train you on the cutting machine and see how you get on.'' So for the next six months I was off gardening and onto the timber dept.. I hadn't done this kind of work for over thirty years, so it wasn't easy for me.
Back in the 60s we never had ten foot worktops that had to be man-handled and put on a cross cut machine... Now the store wanted me to work full time (5 days a week) and of course the money would be better. There had been no calls from the film game so I took the job and I settled in and liked the work. Most of the other staff were good to work with but, of course, you had one or two dodgers.. (you get that in all things you work at). Now they train me as a fork lift driver supervisor and of course with extra pay.
I carried on with this job until 2004 when in June I had a bad pain in my gut and John insisted I went to my doctor... The doctor sent me to hospital and they told me I had colon cancer...THE BIG C... They operated a couple of days later and I was out after eight days. My wife nursed me for the next three months and I put my wieght back on.. From 9 stone back to over 12... John made sure I got my pay for the three months and then I wanted to go back. I went to see John and he told me my NEW job would be Customer Greeter and I would be at the front of the store. That seemed ok to me because I wouldn't have to lift the heavy boards....
In 2005 I reached the age of 65 and thought to retire but John asked me..... ''Aitch could you do a bit of part time for us?'' Back to three days a week!...
After another couple of years I found it tiring standing at the front of store for 8 hours a day so decided to call it a day and let the young 'uns have it......... My thanks to John and some of the nicer workers....