1996
MISSION IMPOSSIBLE…Director… Brian De Palma…
Cast Inc… Tom Cruise…Jon Voight…
A night shoot at Liverpool Street Train Station in London.
They want to use my car (Orion) in the first shot and have a London bus give it a near miss.. After about six takes and the bus getting nearer with every take the director gets his shot. (I'm a bit pleased with that)
They had rain machines on us all night which made the driving more difficult..
Tom Cruise was very good to the onlooking crowd and every so often would go over to them and sign autographs for them.
Mind you there was half a dozen big guys (Ben, The Spiv,) doing their best public liaison work..
I was speaking to Robin the caterer when Jon Voight came over and joined us.
He shook hands with me and asked me how I was doing.
I said I had worked with him before on The Revolutionary many years before.
He remembered the film and I didn't remind him of the good drink we had at the end of that day..
It's not in his memory but it will certainly stay in mine.
101 DALMATIONS…Director…Stephen Herek…Shepperton Studios…
Cast Inc…Glen Close…Hugh Laurie…
Filmed for a couple of nights with David Tringham holding it all together.
Nothing much to do mainly background stuff but had a long chat to David about a script I had finished. (He said it was good but it still never sold).
EVITA…Director…Alan Parker… Shepperton Studios…
Cast Inc…Madonna…Antonio Banderas…
I was lucky to be on the scene where Madonna sings ''Don't Cry For Me Argentina''
It was very powerful stuff and all the crowd gave her an ovation when she finished..
I met up with Sally Ball (Continuity girl) after nearly thirty years. She still looks the same.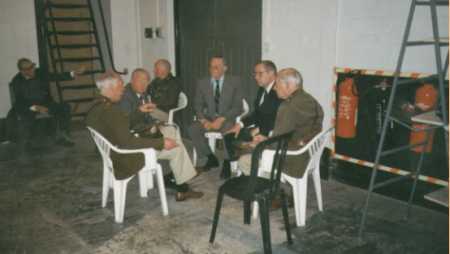 SOME OF THE CHAPS SITTING BACKSTAGE ON EVITA.. AITCH IS SECOND FROM RIGHT.
INCOGNITO…Director John Badham...
Cast Inc…Jason Patric…
Another job for Tricky Tringham this time playing a prison warder (screw) and leading Jason down to his cell. (He wasn't too happy about it)
I liked the way John Badham worked.( He called me Harry the horse)
THE FIX…Director Paul Greengrass…Producer Ken Trodd…BBCTV…
Cast Inc… Michael Elphick…Steve Coogan…Jason Isaacs…
I was sent down on this production to be driving double for Michael and ended up over the couple of week's period doing crowd scenes as well.
As I write this Michael has since died and I can remember standing in for him many years ago on a Pink Panther film with Peter Sellers.
Steve Coogan and Jason Isaacs have gone on to be big stars.
EASTENDERS…BBCTV…Director Garth Tucker…
Done a few episodes of my favourite soap this year and even did one as a cast member having a row with Ross Kemp.. (He won the row)
Showed Pam St Clement (Pat) my script for "If A picture" which she read and sent me a nice reply.
I find it's not the writing of a script that's hard it's the getting it read.