1990
EASTENDERS...
Someone sent me these pictures from EastEnders that I did in 1990. I was there to play a Gorillagram to Kathy Beale as a suprise set up by Phil and Grant on Kathys 40th Birthday.... They rang the door bell and Kathy came out...And I said...... ''Now you've reached the age of forty, doesn't mean you can't be naughty''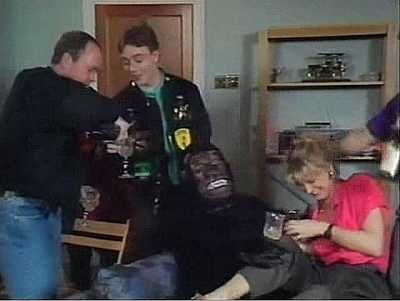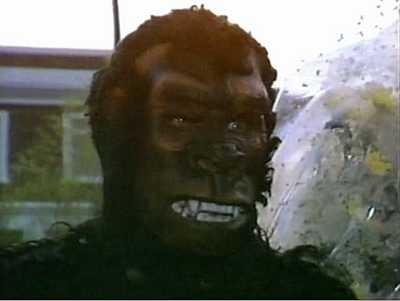 SHELLEY…THAMES TV…
Cast Inc…Hywel Bennett…
Cast as a betting shop punter and recorded before an audience.
I only had a couple of lines to say and was alright during the rehearsals but on the take when it came to my bit I forgot the lines and my mouth opened and I said "Oh f**k it". I got a huge round of applause from the audience and got it right on the second take. (You can't win them all)
NIGHTBREED… PINEWOOD…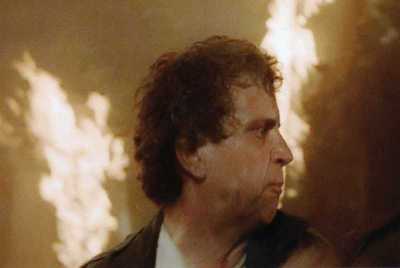 Got called down to Pinewood studios for a day from a 1st A.D. who said he wanted me to do some business..
Wardrobe dress me as a lumberjack type person and I go onto the set..
All I've got to do is fire a shotgun at a very small man (stuntman) who is dressed and made up as the Devil. (This is a horror film) (Easy so far!)
I fire the gun into some bushes but miss the target. The director tells me to go forward and find the little devil.
All of a sudden this little man (stuntman) has me around the neck and slings me over his shoulder and onto the floor..
(I'll have a quick word with the 1st A.D. as soon as I get my wind back)..
1st A.D.: "Sorry Aitch, I didn't know he was going to do that, the director said he was only going to get you on the floor so he can slit your throat" (Nice, and me with my first grandson (Marc) only a few weeks old).
I said to him "You can't go slinging granddads about it ain't right"..
1st: "We're paying £150 for the job". "Sling away".. I tell him..."but don't cut my throat
too deep I wanna have a swift half at lunchtime"…(I'm back)
HOPE IT RAINS…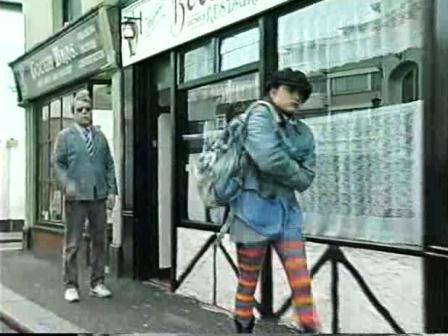 I'm off down to Bognor Regis for a day to play a disgruntled café owner who has some strong words to say to a punter that takes hours to drink one cup of coffee..

1991 is the worst year for me and things are getting hard.
THE BILL…Director Keith Washington…Thames TV…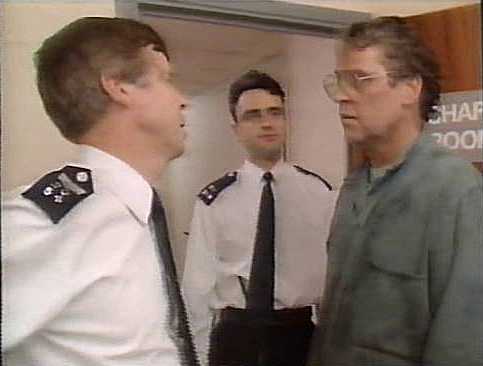 Keith sent me a script where I was to play an angry father whose son had been nicked for stealing a pint of milk.
There was quite a bit of dialogue with a young P.C. as we moved from room to room in the police station..
(Now I've done enough films and TV to know as you move from one room to another you pick the shot up on a new angle)
This time Keith wants to get it all in one shot so out comes the "Steady Cam"
(Steady Cam…this enables the camera operator to walk with the camera wherever the actors walk and the camera is always steady).
Now it's quite hard for me to do all the moves and the dialogue as I've always said I'm a Supporting Artist that can do some lines.
We rehearse a couple of times then we go for a take and it all goes well until I get to the line near the end of the piece that goes "My son's not a thief" but I actually say "My son's not the filth" (It doesn't go down too well in a police station)
After another take it's in the can. Thanks Keith…
CASUALTY…Director Mike Brayshaw…BBCTV…
Mike has got me down to Bristol to do some public liaison work.
I take Gypsy Dave and Jerry Judge for a week of night shooting.
In this episode there are riots going on and we have a couple of hundred mixed kids off the streets to help us create the riots..
I've done a few of these by now and what I found out was you get the biggest rioter from the crowd and get him to help you control his mates. He gets a bit extra in his pay packet and for that week we had no bad trouble.
I caught one kid sniffing a bag of glue but he got sent home.
It was very hard work and I could not have done it without the help of Gypsy Dave Cooper and Jerry Judge.
Dave now lives in Thailand and Jerry has his own security firm and does public liaison work for all the top stars.. (Well done boys)..

GET YOUR HAIRCUT YOU HORRIBLE LITTLE MAN…
GOODNIGHT SWEETHEART…Director Robin Nash…Producer John Bartlett…
Cast Inc…Nicholas Lyndhurst…
Got a call from Chris D'oyly John (Now location Manager) to help him out for a week down in the East End of London doing some public liaison work on this production.
I got on well with both cast and crew and the week soon passed with only the occasional altercation from a couple of drunks..
As lorries and cars were passing by they would see Nicholas and shout out, "Rodders you plonker!" they thought we were doing Fools And Horses.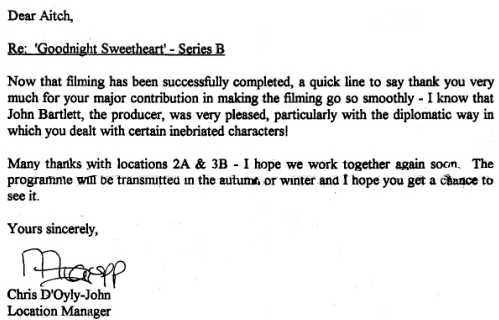 1993 and the shop is in dire straights and the only thing to do is to walk away from it…
I have tax bills, VAT bills and a million other bills to settle.
The only thing for it is to move out of my beloved Islington and to find a cheaper house out in the sticks near my daughter and grandson Marc… (We have had to move again since).
I paid all my bills but had to pay the lease on the shop for another year.
So I'm fifty three years old and flat broke.. I have only myself to blame..
It was becoming a bad time to own a video shop with corner shops putting in stands for video hire and libraries hiring out videos and then there was the Sky Channels opening up I was working in the film game to pay the rent on the shop..
People who I'd known in the film game for nearly thirty years were older and they too found it hard to get work.
What else could I do.. My last "Proper" job was in a timber yard in the '60s and I was a bit old to carry sheets of block board around all day..
I signed on the sausage roll (dole) for a while till I could get my head together.
We weren't starving but the swift half's had to stop and I'd be on the phone all day looking for any film work..
Things can only get better. (gulp)
I do a few episodes of EastEnders which helps..
THE KNOCK…Director Keith Washington…LWT…
Keith has cast me in a good role as Henry Mitchell for a few episodes and I am the landlord of a local East End pub.. (Dodgy person)
I have quite a bit to do which I manage but on the last day of shooting I have so much pressure from my problems at home and the money from the lease of the shop that I can't play my part in The Knock the way I would have liked to have done.
We did finish all my scenes and when I saw it on TV it looked ok.
This was all down to Keith Washington who edited it in a way that he got the best out of it. I thank you Keith and I'm sorry if I let you down.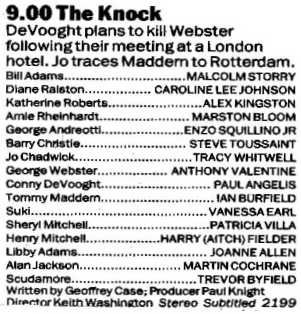 I managed to get another couple of jobs in 94 but the writing was on the wall.
Odd days on EastEnders and a Crimewatch weren't going to keep me.
I started writing and came up with a couple of good scripts. (I thought)
I found out that it's not the writing of the scripts that's the hardest it's the selling. I invested in a word processor and would sit for hours/days/months in front of it churning out the written word..
I sent them off to film and TV companies and had a lot of very good replies,
(Good replies don't pay the rent)
I have kept all of the replies on file and hope one day I can tell these people that my ideas were good..
House wise I'm forced to move again to a smaller place.
(If it carries on like this I'll be looking for a two bedroom tent)..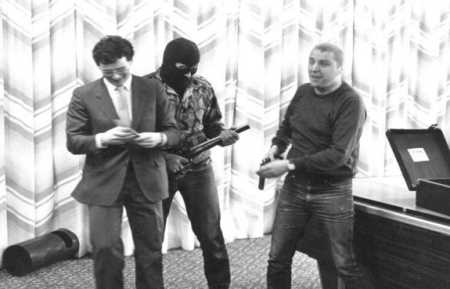 JERRY AND AITCH FINDING A WAY OUT……