1989
A TALE OF TWO CITIES…Director Michael E. Briant…BBCTV…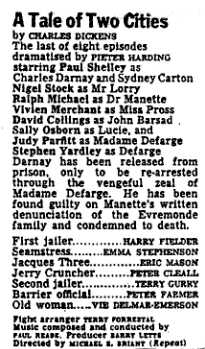 A week's rehearsal at the North Acton Hilton then a few days in the TV Centre saying a few words and being a bit nasty to Paul Shelley..
(Someone's got to do it)
THE MANAGERESS…Director Chris King…Channel 4…
Cast Inc…Cherie Lunghi…
Played a barman for a day and had some harsh words to say to one of the cast.
(It was scripted)
HOME JAMES…Director Martin Shardlow…Thames tv…
Cast Inc…Jim Davidson…
Had a day out on location with this and had some dialogue to say to Jim but not until we'd had a couple of swift halves in the local pub.. (Easy job)
LONDONS BURNING…Director Keith Washington…LWT…
Usual Cast…
Back to playing the landlord of the fireman's local pub..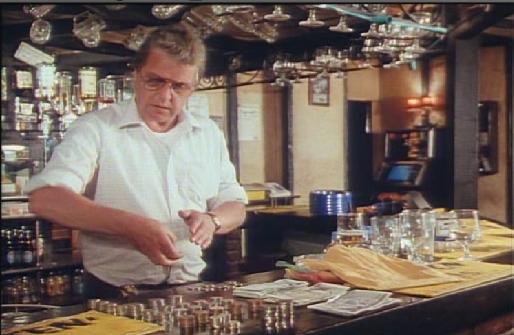 Just checking the small change...
BATMAN…Director Tim Burton…
Cast Inc…Jack Nicholson… Tim Burton…Kim Basinger…
A couple of nights on this as a Supporting Artist and, although it was cold, what makes me remember this film is Jack Nicholson leaning over a high balcony and saying to some of the boys "Just look at it this way guys, another day another $100,000s" (I think we were on £50 a night).
INSPECTOR MORSE…
A couple of days watching John Thaw do his best work.
Had long chats with Barry Summerford, John's stand/in.
I played a plain clothes cop in a couple of scenes..