1986
HIGHLANDER…Director Russell Mulcahy,,,
Cast Inc…Christopher Lambert…Sean Connery…Clancy Brown…
Just a day on this dressed as an American cop standing guard on a patient outside a hospital ward..
I think the patient was my old mate Christopher Malcolm but I can't remember.
MONA LISA…Director Neil Jordon…
Cast Inc…Bob Hoskins…Michael Caine…Cathy Tyson…
Filmed at Blackheath in South London and spent most of the day chatting with my pal Sammy Pasha. (Bob's stand/in)
ALL IN GOOD FAITH…Director John Howard Davies…Thames TV…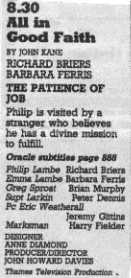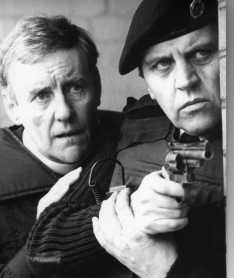 It was good working alongside Mr. Richard Briers in this scene from the series. Richard is playing a vicar and I'm there to protect him. Or was he there to protect me. It's Directed by Mr. John Howard Davies who once was Oliver in David Lean's Oliver Twist 1948.
I never get to play Vicars.....Can't think why.....???
MARY QUEEN OF SCOTS…BBCTV…
Another day at the office so to say.. All I have to do is chop off the Queens head.
(It doesn't make you a bad person/Stieger)
CHANCE IN A MILLION
Channel 4 sitcom starring Simon Callow and Brenda Blethyn
Episode "What shall we do for a ring?"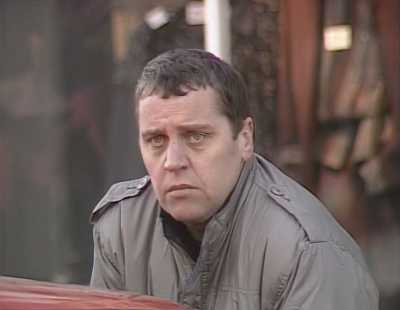 (click on the picture for YouTube video and watch 50 seconds into the episode to see my bit)
C.A.T.S. EYES…Producer Rex Firkin…TVS…
Cast Inc…Jill Gascoine…Leslie Ash…Don Warrington…
A day out in Kent saying some words..

C.A.T.S Eyes
DEAD MANS FOLLY…Cast Inc…Peter Ustinov…Jonathan Cecil…
Another film with Tricky Tringham at the helm and giving me all sorts to do..
I end up being the tombola man and try to get Peter Ustinov to spend some money on my stall.. (You had more chance of getting a drink off the man that is allergic to mahogany)
(Remember, he doesn't like going near the bar when it's his round).
I get to work many more times with David Tringham and it's always great fun when he's your boss. He knows the business inside out.
And as he always says ''A happy crew is an overpaid crew'' (Did he say that, or did I?)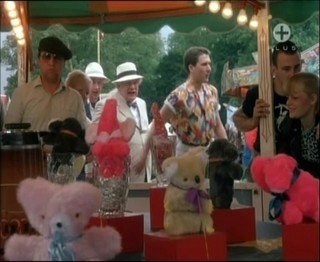 EDGE OF DARKNESS…Director Martin Campbell…BBCTV…
Cast Inc…Bob Peck…Joe Don Baker…John Woodvine…Joanne Whalley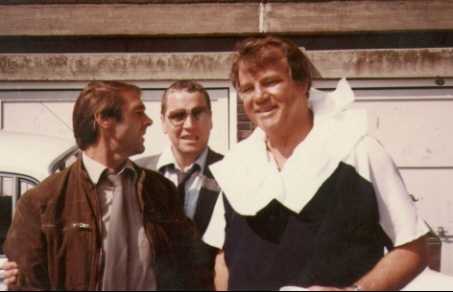 BIG JOE DON BAKER WAITING FOR HIS SHIRT TO BE FINISHED……..
A few days on this pretending to be a policeman..
THE SINGING DETECTIVE…Director Jon Amiel…Writer Dennis Potter…
Producers…John Harris and Kenith Trodd…BBCTV…
Cast Inc…Michael Gambon…Janet Suzman…Patrick Malahide…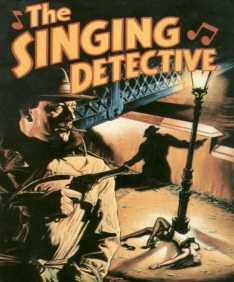 I was called up on this to do some public relations work and on the first day was told not to let anyone into the church they were filming in except for the cast and crew.
I knew most of the crew from other jobs and had worked with a lot of the cast before.
After a while a man comes towards me who I didn't know.
I said ''You can't go in there guv, we're filming today'' He gave me a look and said, "Who are you?''. I said "I'm Aitch on security, why who are you?". "My name is Jon Amiel and I'm the director". I felt a right lemon so I said to him, ''You'd better hurry in then guv, they're waiting for you"..
He thanked me later for doing my job and we did work on other things over the coming years. The job lasted for months…
After working on The Singing Detective doing public liaison work for months in the winter of '86 it was time I thought about my future.
I'd been getting up sometimes at four in the morning being the first on location and putting road cones out to save the spaces for all the transport that goes with a big filming crew.
Jerry and Gypsy Dave were with me on some days and sometimes I wouldn't get home 'til nine at night, only to fall into bed ready to do the same thing tomorrow..
The cold got to me and as I was not too far away from being fifty years old I decided this would be my last job as public liaison.
(TRY TO SEE THIS SHOW, IT'S GOOD)
A friend of mine was selling the lease on a video shop and I sat in there for a few nights to see how business was. It looked easy. All you had to do was sit behind a warm counter, give the customer a video film, take the £1 or £1.50 and he brings the film back the next day. With 500 films in stock this could be a good earner.
I bought the shop and spent the next month working from 10am 'til 8pm seven days a week getting the lie of the land. I made a small profit. But not as much as I would have earned in the film game.
Have I just made a big mistake in buying into the shop? I was hoping not..
It sounded good at the time of taking the £1 or £1.50 off the punters all day long but had I forgotten about the rent and rates and VAT when I went to buy my new films at fifty pounds plus..
During the cold weather the shop ticked over but when it got warm I might as well have stayed shut. If you only get thirty or forty people in a day I'd be running at a loss.
Weekends were good but all I was doing was working 70 hours a week to earn enough money just to live.. The rest went on bills.
Now I want to get rid of the shop but no one wants it.
A new film at £50 plus VAT would have to go out for a month before it starts to make a profit and you need more than one copy. It only makes a profit if it doesn't get broken or stolen by the punter. (Some people moved house and took my films with them. They forgot to give me their new address)
People I knew in the film game were offering me work but I couldn't do it, I had to try and recoup the money I had ploughed into the shop. (An uphill struggle).
With the help of my family helping me out in the shop (unpaid) I went out to find some film work during the week and tried to be in the shop at weekends..
I was now back in the film game to try and keep the shop open..
You can't just walk away from a lease.
I wont bore you with what I had to do for the next few years concerning the shop but in 1993 I had to make a big decision that was to change my lifestyle.
Let's go into 1987 and see what that holds for me…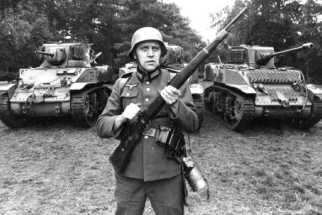 WOULD YOU BUY A USED TANK OFF THIS MAN..