1985
13 AT DINNER…Director Lou Antonio…Warner Bros…
Cast Inc…Peter Ustinov…Jonathan Cecil…David Suchet…Lee Horsley…John Stride…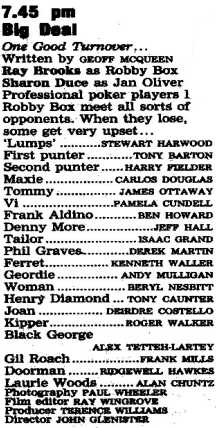 Tricky Tringham has got me down on this to play a 1st A.D. and he's giving me all the star treatment of a caravan and has got the boys to sir me off.
We filmed it at Butlers Wharf Shad Thames.
I decided that if Tricky wanted to take the Mick out of me I would play the 1st A.D. as Tricky does it for real. ''Make/up over here, Wardrobe stand by on set please''.
As it happens it worked out real fine and all the stand/ins told Tricky I was taking the piss out of him. David (Tricky) and I still laugh about it today.
THE HOLCROFT COVENANT…
Director:
John Frankenheimer

Writers:
Robert Ludlum (novel)
George Axelrod (screenplay) ...

Cast

Michael Caine ... Noel Holcroft

Anthony Andrews ... Johann von Tiebolt / Jonathan Tennyson

Victoria Tennant ... Helden von Tiebolt / Helden Tennyson
Lilli Palmer ... Althene Holcroft
Mario Adorf ... Erich Kessler / Jürgen Mass
Michael Lonsdale ... Ernst Manfredi
Bernard Hepton ... Commander Leighton
Richard Münch ... Oberst (as Richard Munch)
Carl Rigg ... Anthony Beaumont
André Penvern ... Frederick Leger (as Andre Penvern)
Andy Bradford ... Hartman (as Andrew Bradford)
Shane Rimmer ... Lt. Miles
Alexander Kerst ... Gen. Heinrich Clausen
Michael Wolf ... Gen. Erich Kessler
Hugo Bower ... Gen. Wilhelm
Filming in Trafalgar Square with about a hundred Supporting Artists and five hundred tourists is not the easiest thing to do..
Jerry Judge, myself and another handful of the boys were doing our public liaison work.
Jerry was down in the Square keeping his eye on the camera crew and trying to keep the rubber necks from peering down the lens..
I was keeping my eye on Michael who was sitting up the steps of a church behind a pillar reading his script..
It was going all right until after lunch and the pubs turned out then a few Jack the lads decided they wanted to be in the film. Jerry and the boys handled them ok but I saw one heading to where Michael was sitting and decided to talk to him. It went a bit like this...
Me: "Hello mate, where're you going?"
Him: "I'm gonna talk to my mate Micky Caine"
Me: "I'm sorry but he's busy at the moment learning his script"
Him: "But I only want a chat with him, I've seen all his films"
Me: "Could you come back later when he's not so busy?"
Him: "No I f***ing can't and you can tell him from me I said b*****ks to his film"
Me: "Thank you very much Sir, I'll tell him when he's not too busy".
With that, he slopes away and that's the last we saw of him.
I don't think Michael ever saw the incident but if you ever read this Michael I've got a message from a punter in Trafalgar Square to pass onto you.. (And give my regards to the Hackney Lizard).
DECEPTIONS…Director Melville Shavelson…Pinewood…
Cast Inc…Barry Bostwick…Stefanie Powers…Gina Lollobrigida…
Playing a plain clothes cop and had plenty of fast driving to do..
Chris Webb was the stunt double for the bad guy and had to be chucked off Tower Bridge. (Rather him than me!)
Gina looked really lovely and was as bright as a button.
(I was in love with her years ago but I forgot to tell her)
GIRLS ON TOP…Director Paul Jackson…
Cast Inc…Dawn French…Jennifer Saunders…Ruby Wax…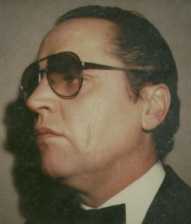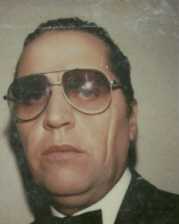 I WAS GLAD AT THE END OF THE DAY AND THE SCAR PEELED OFF

Skip forward to around 7 minutes 10 seconds!
This was a quickie job for Paul Jackson my friend from the Two Ronnie's days.
Ron Tarr and myself travelled up to Nottingham overnight and came back the next day. We were to play Bouncers 1 and 2.
We didn't have a lot to do, just try and stop some girls from gate crashing a club.
I had known Ron for many years from the days when he and his wife Hazel used to come to a pub in Islington to hear me sing.. (He was a glutton for punishment)
He became quite famous as ''BIG RON'' in EastEnders and was there for over ten years until his untimely death from cancer in the late 90s..
Ron and I spent many a long day having a swift half in the bar at Elstree.
IN SICKNESS AND IN HEALTH…Director Roger Race…BBCTV…

A couple of day's rehearsal for this and then an audience show.
Roger Race I had worked for many times and had always got on well with him.
Nice to see John Challis again especially as he was now doing ''Fools And Horses''.
I had worked on the show before a couple of times but only as a Supporting Artist.
It was then called ''Till Death Us Do Part''.
Thanks Roger Race I send my best wishes…
THE PICKWICK PAPERS…Director Brian Lighthill…BBCTV…
Filming as a Supporting Artist around the London docks area to get that Dickens feel and then some days up at the Pebble Mill studios in Birmingham for the interiors. Nice to work with Brian again but haven't seen him for a long time.
Hope all is well…
OLIVER TWIST…Director Gareth Davies…BBCTV…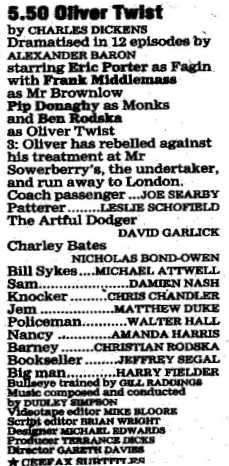 I'm back on another Dickens work and this time I'm going to give young Oliver a slap. I play a character called Big Man and I have to stop Oliver from running away.
I did another Oliver Twist a couple of years back Staring George C. Scott at E.M.I..
BY THE SWORD DIVIDED…Director Brian Farnham…Producer Jonathan Alwyn…BBCTV…
Episode title…Cruel Necessity…
This time I'm saying some words for Brian as a Pot man in the year of 1649…
Plenty of buxom wenches floating about and plenty of shouting and fighting in the tavern. (Reminds me of that pub in South London that I played in the 50s).
WYNNE AND PENKOVSKY…Director Paul Seed…BBCTV…
Cast Inc…David Calder…Christopher Rozycki…Frederick Treves…
The last time I worked with Paul Seed he was an actor and now I get a phone call from his office asking me would I like to play a character called Red Face.
My job was to help our agents get the truth out of Greville Wynne who was accused of spying..
David Calder who was playing Wynne was stripped naked for the interrogation scenes and every time we thought he told us a lie I would have to punch him in the ribs.
David told me to make the punches look real and I would just make a slight contact with his body on every punch.
(Now don't forget that as well as taking the punches David was keeping his hands on his wedding tackle).
On one of the last takes David leans backwards just as I threw the punch.
It caught him fair and square and he dropped to the floor.
I'm sorry David but it did look good on camera…Best wishes…
EASTENDERS…Producer Julia Smith…BBCTV…
Cast Inc…Wendy Richard…Peter Dean…Leslie Grantham…Bill Treacher…
About fifty Supporting Artists turned up on the first day of this unknown shoot.
Julia Smith was running around getting us all into positions that we would keep if selected for the run of the show. Some stallholders, some passer bys and others just mingling.
A man I had known for many years (Johnnie Clayton) told me he got a part in it.
He was to play a character called Reg Cox and was killed off in the first episode.
(Now I don't need luck like that. It's hard enough getting parts but to be killed off in the first episode of a series that has run for nearly twenty years with no chance of doing a days crowd work is about the same odds as winning the Lotto).
Peter Dean I had known for many years because he lived in Islington and we'd had a few glasses of ale together.. Bill I knew from other jobs.
This seemed like an ideal job for me and I got on well with the cast and crew.
But it came to pass that you were not going to work every week so it's all right when you're working but on your weeks off there was no money coming in.
I'd go back to what I'd been doing for the last eighteen years and, if I was free to do EastEnders, so be it.
HIDEAWAY…Director Michael Briant…BBCTV…
I got a phone call from a production manager I met on Beau Geste asking me to meet him in a pub in Camden Town.. (Chris D'oyly John)
Now it seems the series they are filming has been plagued by drunks living in the Camden Town district and could I help them out with a bit of public liaison work.
It would be for two or three days perhaps a bit longer.
I meet up with Chris and he introduces me to Michael Brayshaw 1st A.D. and Penny Bloomfield 2nd A.D. and we sit down and discuss tactics.
I come up with plan of using my friends (all Equity members) when they're filming on the streets and they need some passers by. They will do their job as well as keeping an eye on the cast and crew.. We never had any more trouble with the drunks.
Mind you I did have the best in the business at that time and we all used the same opening line of ''Excuse me Sir'' BBC policy.
I'd like to thank some of them, Jerry Judge, Gypsy Dave Cooper, Bruce Greenfield, Alan Talbot, Charlie Appleby and for those I've forgotten I'm sorry.
The job lasted a lot longer for me and I even ended up in Derbyshire for a few weeks but, after sixteen weeks of filming, we came in two hours in front of schedule. (not bad)
Pennie, Mike and Chris are still friends to this day and I wish them well.
I found out today (28/10/09) from his wife Pennie that Chris D'oyly John has died.
My thoughts are with Pennie and all the family at the passing of such a nice guy..
SUN NEWSPAPER COMMERCIAL…
Gypsy Dave and I are booked to do a days work on this job.
We are dressed as security guards and I have to wheel a Page Three Girl across the set in a wheelbarrow and on a cue she throws £20,000 up in the air and has to shout out "Big Money" (It ain't hard!).
After every take of the twenty we did the real security guards that were keeping their eye on the real money picked it all up and counted it to make sure none was missing. (As if!)
The trouble was the Page Three Girl was throwing it too soon or too late and the camera kept missing it so we had to do another take.
We filmed this at Stockwell and I popped into my 1950s pub at lunchtime but there was still no old faces about.. (Where are you all)