1984
LASSITER…Director Roger Young…
Cast Inc…Tom Selleck…Jane Seymour…Bob Hoskins…
I film for about a week down in the dock area of East London so we can capture London in the 1930s.. I didn't have a lot to do but I did have a long chat with Sammy Pasha who stands in for Bob Hoskins. Sammy came to my house a couple of years ago to read a script I was writing with Bob in mind.
Bob didn't like it and it's still doing the rounds. (One day perhaps)
The script is called ''Looking For A Rainbow'' and it's my story of what happened thirty years after the Great Train Robbery of 63…
It's a story that should be told.
TOP SECRET…
Directors:
Jim Abrahams
David Zucker

Writers:
Jim Abrahams & David Zucke
Cast

Val Kilmer ... Nick Rivers
Lucy Gutteridge ... Hillary Flammond

Peter Cushing ... Bookstore Proprietor
Jeremy Kemp ... General Streck

Christopher Villiers ... Nigel 'The Torch', Resistance Leader
Warren Clarke ... Colonel von Horst
Harry Ditson ... Du Quois, Resistance Member
Jim Carter ... Déjà Vu, Resistance Member
Eddie Tagoe ... Chocolate Mousse, Resistance Member

Omar Sharif ... Agent Cedric
Tristram Jellinek ... Major Crumpler
Billy J. Mitchell ... Martin, Nick's Manager
Major Wiley ... Train Porter
Gertan Klauber ... Mayor of Berlin
Richard Mayes ... Comrade Biletnikov, Russian Tenor
I was booked for a couple of days to play a straight faced German and a very good actor (Warren Clarke) was to be my boss.
The directors of this film had already shown their comedy worth with all the Airplane films in the USA.. So it was gag after gag in this film too.
I don't know if this was Val Kilmer's first leading role but he certainly went to the top in his later films..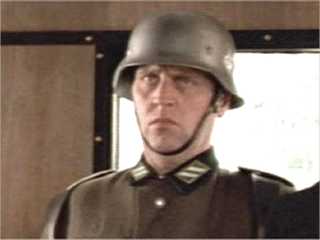 The scene I'm in goes something like this.
Warren is checking Val's papers on a train and this is set during WW2.
After the dialogue scenes between them Warren and I get off the train and wait for the train to pull out.. We stand on the platform.
The train doesn't pull out, the directors think it's funnier if the platform pulls out instead.
(British Rail should make note of this as it saves on crowded trains.)
Warren and I did work together again over the years.
SUPERMAN 3 Director Richard Lester…
Cast Inc…Christopher Reeve…Richard Pryor…
Filmed for one day down at Battersea South London.
We had huge cranes on set and I really did see a man fly. (c/o Kirby wires).
Richard Pryor was not too keen to be hoisted into the air but we had stunt doubles for all the main artists so there was no hold up in production.
Christopher took to it like a duck to water after all this was his third outing as the Caped Crusader..
It was a warm and sunny day and I thought to myself this is what filming is all about.
1984…Director Michael Radford…
Cast Inc…Richard Burton…John Hurt…
Filmed for one night at Alexandra Palace North London.
My job that night was mainly as public liaison helping the A.D.s get nearly a thousand Supporting Artists onto the set when they were called.
(A lot of them were not professional extras and didn't have much of a clue about the film game).
I think they were paid by raffle ticket but one of them won a new car so the winner went away very happy. The others can tell their grand children they had a day on a movie set. (That sounds like a good idea for a story)
This was to be Richard Burtons last film and the end of a great career.
John Hurt stole the show…
BLEAK HOUSE…Director Ross Devenish…BBCTV…
Cast Inc…Diana Rigg…Bernard Hepton…Frank Windsor…Denholm Elliott…
I worked a couple of weekends on this and was dressed in different guises in this Dickensian era of old London..
We filmed some of this at a place called Lincolns Inn Fields W.C.2 London.
This part of London is still very old fashioned and during weekdays it's busy with office workers but at weekends it's dead. So from Friday night the Art dept and set dressers can transform the place back a hundred years or more.
(A rubber tree over a parking meter, some compost over the dreaded yellow lines and of course some horse drawn carriages discreetly hiding things that can't be moved.
I am thinking back to one Saturday and, as I was walking about the street set, we heard a muffled bang and the street pavement seemed to shake.
It was about 5 o clock in the evening and I'm sure that was the Harrods bomb.
Harrods was about two miles away.
OSCAR…Director Henry Herbert…BBCTV…
Cast Inc…Michael Gambon…Norman Rodway…Emily Richard…Robin Lermitte…
Another chance for me to work with the cream of the acting profession..
I don't have to do much but just fill in the gaps in some of the scenes.
Is that me going out of the door in the background or is that me passing the main cast in the foreground..
Whenever you film big scenes you can't just have four main cast just doing lines, you have to fill the set with lots if activity.
Although the viewers shouldn't be looking at the background artists they are part and parcel of the scene..
I've been up the front as a cast member in many productions but I'm just as glad of a days work as a Supporting Artist.. (The only difference is the pay slip).
Michael Gambon and I are to meet up again on The Singing Detective in a couple of year's time..
COLD WARRIOR…Director…Brian Farnham…BBCTV…
Cast Inc…Michael Denison…David Swift…
I'm in the cast as a black cab driver and I get to kill the punter in the back of the cab.. (Not a smart move on my part as I don't get to take the fare money)..
The episode is called ''What's Good For General Bullmoose''..

BIG DEAL…Director John Glenister…BBCTV…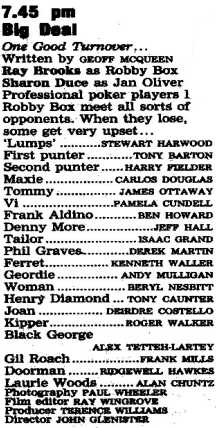 Just a day on this playing the second punter but I get to meet up with some old mates. Stewart, Tony, Derek, Ridgewell and Alan who is better known as a stuntman.
All I had to do was play some poker which in my time I was quite good at..
See the YouTube clip
MAGNUM P.I…STAR TOM SELLECK…
Tom Selleck was over here to film this episode in London and I was booked as a plain clothes cop..
We did a few days in the Bayswater area of London but it was nothing much to shout about.
This is the time I had a row with my good friend Vincent Winters for which I am still sorry.
THE OPTIMIST…Director Peter Ellis…Channel 4
Cast Inc…Enn Reitel…
Again chasing people around hotel corridors in the Bayswater district..
(It's funny that you work on a location and within weeks you're back at the same place on a new production).
MINDER…Director Tom Clegg…Thames/Euston Films…
Tom's got me back to play a spiv selling dodgy jackets in a pub.
When I get to the location in Stockwell South London I find I'm in a pub I used to play rock and roll with my band twenty five years before.
But it's all changed. There's no more sawdust on the floor, they've got fitted carpets and posh seats.. (It used to be a bit of a rough house in the old days.)
In the scenes I was in I'm trying to sell Dennis and George a dodgy looking jacket but they're having none of it. They only had to look round the bar to see what the other punters looked like with the jackets on.
I kept looking around expecting to see people from the pub that I knew in the 50s, but it wasn't to be.
I had many happy nights in there belting out Buddy Holley numbers and people dancing. It was called my youth.