1979
QUADROPHENIA
Director:
Franc Roddam

Writers:
Dave Humphries (screenplay) and
Martin Stellman (screenplay) ...

Cast

Phil Daniels ... Jimmy
Leslie Ash ... Steph
Philip Davis ... Chalky

Mark Wingett ... Dave

Sting ... Ace Face

Ray Winstone ... Kevin (as Raymond Winstone)

Garry Cooper ... Peter
Gary Shail ... Spider

Toyah Willcox ... Monkey
Trevor Laird ... Ferdy
Kate Williams ... Mother
Michael Elphick ... Father
Kim Neve ... Yvonne

Benjamin Whitrow ... Mr. Fulford
Daniel Peacock ... Danny
About thirty of the boys were bussed down to Brighton dressed as policemen.
We were going to recreate the Mod's and Rocker's scenes of the early 60s.
Mobs coming up from London to fight on the beeches.
(I used to do that twenty years before, only at Bognor Regis, not Brighton.)
When I think how stupid I was in the late 50s early 60s to travel all that way to get into a punch up I might as well stayed at home and had a row with the geezer next door. (Saves time)
This time it was different as I was dressed as a copper. (You do stand out a bit)
We told all the kids that this was only acting and we would be using rubber bricks and rubber sticks. (I forgot about the latecomers.)
After two days filming we all had a few bruises but were well paid for our trouble and headed back to London. (It became a cult film)
TINKER, TAILOR, SOLDIER, SPY…Sir Alec Guinness…Director John Irvin…
A couple of nights filming in Black Park near Pinewood Studios…
Running and chasing around the woods until the sun came up.
Not the best thing to do after you've had a swift half in the Pinewood Bar earlier in the evening. (Also being nearly 40 years old didn't help)
POTTER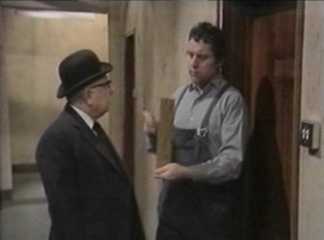 Only had one days work on this and it was great to work with Mr Arthur Lowe.
CRIME AND PUNISHMENT… John Hurt…BBCTV…
The BBC phone me up one day and ask me what I'm like at boxing.
I tell them ''No good''
They say ''What about shadow boxing'' and they tell me all they want someone to shadow box so they can see the shadow on the wall.
(Now I know a bit about casting shadows on walls. Remember the Viking?)
They gave me the day to work some time in winter.
About a week later they phone again and ask me if I could bring a boxing friend along with me on the day of filming. (A friend to shadow box???).
I got hold of Ronnie Woods and he was glad of a days work.
On the day of filming Mossy gave me and Ronnie a lift to the location which was at Greenwich…
There must have been two hundred Supporting Artists on the call that day, most of them dressed as Russian peasants. They were here to see a BOXING MATCH…
It was snowing and freezing cold and Aitch and his mate are going to box for for the hoards. They were all dressed up in bundles of ragged clothes and were as warm as toast. Ronnie and I were stripped to the waist and had very long beards stuck to our gobs. I had a word to the powers that be and got an increase in our contract.(Also a bottle of brandy for the corner bucket).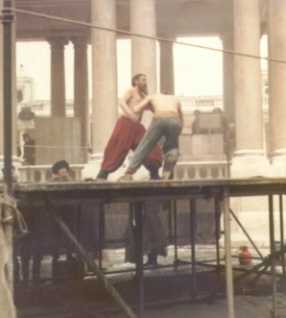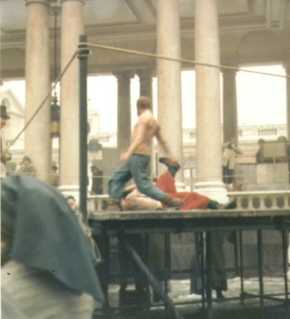 THAT'S ME IN THE RED TROUSERS GETTING ON TOP, BUT NOT FOR LONG. I SLIPPED…
After a few rounds and a few nips of the Amoss and Andy we were really beginning to enjoy the day. John Hurt was doing the real business of acting some way from us and I don't think I said a word to him all day..
We finished the fight (And the brandy) and headed back home to Islington to have a proper drink in the local pub…
We had a few bruises but it wasn't till the next day that they hurt.
I've stayed friends with Ronnie over the years because he is one nice man.
Cheers Ron…
A MAN CALLED INTREPID
Director:
Peter Carter

Writers:
David Ambrose (writer)
William Blinn (writer)
Cast

David Niven ... Sir William Stephenson

Michael York ... Evan Michaelian

Barbara Hershey ... Madelaine
Paul Harding ... Colonel Juergen
Flora Robson ... Sister Luke
Peter Gilmore ... Gubbins
Renée Asherson ... Mrs. Wainwright
Nigel Stock ... Winston Churchill
Ferdy Mayne ... Alexander Korda
Gayle Hunnicutt ... Cynthia
Shirley Steedman ... Anna
Belinda Mayne ... Deidra, girl on steps
Larry Reynolds ... Nils Bohr
Joseph Golland ... Albert Einstein
Chris Wiggins ... Heisenberg
Dressed as a German (This is worrying me a bit as I've started asking my vife where Is mine dinner)
All I have to do in this film is to tie Barbara Hershey to a stake so she can be shot by the firing squad. She even refuses the blindfold.
Still, it was a nice sunny day for a firing.
FAWLTY TOWERS…BBCTV…John Cleese…Connie Booth…Andrew Sachs…Prunella Scales.
Joe Santos and I booked to do one day on location and one day in the studio…
On location we filmed the exterior of the hotel. Aitch and Joe loading a huge basket Into the back of a van and driving off. A fortnight later in the studio we enter and pick up the basket which contains a dead body. (But we don't know that) .
I met John a few years later and he ask how I was doing. (Nice man).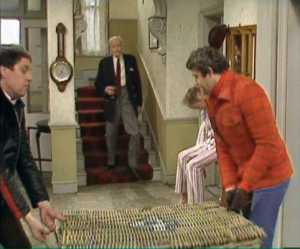 THIS SEEMS HEAVIER THAN USUAL! (Me on the left)
Click on the picture for video clip!
DANGER UXB…Anthony Andrews…Director Ferdinand Fairfax…
Odd days on this 13 part series set in London in the 40s.
A good visible show and sometimes edge of seat stuff…
TERRY AND JUNE…BBCTV…Director Peter Whitmore/David Taylor…
Episodes…On The Move…No Councillor…
I get a call from Peter's office to ask if I have a HGV Licence for the episode 'On The Move'. I tell them, no, but I know a man that does. ( Ridgewell Hawkes).
We are going to be a couple of removal men when Terry Scott and June Whitfield decide it's time to move house. Our gaffer is George A Cooper. (Fine actor)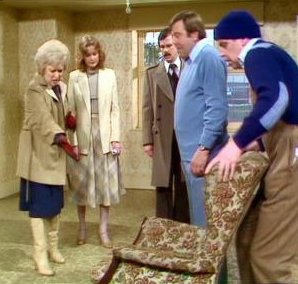 We all had great fun filming the exterior shots and when it came to the studio stuff we had rehearsed at the Acton Hilton for a week I was taken aback when, in one scene in front of the live audience, I had to put back a chair just as Terry was about to sit down. Perfect timing and the audience applauded and cheered.
I didn't expect that and it threw me for a couple of seconds.
On another episode Peter cast me as a goalkeeper in a very funny sketch and was one of the funniest in the episode. (Catch in on video)
Alas Terry has since passed on but June Whitfield has gone from strength to strength.
Thanks Terry and June cast and crew…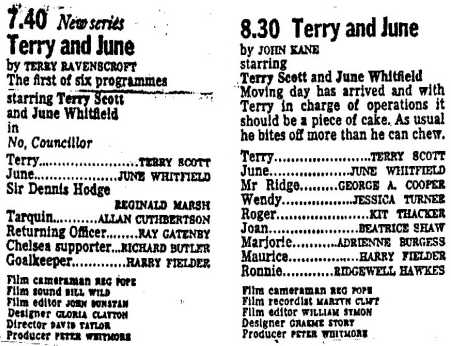 TARGET…Patrick Mower…Director Douglas Camfield…BBCTV…
Nice to work with Patrick and Douglas again..
I'm cast as a detective and have to drive a lorry. (This is a first)
I don't know if I'm more nervous of driving the lorry or saying the words but doing them at the same time was really hard.
I ended up in Ealing studios a fortnight later dubbing my own voice.
Patrick can now (2003) be seen in Emmerdale a few nights a week…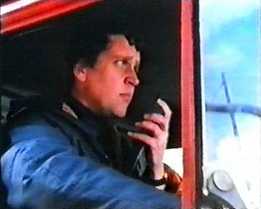 Click on the picture for a video clip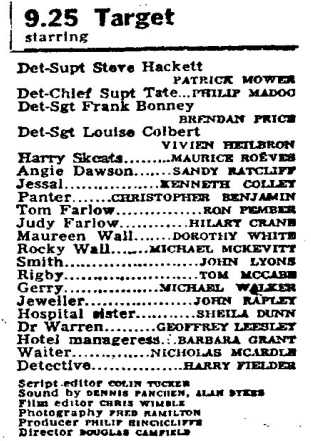 SHOESTRING…Trevor Eve…BBCTV…
I'm off down to Bristol and Western Super Mare for ten days to work on this.
I'm playing a baddie and Christopher Biggins is my boss.
Also in the cast are, Toyah Wilcox, Chris Jagger (Mick's brother) and Gary Holton.
Gary was to go on and star in Auf Wiedersehen Pet.
My main job on the show was to look ugly and hassle Gary and to make his character behave himself. A slap here and a slap there.
In one night scene I throw him off the pier into the sea (Two takes) at Weston-Super-Mare.
(We used stuntman Stuart Fell for the shot)
A lot of the time I would help the crew keep Joe Public from staring down the lens of the camera. It was called public liaison work. The BBC has a policy that if someone is in the way of the shot the first words you say is ''Excuse me sir/madam''…I spent a lot of time on the beach with those lines.
Sadly Gary Holton died a few years later and still a very young man…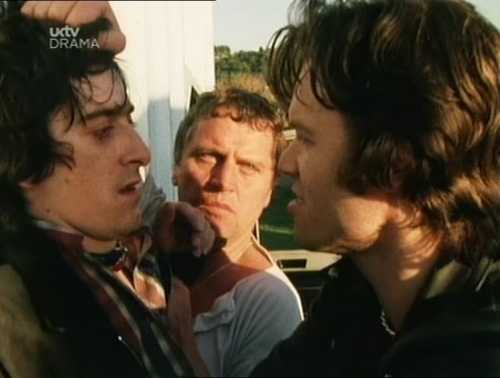 LES DAWSON SHOW…Director Peter Whitmore…BBCTV…
It's good to be back…
GERTCHA COMMERCIAL…Director Hugh Hudson…Music Chas and Dave…
All the boys on this one and a great day just sipping pints and singing along to the playback of Chas and Dave's famous song…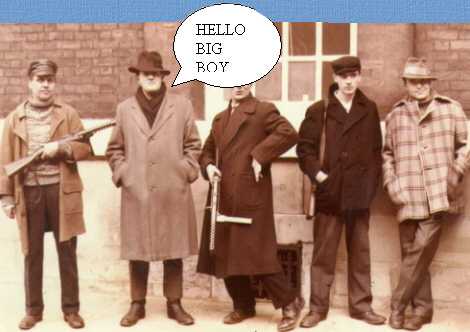 HERE'S A PICTURE OF A JOB I WAS ON BUT I CAN'T REMEMBER WHAT IT WAS. THAT'S ME ON THE LEFT AND JOE SANTOS ON THE RIGHT.
I THINK THE GUY IN THE MIDDLE WAS "CAMP" DAVID…
THOMAS AND SARAH....BBC
Working again with my old mate John Cannon and both playing a couple of odd job men. This was a nice job to work on with good cast and crew...I like this period stuff....