1980
THE LONG GOOD FRIDAY
Director:
John Mackenzie

Writer:
Barrie Keeffe (writer)

Cast

Paul Freeman ... Colin
Leo Dolan ... Phil

Kevin McNally ... Irish Youth
Patti Love ... Carol Benson
P.H. Moriarty ... Razors
Derek Thompson ... Jeff
Bryan Marshall ... Harris

Bob Hoskins ... Harold Shand

Helen Mirren ... Victoria
Ruby Head ... Harold's Mother
Charles Cork ... Eric
Olivier Pierre ... Chef

Pierce Brosnan ... 1st Irishman
Daragh O'Malley ... 2nd Irishman
Dave King ... Parky
This in my mind is the best ever British gangster film.
The whole cast at their best…
I only had a couple of days on the film driving round in a police car and never got to see any of the action.
I had known Brian Hall for a good few years and we were mates and worked together many more times until his death from cancer in the 90s…(Not forgotten)
Dave King I remember as a singer in the 50s and 60s and was in the charts in 56 with a song called ''Memories Are Made Of This''
A lot of the boys (Faces) got a lot of work out of this film but I was off to pastures new.
HOPSCOTCH…Walter Matthau…Glenda Jackson…Director Ronald Neame…
Filmed for a day at the Borough Market and it was nice to see the Grumpy Old Man in person, I remember him with Elvis in ''King Creole'' in the 50s…
HEAVEN'S GATE
Director:
Michael Cimino

Writer:
Michael Cimino (writer)

Cast

Kris Kristofferson ... James Averill
Christopher Walken ... Nathan D. Champion
John Hurt ... Billy Irvine
Sam Waterston ... Frank Canton
Brad Dourif ... Mr. Eggleston
Isabelle Huppert ... Ella Watson
Joseph Cotten ... The Reverend Doctor
Jeff Bridges ... John L. Bridges
Ronnie Hawkins ... Major Wolcott
Paul Koslo ... Mayor Charlie Lezak
Geoffrey Lewis ... Trapper Fred
Richard Masur ... Cully
Rosie Vela ... Beautiful girl (as Roseanne Vela)
Mary Catherine Wright ... Nell (as Mary C. Wright)
Nicholas Woodeson ... Small man
A bunch of us were coached up to Oxford for a couple of days and there seemed to be a lot of hanging around. Still the weather was nice and we had plenty of time to chat.
On the second day some of us were finished at lunchtime but had to wait till 6pm to catch the coach back to London.
I thought I might as well pop in the local pub and have a swift half.
As I walk to the bar and order a pint of the black stuff a voice behind me says, ''I'll get that Aitch''. It's John Hurt…
It seems John's finished as well and production are trying to find a car to take him home.
We chat about old times and one pint leads to another and then John's driver walks in.
''You ready Mr Hurt'' John looks at me then says to the driver, ''Go and have a kip in the car for an hour or so I'll come and find you when I'm ready''
Again someone local brings in a guitar and the afternoon passed quite quickly to the strains of the Everly Bros and more songs from the 50' and early 60s..
I didn't see the going of John but I was nice and nice by the time the coach turned up.
A good 90 minute sleep back to London and I was ready to start all over again.
(Motto) Another day another lost dollar)
BREAKING GLASS…Director Brian Gibson…
Cast Inc. Hazel O'Connor…Jon Finch…Phil Daniels…Jonathan Price…
This was another case of rioting punks and punk music.
There were about twenty of us in police uniforms trying to control about a thousand screaming kids.. (Mostly kids off the street)
Again they were told to use the rubber bricks and plastic bottles to throw at us but as the day went on they found it more fun throwing the real thing.
After Ronnie Woods got hit in the mouth by a real brick the rest of us decided we didn't want to play anymore. They sent in some stunt men dressed as coppers and got the shots. (Motto…Acting is pretending, if you get hurt it's not acting)
FLASH GORDON…Director Mike Hodges…
Cast Inc…Sam J. Jones…Topol…Brian Blessed…
Only a couple of days on this production dressed as something from the future.
Remember what I told you many years back, ''Look at the back of the set and see who's the furthest away.. (Me)
All dressed up with nowhere to go…
SUPERMAN II…Christopher Reeve…Director Richard Lester…
Played a Cop searching the ice flows of the far north.
Never left the studio…
THE ELEPHANT MAN…Director David Lynch…
Cast Inc…John Hurt…Anthony Hopkins…Freddie Jones…

John Hurt at his best.
This is one of the only films I could watch again and again.
I filmed for a couple of days in the old St Leonards Hospital in Hoxton.
This was a few minutes away from the canal I used to swim in as a kid.
I was dressed as an old time copper but would have been just as well dressed up in a monkey skin with a large pipe in my gob…
I never got to see John on this production but there's plenty of films still to do..
THE BORGIAS… Director Brian Farnham…BBCTV…
Cast Inc…Oliver Cotton…Adolfo Celi…Alfred Burke…Anne Louise…
I worked on quite a few of the ten episodes that was made and always seemed to play a baddie.. There was plenty of sword fighting and murders going on..
Brian Farnham is a gently spoken man and came to employ me in many things over the coming years… Thanks Brian…
THE GENTLE TOUCH…Jill Gascoine… Director Tony Wharmby…LWT…
Running around as a plain clothes cop in a few of these episodes..
Good fun to do…

THE CHINESE DETECTIVE…David Yip…Director Tom Clegg…BBCTV…
I had worked for Tom Clegg before on things like The Sweeney and got on very well with him. I was in the Sweeney films 1 and 2…
He liked my cockney voice and would always let me ad lib if it fitted the scene.
On one episode of Chinese Tec I get to work with Derek Martin (Who's now a big name in EastEnders) and although I had seen him over the years I didn't Know him too well.. (As it turns out he's a nice man to work with)
Anyway, I'm trying to sell a car to David Yip and I'm ad libbing like fury…
''It's a really nippy car and you can have it for a take away price''
Tom and Derek were trying to hide their giggles at the in jokes but it worked as I went from a walk/on to a BBC Artists contract..
I went on to work again and again for Tom but for the best job to get I would have to wait till next year…
Derek and I did work again on a few things but I have not worked on EastEnders with him…(YET)
ARMCHAIR THRILLER...Episode Dying Day....Sir Ian McKellen....Director...Robert Tronson.
I got sent this from a friend on the Minder forum...
You were a man at Paddington railway station who looked suspicious enough to cause Ian McKellen's character to panic. McKellen plays a nervous type who thinks someone is out to kill him. The sight of you, Aitch, innocently standing at the station was enough to make him panic!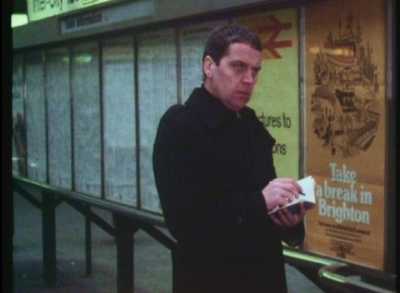 Well looking at the picture I'd make the Prime Minister panic.....