1978
THE THIRTY NINE STEPS…Director Don Sharp…
Cast Inc…Robert Powell…Sir John Mills…David Warner…George Baker…
Aitch and Jerry Judge at Pinewood for inside shots of a train station.
We just had to help a vicar that had his clothes stolen by Richard Hanney.
We were dressed as policemen…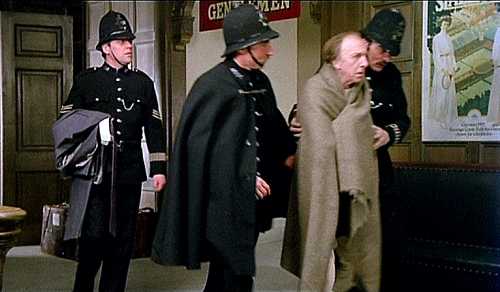 In the picture are Jerry Judge and Ron Conrad....
AGATHA
Director:
Michael Apted

Writers:
Kathleen Tynan (story)
Kathleen Tynan (writer) ...

Cast

Dustin Hoffman ... Wally Stanton
Vanessa Redgrave ... Agatha Christie
Timothy Dalton ... Col. Archibald Christie
Helen Morse ... Evelyn Crawley
Celia Gregory ... Nancy Neele
Paul Brooke ... John Foster
Carolyn Pickles ... Charlotte Fisher
Timothy West ... Kenward
Tony Britton ... William Collins
Alan Badel ... Lord Brackenbury
Robert Longden ... Pettelson
Donald Nithsdale ... Uncle Jones
Yvonne Gilan ... Mrs. Braithwaite
Sandra Voe ... Therapist
Barry Hart ... Supt. MacDonald
About a dozen Supporting Artists,(Mossy, Ronnie Woods, Lizard, Cornflakes) were called to a big pond in Surrey early on a Sunday morning and it was freezing cold. (Ice on the pond).
We were dressed as 1926 coppers and were about to search the pond for the missing Agatha Christie…
Five of us were issued with waders and had to get in the pond and pretend to search The dark murky water. (now here's the rub)
One of the five pairs of waders leaked (you're in front of me again) YES, MINE.
I was told to put another pair of thick socks on. You have to admit that the wardrobe Dept. have got all the answers.
I came up with the solution of putting my feet in a couple of plastic carrier bags first,then put the waders over them. It worked for a while and we finished the job.
I was known as ''One Take Aitch'' for many years in the film and TV business because I would look at the scene we were about to do. Understand it and go for it. (It worked Nearly all the time) As I've told you before I've fallen over the furniture a couple of times.
SUPERMAN…Christopher Reeve…Director Richard Donner…
A great film to work on but I only had a couple of days driving a big American car around the sets. I didn't get to see Marlon Brando and that was a shame because I'd worked with two of the actors from ON THE WATERFRONT (Rod Stieger and Karl Malden) (Billion Dollar Brain) but Brando was never to be.
FORCE TEN FROM NAVARONE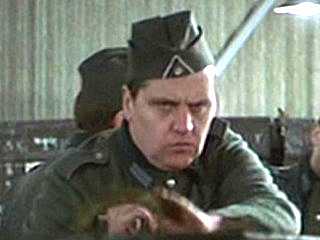 Director:
Guy Hamilton

Writers:
Robin Chapman (screenplay)
Carl Foreman (screen story)

Cast

Robert Shaw ... Maj. Keith Mallory

Harrison Ford ... Lieutenant Colonel Mike Barnsby

Barbara Bach ... Maritza Petrovich
Edward Fox ... SSgt. Dusty Miller
Franco Nero ... Capt. Nikolai Leskovar (as Lescovar)
Carl Weathers ... Sgt. Weaver

Richard Kiel ... Capt. Drazak
Alan Badel ... Maj. Petrovitch
Michael Byrne ... Maj. Schroeder
Philip Latham ... Cmdr. Jensen
Angus MacInnes ... 1st Lt. Doug Reynolds
Michael Sheard ... Sgt. Bauer
Petar Buntic ... Marko
Leslie Schofield ... Interrogation Officer 1
Anthony Langdon ... Interrogation Officer 2 (as Antony Langdon)
I had a few days on this playing a German soldier and met up with Chris Malcolm again. (The man I was teaching cockney on Diamonds on Wheels)
We went on to work together a few times over the years. Hello Chris.
1978 is a busy year so I've got to crack on…
PENNIES FROM HEAVEN…Director Piers Haggard…Producer Ken Trodd…
Cast Inc…Bob Hoskins…Ken Colley…Gemma Craven…Dave King…
I was on speaking terms with Bob Hoskins as we both lived in Islington.
He once shouted out to me in Calidonian Road, ''Ere Aitch, your getting more work than me'' (Laughing) '' but I'm not getting as much money as you Bob'', I shouted back.
I only filmed for one night on ''Pennies'' in the East End of London but I did work for Ken Trodd and writer Dennis Potter a few more times…
One of the outstanding actors on ''Pennies'' was Ken Colley…
1990...BBC series starring Edward Woodward.. Did a few episodes of this normally playing a goverment heavy..(not Mr Nice Guy.)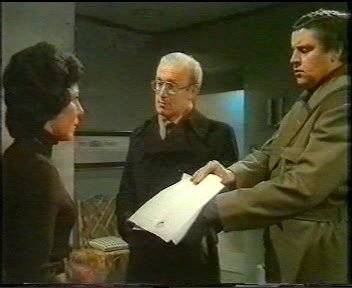 THE PHOENIX AND THE CARPET…BBCTV…
An agent sent me to Ealing film studios to start work on a seven day contract.
Well that's good news to me. Better a seven day contract than a day here and there.
It's 7:30 in the morning and the 2nd A.D. says '' Go to dressing room five, get into your costume and come back down to make/up''
In dressing room five there's no costume. (has he got the number wrong?)
I'm back down again. ''Excuse me, there's nothing in room five for me to wear''
''It's hanging on the rail, I put it there myself'' ''Ok'' (I'll have another look)
As I start to go upstairs, I bump into Terry Greenham a prop man for the BBC.
Terry used to get up and sing a good song in some of the pubs I was compering in.
A Tony Bennett style songster…''What are you doing here Aitch?''
''I'm here for seven days on The Phoenix'' ''Oh you're one of them'' ''Them?''
''Yea, a South Sea Islander. You're on your own today but tomorrow there's a dozen of you. Plenty of Hula dancing and frightening kids.(Wait till I get hold of the agent that sent me here. (Alf Costa)
I find the costume (Grass skirt) and head for the make/up room.
Two nice young ladies are covering my face and body with dark brown make/up.
Then the hairdresser finds me a big black wig and some earrings and there's talk of putting a bone through my nose. (Art for art's sake etc).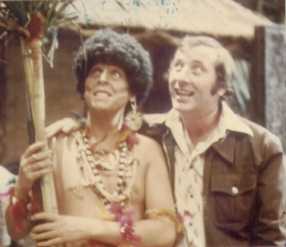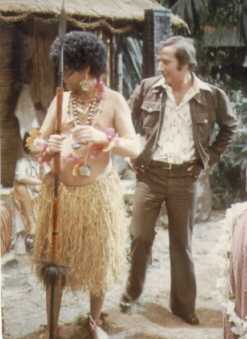 AITCH AND TERRY GREENHAM NOT ON HAWAII FIVE O…
Now it seems the director wanted a tribe of blue eyed South Sea Islanders.
On the first take that I'm involved in a small white child is crawling through the jungle undergrowth and lands at my feet.
The director pans the camera over my feet and up the length of my body to my face. This is the child's eye line. ''Now say something and frighten her'' He barks.
(Now I'm not to up on South Sea talk. We don't get many Islanders in Islington)
I'm lost for a second then it comes to me…TARZAN…
''UMM GOW AHH'' I roar. (It works as she bursts into tears)
It took Terry Greenham and co ten minutes to stop laughing. It was a good week.

KEAN… ANTHONY HOPKINS…Director…JAMES CELLAN JONES…BBCTV
Patsy and I are cast as a couple of ruffians and have a bit of a sword play with Anthony Hopkins. (No guesses on who won the fight)
THE VOYAGE OF CHARLES DARWIN…Director MARTYN FRIEND…BBCTV…
I'm in the cast again as the Quartermaster of HMS Beagle…
This time I intend to go all the way to the other side of the world. (Not).
I have quite a few lines to say with the Captain of the ship and to the crew below decks. I think we got it in one take (Which pleases me) and as I finish my lines I go to follow the Captain up the stairs to the top deck.
''Hold on Aitch you can't go up there'' Martyn says '' When the Captain reaches the top deck we're in the South Seas''
After a closer inspection of my BBC contract it does say One day's work at Ealing studio. (It was worth a try).
I watched the episode (2) on TV and thought I had a touch of the Long John Silver in my speech.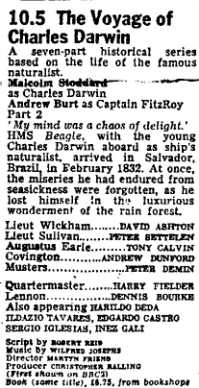 RUMPOLE OF THE BAILEY…Thames TV…
Episode: Rumpole and the Course of True Love

Director:
Brian Farnham

Writer:
John Mortimer (written by)

Cast

Leo McKern ... Horace Rumpole
Peggy Thorpe-Bates ... Hilda Rumpole
Peter Bowles ... Guthrie Featherstone, QC MP
Moray Watson ... Judge George Frobisher
Patricia Hodge ... Phyllida 'Portia' Trant
Julian Curry ... Claude Erskine-Brown
Richard Murdoch ... Uncle Tom
Nigel Havers ... Ronald Ransom
Kate Dorning ... Francesca Capstick
John Nettleton ... Mr. Potter
Peter Cellier ... Mr. Grayson
Donald Eccles ... Mr. Justice Vosper
Peter Cartwright ... Keith
Jonathan Coy ... Henry
Maureen Derbyshire ... Dianne - Secretary (as Maureen Darbyshire)
Harry Fielder ... Higgins
Cast as a shady person I'm in the dock at the Old Bailey.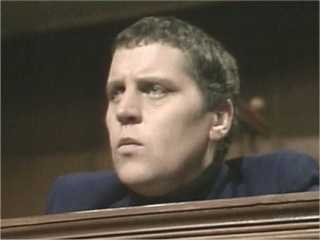 I've only got a spit and a cough to say but I do it ok and that's the whole point.
I find it quite hard ''acting'' with top actors like Leo and Peter Bowels and sometimes wonder if I've taken on too much.
Another time I'll whiz through a show but sometimes I have to stop and think.
HAZELL…Nicholas Ball…Thames TV…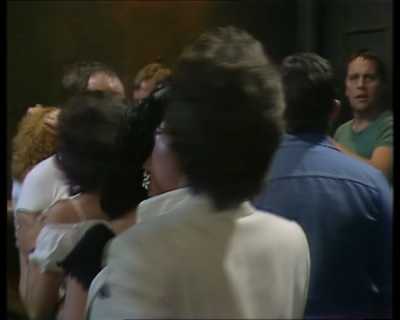 A day's work as a man who confronts the main man on the show, gets duffed up and slung in a cabin aboard a small boat. (I can do these all day long)
THE SECRET ARMY…BBCTV…
Worked on about six of these usually playing a German.
I did get into the cast on one episode…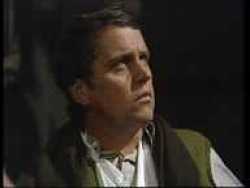 Skip forward to about 8 minutes in!
ENEMY AT THE DOOR…LWT…
Cast as a German (VOGEL) this is me back to what I like doing best.
Now I break into a farmers barn in the middle of the night and try to steal some of his chickens. (easy)
The farmer (NEIL McCARTHY) has other ideas.
He catches me red (chicken) handed and doesn't want any foul play. (I'm writing it).
It's showdown time. He's got a pitchfork and I've got a handgun. (No contest).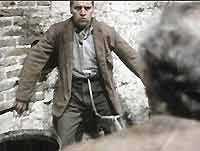 The first scene the next morning is of the farmer dragging me by the heels and ready to dump my lifeless body down a hole he has dug.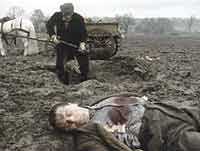 I remember it was raining at the time and the director is telling me not to blink as I'm being dragged along. He should have filmed it on a dry day…
It was still a nice job to do…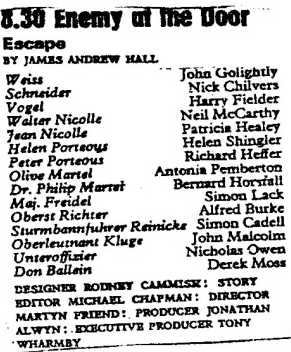 SOME MOTHERS DO 'AVE 'EM…Michael Crawford…
Only ever did one episode of this as a builder's labourer.
And as I'm writing this, that same episode is being shown downstairs on TV.
5/1/03…Could that be a repeat fee me thinks.
Good game this acting game…
THE LES DAWSON SHOW…Director Peter Whitmore…BBCTV…
Les was one of the nicest and funniest men I have ever worked with.
We were filming down in Ross-on-Wye at one time and Les took us all for a pint after we finished that day. ''I'll get the first drink in'' he said.
The girl behind the hotel bar looked pleased when about twenty of us walked in.
''Get everyone a drink my dear and make sure you put it in a glass'' (A touch of the W.C.Fields)
She rushes to pour the drinks and Les hands them to us as they come up.
(Les is still in his W.C. Fields mode) ''There you are my boy, a pint of the black stuff''
After the girl has poured the last drink Les asks her, ''Now pray tell me sweet maiden, what is the total cost of this fine fare''. She looks puzzled for a moment
then says, ''£18-40p please sir'' Les reacts,'' £18-40?''
Les goes stiff. (He's now acting) He looks straight at me and says ''Get me a chair'' The girl looks worried.
Les leans on the counter and whispers to the girl, ''Have you got a telephone I could use''. ''Yes sir but why?''
Les: (Loud) ''To phone my bloody accountants''
The whole pub erupts in laughter as Les kisses her hand and tells her to keep the change out of a £20 note. (A lot of money in 78)
Another time on location Les was playing piano in a pub one night when the landlords son brought down an Electric Guitar for me to play and we ended up in the early hours Entertaining all the crew. Even the director Peter joined in the singing.
(Peter was more like a country squire than a film director and we got to work together many more times over the years. I thank you Peter)
Thinking back to that night many years later I thought the singing sounded like the ''SYMBOLIC'S'' Well I sounded like ''SYM'' the others sounded like ???.