1977
STAR WARS…
Director:
George Lucas

Writer:
George Lucas

Cast


Mark Hamill ... Luke Skywalker

Harrison Ford ... Han Solo

Carrie Fisher ... Princess Leia Organa

Peter Cushing ... Grand Moff Tarkin

Alec Guinness ... Ben Obi-Wan Kenobi
Anthony Daniels ... C-3PO
Kenny Baker ... R2-D2

Peter Mayhew ... Chewbacca
David Prowse ... Darth Vader

James Earl Jones ... Darth Vader (voice)
Phil Brown ... Uncle Owen
Shelagh Fraser ... Aunt Beru
Jack Purvis ... Chief Jawa
Alex McCrindle ... General Dodonna
Eddie Byrne ... General Willard
After finishing a couple of Doctor Who's Central Casting sent me to E.M.I. Studios to work on another space film for seven days.
I did ask them if they had any other work because I was fed up with wearing space outfits and the like… (Little did I know about STAR WARS).
There must have been about fifty Supporting Artists gathered on the first day, some putting on white space type suits, some being fitted out in weird make up and costumes and the rest of us waited around to see what we were going to be.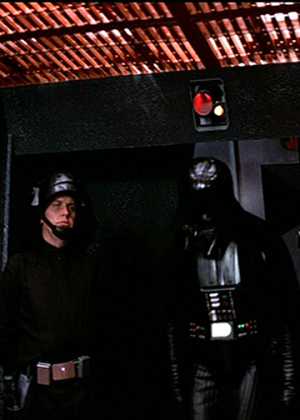 We had plenty of time to sit around chatting and playing the odd game of cards.
When myself and a chap called Ronnie Conrad got a call to go to the wardrobe dept, They dressed us in black space type suits but without a facemask…(Were they telling us we were ugly enough to look like aliens).
When we were dressed we sat at the back of the set and waited to do our bit.
I got talking to a giant of a man (Dave Prowse) from the West Country and he told me he was playing a character called ''Daft Ada''.
I found out later that day he was playing ''DARTH VADER'' (It must have been Dave's strong Cornish accent that made it sound wrong).
Ronnie and I did some odd bits during the week and then the 2nd A.D. called for us to do a bit of business with our old mate ''DARTH''.
We were going to arrest Princess LEIA (Carrie Fisher)…
Carrie's parents were Eddie Fisher (singer) and Debbie Reynolds (singer/actress). Debbie starred in the film ''Singing In The Rain'' in 1952 and I, as a twelve year old, was in love with her... (It soon passed).
Anyway lets get back to ''DAFT''.
Darth, Ronnie and I walk along some corridors and then into the cell where The Princess was being held. Darth had all the lines to say while Ronnie and I stood there looking ugly. (Typecast)
In between lighting the set Carrie was very chatty and asked what else we had done in films. (Has she got that much time to spare?)
I also met Harrison Ford and was to work with him again over the next few years.
Star Wars was the highest grossing money film that I ever worked on.
Some say it took a Billion Dollars at the box office and video sales…
I earned £11 per day for seven days. Total £77. What's the % ?…
Twenty five years later I am held in deep respect for being one of "DAFT ADA'S" men, by my Grandchildren… Thanks Mr Lucas…

Harry ("Aitch") Fielder and Ronnie Conrad play the elusive Death Star Troopers in this eerie scene when Vader visits Princess Leia in the Death Star's detention area.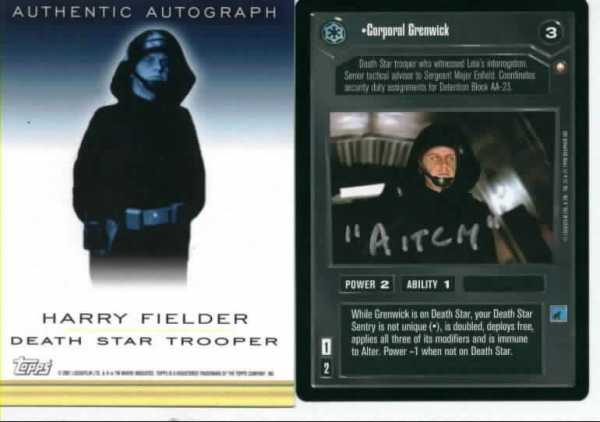 (June 2009) Had a trip back to Elstree Studios last week and looked at the George Lucas Stage. Back in 1976 (33 years ago we used the old Stage 5 on the Elstree back lot...now gone)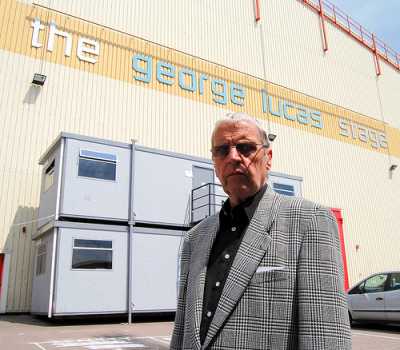 Click on the piucturte above for a video clip of Aitch at a Star Wars Convention in July 2010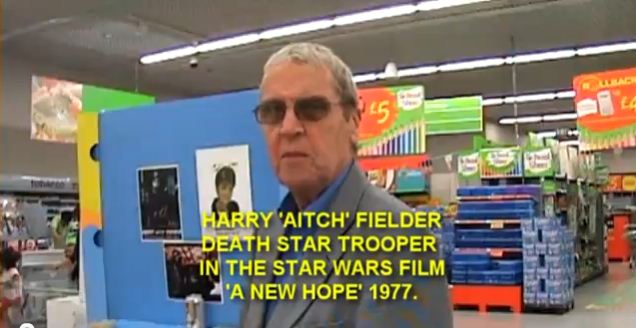 Click this one for another video clip from a Star Wars Charity Event
VALENTINO…Ken Russell…E.M.I. Studios…
Stars Inc. Rudolf Nureyev…Leslie Caron…Dudley Sutton…
I'm standing/in for Dudley again with our old mate Ken at the helm.
I managed to stay on the film for a few weeks but 1977 was a very busy year and I was booked here there and everywhere.
On films you were booked on a daily basis (unless given a contract for a certain amount of days)
On TV you got a contract for the days you would be needed and if you finished the job in two days instead of three you still got paid for the third.
But you signed for the three days so you had to be available.
So Valentino saw me rushing off to do a couple of days on The Sweeney or Wings or Warship and even the odd Beer Commercial…
This was the last time I was to work with Dudley or Ken but I would like to say to both of you thank you very much for keeping me in work…
THE EAGLE HAS LANDED…Director John Sturges…
Big cast Inc. Michael Caine, Donald Sutherland, Robert Duvall…
Central Casting ask me if I could ride a motor bike and as I'd had a Scooter as a teenager I said '' Yeah of course I can''.
Well after riding a 40s army bike that weighed a ton for two days on THE EAGLE I made sure that was my last riding job.
I was part of a column leading Sir Winston Churchill to a country house for an important meeting in 1943…
We were driving down country lanes that were full of potholes and lumps and bumps and were told '' More speed ''
Well I never fell off but I was talking in a high voice for a couple of weeks…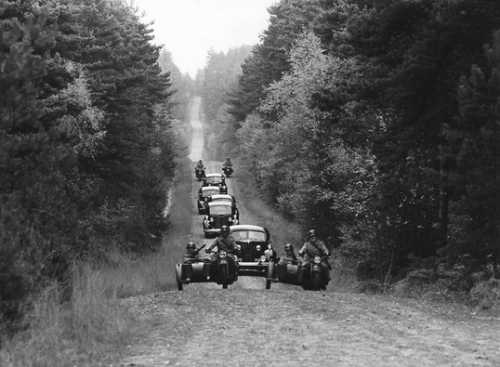 THE SPY WHO LOVED ME…Pinewood 007 Stage…
Director:
Lewis Gilbert

Writers:
Christopher Wood (screenplay) and
Richard Maibaum (screenplay)

Cast

Roger Moore ... James Bond

Barbara Bach ... Major Anya Amasova
Curd Jürgens ... Karl Stromberg (as Curt Jurgens)

Richard Kiel ... Jaws
Caroline Munro ... Naomi
Walter Gotell ... General Anatol Gogol
Geoffrey Keen ... Sir Frederick Gray
Bernard Lee ... 'M'
George Baker ... Captain Benson

Michael Billington ... Sergei Barsov
Olga Bisera ... Felicca
Desmond Llewelyn ... Q
Edward de Souza ... Sheikh Hosein (as Edward De Souza)

Vernon Dobtcheff ... Max Kalba
Valerie Leon ... Hotel Receptionist
This was a good film for the Supporting Artists as it was made just before Xmas and a few days after… (We called it ''getting our turkey'' money…)
This was an all action film for us with the stunt team at the front of it and us ''Extras'' bringing up the rear. (If you got close to an explosion you got extra money)…
Some of the boys on the film (Jerry Judge, Bill the body, Jack Ross, Ronnie Woods, The Lizard, Cornflakes) and about twenty others lasted the distance and all had a happy Xmas.
I remember seeing ''JAWS'' (Richard Kiel) in the Pinewood Bar drinking a pint and his hands were so big it looked like he was holding a thimble… (These were good days)
I remember one big scene near the end of the film when we had to get off the subs as fast as as we could before the whole place blew up. I knew there was going to be loud bangs and plenty of heat so I suggested to this young chap that it would look good in shot if I carried him over my shoulders down some iron stairs as if he was wounded. He thought it was a great idea..
What I was really doing was looking after number one (me) and if it did get really hot and bad he was protecting my face and neck...

I CLAUDIUS…BBC TV…
Director:
Herbert Wise…
Cast

Derek Jacobi ... Claudius (12 episodes, 1976)
George Baker ... Tiberius (9 episodes, 1976)
Margaret Tyzack ... Antonia (9 episodes, 1976)
Siān Phillips ... Livia (7 episodes, 1976)

James Faulkner ... Herod Agrippa / ... (7 episodes, 1976)
Brian Blessed ... Augustus (5 episodes, 1976)
John Hurt ... Caligula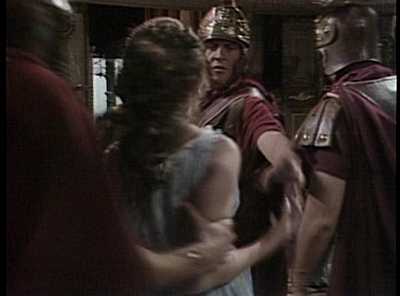 This was British Actors at their best…
I worked on quite a few of the thirteen episodes and just used to watch in amazement at the way the actors could remember the very long speeches and the many moves they had to make during a scene.
Derek and John stole the show as far as I was concerned.
It was an education in acting to watch these people work.
I was lucky enough to be on the last day of shooting and when Derek finished.
The whole cast and crew stood up and gave him a standing ovation.
(I can still hear the applause to this day)
On one episode I was playing a guard and at the end of it I had to chop off Messalina's (Sheila White) head…
After I had done the dirty deed Sheila cried her eye's out and come to me and sobbed on my shoulder. (Perhaps I'm not all bad?)
Herbert Wise held the show together for many months and is still directing today.
Well done Herbie…
BLAKE'S 7…BBCTV…
Another space epic that saw the hero's of the show trying to save the planet (and other planets) from the bad guys…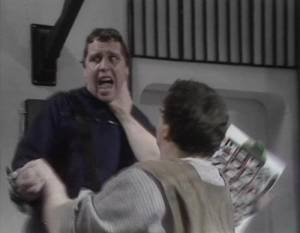 I'm coming second in a fight with Gan..(David Jackson)
(Click on the picture for video clip)
I lost count of the episodes I was in but it was all played a bit tongue in cheek.
One episode I do remember well was when we (Bill, Patsy, Jimmy, and about ten others were filming on Box Hill Surrey)
It was a very cold Sunday and we were dressed as Cavemen. (Bits of fur and the like wrapped around us, teeth blacked out etc.)
At one o clock the A.D. shouted ''Lunch one hour''.
Well I didn't fancy joining the queue at the catering wagon when there was a warm Pub opposite. (We were freezing)
I was first in and a large brandy and a pint of the black stuff was soon in front of me.
The landlord didn't seem to mind our strange dress sense as we half filled the bar. The locals took it in their stride.
After a couple of drinks I had warmed up a bit and was talking to some of the locals.
(Some had nipped home to get a camera to have their picture taken with a caveman)
A small dog had been sniffing around me and was snarling at my fur boots. I bent down and made friends with it… (I like animals)
As I was talking to another couple of locals that same dog I had made friends with sneaked up behind me and pissed up my boots. Patsy and the others were on the floor In fits of laughter. (They had seen it all)
An hour later with a bit of bread and cheese in our hands we were back on the hill to continue filming. (Cold, what cold? Except for my feet)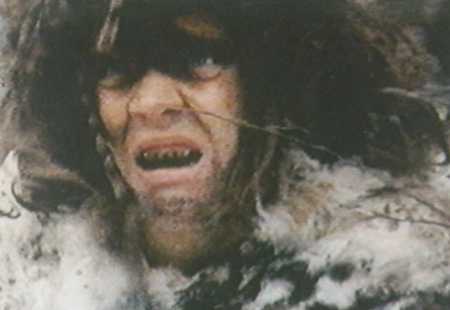 NOT MR. COLGATE 1970s…..
THE PROFESSIONALS…Martin Shaw…Lewis Collins…Gordon Jackson…
MI5 TYPE DRAMA SERIES…
I worked on a few episodes either as a MI5 man or a crook.
Nothing much to shout about. It was a job…
Saw this episode on TV the other day and it's one I'd forgotten about....
Episode, Need To Know..
I have to drive the police van to help escort the prisoner from the jail to the court house but the bad guys have other ideas...

After getting my orders from Bodie he gets in his car
to lead the way and after a while we all end up getting
gassed by crooks...

Now this is nearly enough for me to give up smoking...

I need some fresh air...

Think I'll just fall down and sleep it off...
The Professionals....Always a good show to watch.
THE TWO RONNIES…Ronnie Barker…Ronnie Corbett…BBCTV…
Every so often in any walk of life you get to do something that you really like.
Mine was THE TWO RONNIES…
For a few summers running Ron and Ron would be doing a summer show down in the West Country and could fit their BBCTV work in the daytime as they did their Summer Show at night.
Ronnie Barker liked to keep his summer stock actors and Supporting Artists on hand as he knew he could rely on them.
We would film all the inserts for his winter shows at the BBC.
So every year Patsy, Jimmy, Alf, John (The Grunter) Cannon myself and a few others knew we would be away down the coast for a couple of weeks.
One day Ronnie B. said to me "Harry, we want you to play a crook on our Charlie Farley, Piggy Malone sketch" "No problems" said I.
"Might be a small problem" He laughed "Small problem?"
''Yes you'll be dressed up as a TART''
(Now is he out for a laugh or what. You can't have Aitch dressing up in women's gear. What would the boys in the local say?)
(He could wake up with a crowd around him)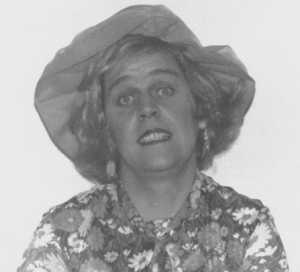 NO IT'S NOT ME MOTHER, IT'S ME…(MONEY TALKS)…………..
Now you can guess the stick I had to take from the crew and some other people when we filmed for a couple of weeks in Dorset.
But if someone like Tony Curtis can do it in SOME LIKE IT HOT then that's OK
On the first day of filming the crew at lunchtime were off down the pub for their pint. "You can't come down there dressed like that Aitch"
"You try and stop me. Just sit your mother in a corner and get her a pint of the black stuff".
I had many happy days (and years) working on THE TWO RONNIES and can now look Back and say… Thank you very much for the good times. TAKE NO NOTICE OF REPORTS THAT I WORE THE GEAR WHEN WE WENT OUT AT NIGHT.