1976
THE PRINCE OF DENMARK…Ronnie Corbett…
Ronnie is the landlord of the above named pub and in this episode.
I play one of twelve Rugby playing drunks that want to liven up the pub for a night. We rehearsed during the week and did the audience show on the Saturday night. We all had words to say and the show went down well. (I get to work many more times with Ronnie Corbett when I work on The Two Ronnie's)…
WHEN THE BOAT COMES IN…James Bolam…
Episode Title… Comrades In Arms…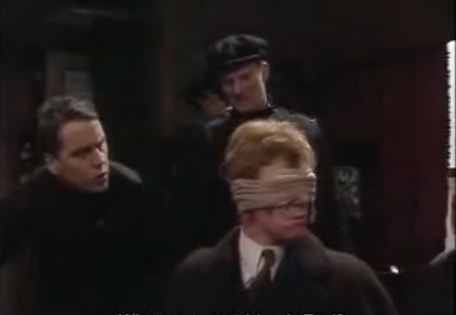 Click on the picture for video clip
I'm cast as the First Fascist and a good friend of mine, Steve Ismay is the second… Lots of rehearsals at the North Acton Hilton then a day at the Centre…
DOCTOR WHO…The Face of Evil....Tom Baker…Louise Jameson…
We filmed my part of the show at Ealing Studios.
I was booked to play a man about to kill Leela but the tables are turned when Louise Jameson's boyfriend fires an arrow into me just as I was taking aim on Leela. (If you've got to die it's better being shot by a beautiful woman than drowning in the Pinewood Fish Pond)…
Now a funny thing happened during the day. The scene is set up where Louise is about to shoot me and I'm under supervision from stunt director, Terry Walsh, on how to fall once I am hit. (Here's the plot.....)
I'm dressed in a small loin cloth and have to fall onto a sandy type floor.(which was sawdust).
We rehearse it without the fall and it all goes well…
Now for the take…BANG…I imagine I've been shot with the arrow and fall forward. As I hit the floor my old chap (wedding tackle) decides it wants to leave the comfort of the loin cloth and play with the sawdust.
After a good dusting down and another take we got it right.
Louise and I meet up again on Eastenders…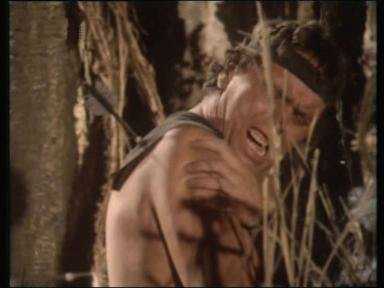 BEFORE THE ''OLD CHAP'' WENT WALK ABOUTS……………..
THE TWO RONNIES
(Episode: The Picnic)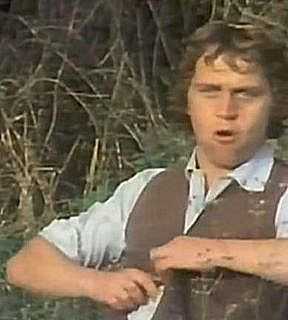 It was always fun to work with The Two Ronnies
(click on the picture to watch a clip from the episode.
About 3 mins 30 into the clip I am chasing a pretty young lady...)
THE DICK EMERY SHOW…BBC TV…
I worked on a few of these shows and was cast in a couple of them.
Dick was a funny man to work with.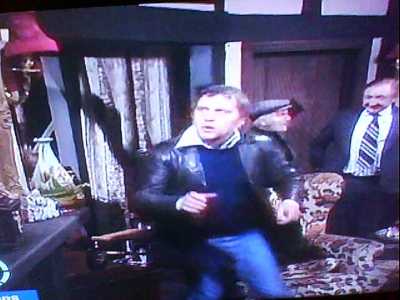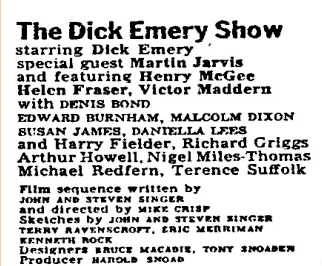 I always list the commercials I do throughout the year at the end of the year and besides the beer and other commercials the next one stands out in my mind. It was for American fries or crisps or something like that, but someone Took a photo…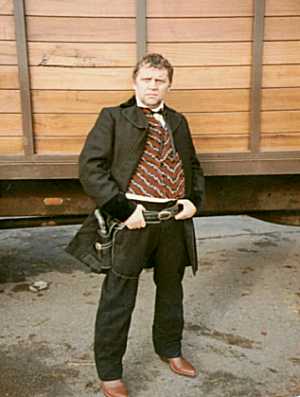 GET OFF YOUR HORSE AND DRINK YOUR MILK