1975
GREAT EXPECTATIONS…
Director:
Joseph Hardy

Writers:
Charles Dickens (novel)
Sherman Yellen (writer)

Cast

Michael York ... Pip
Sarah Miles ... Estella

James Mason ... Magwitch
Margaret Leighton ... Miss Havisham
Robert Morley ... Uncle Pumblechook
Anthony Quayle ... Jaggers

Joss Ackland ... Joe Gargery
Rachel Roberts ... Mrs. Gargery
Andrew Ray ... Herbert Pocket
Heather Sears ... Biddy
Simon Gipps-Kent ... Young Pip

James Faulkner ... Bentley Drummle
Peter Bull ... Wemmick
Sam Kydd ... Scarred Convict
John Clive ... Mr. Wopsle
I worked for a few weeks on this production at Shepperton Studios.
I met up with one of the nicest Assistant Directors in the business, David (Tricky) Tringham 1st A.D.
He would always look out for me if there was any bits of business to be done on the scenes. In one scene I'd be dressed as a rogue and in the next I'd be done up in top hat and tails. (I did look a prat)
David and I have remained friends for all the years we stayed in The Business and he put plenty of work my way. Thanks David…
Some scenes stand out in my mind on films and I suppose the one in this film is where Magwitch (James Mason) is trying to escape in a boat near the end of the film.
We're filming in the studio tank and Magwitch is floundering in the water (All three feet of it)
I am one of the twelve policemen in another boat who has to save him from drowning. We pull alongside of him.
David shouts ''Reach over and drag Mr Mason in Aitch''
Well I reach over and because all his clothes are soaked I can't move him.
''Hurry up Aitch Mr Mason's cold''(Well I've got a bit of a sweat on.)
I try again but he weighs a ton.
(Plan B) : The other policemen hold onto my police uniform and I reach right over the side of the boat, then I manage to get my hands right under his crotch and what with me pulling him and the boys pulling me we land him on deck.
He lays silent for a couple of seconds then opens his eyes.
He looks at me and says in that wonderful James Mason voice, ''Thank you very much''.
It was a pleasure Mr Mason. It's not everyday I get my hands around a top actor's 'Niagaras'. (Funny old game this acting game)

HENNESSY…Rod Steiger…
I'm sent to a racetrack by Central Casting, on an evening call, dressed quite smart as a plainclothes cop.
I might have a line or two to say. (They'll tell me them when I get there)
Some of the boys are chatting about the work (or lack of it) they've been doing. Then I get a shout from the 2nd A.D. to stand in a certain position.
There is another guy (stand/in) already there waiting for his Artist.
I don't know this man so I'll say nothing as he's reading a book while he's standing/in there.
I'm watching them light the set and half chatting to some of the boys that I know.
Ten minutes passes and they're ready for the artist.
I finish my chatting with the boys and turn to see who I've got the lines with.
(now, you're in front of me here)
It's only the top man himself. (My bum has just fallen on the floor)
We eye one another for a second and the top man sticks out his hand.
''Steiger'' he says. ''Harry Aitch'' I croak.
The Director gives me my lines (easy) to say and it's all over in ten minutes.
Now when working with someone like that it never leaves your memory, it's part of my life. When I tell my grandkids about it they say,''Who''.
I wonder who I'll meet next?

BRANNIGAN…John Wayne…''THE DUKE'' Director Douglas Hickox…
Cast Inc…Richard Attenborough…Judy Geeson…
I only worked a few days on this production but to work with the big man was a treat in it self. I have now worked with the greats of Hollywood and we are not to see the likes of them again. (Or are we?)
''THE DUKE'' was an unassuming man and got on well with the cast and crew.
When the grandkids watch an old Western with the man in it I tell them ''I worked with Big John''.

THE LAND THAT TIME FORGOT…Director…Kevin Connor…Pinewood…
Cast Inc…Doug McClure…
I was in one scene doubling for the main artist and all I had to do was put my foot into a Dinosaur's mouth. (It beats working for a living.)

RETURN OF THE PINK PANTHER…Director…Blake Edwards…Shepperton…
Cast Inc…Peter Sellers…Herbert Lom…
I'm standing in for various artists and it's always going to be a laugh just being on set with this company.
Joe Dunn is the stunt director on the Panther films and I've known Joe since The Avengers days. (Hello Joe)
I watched a Panther film on TV recently and it still holds up after nearly thirty years. (They don't make them like this anymore)

I have just looked on the WWW and found someone has put a page of some
Of the Doctor Who's and other bits and pieces on ''The Harry Fielder Page''
I wonder where they got all the information from because I had forgotten
Most of the jobs that they mention… (Have a look) Plus IMDB…

ADVENTURES OF SHERLOCK HOLMES SMARTER BROTHER… Director Gene Wilder.
Cast Inc…Gene Wilder…Marty Feldman…
A few days here and there playing an assortment of characters in this Victorian saga.
There was plenty of work for all of the Supporting Artists on this.


I am skipping many film and TV jobs as it's only 1975 and I've got twenty three years left to write about.
You can always read the full list compiled by Scott Palmer at the beginning of this story and I will try to answer any questions by email.


LISZTOMANIA…Director Ken Russell. Shepperton Studios…
The first ''POP'' idol, Franz Liszt played by Roger Daltrey.
A couple of days on this with Ken Russell doing what he does best.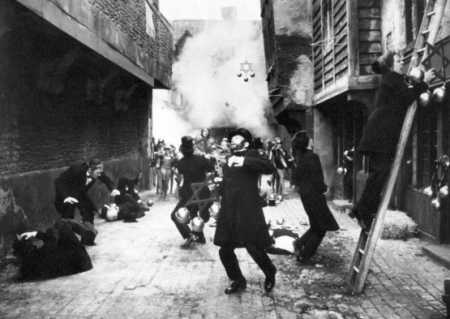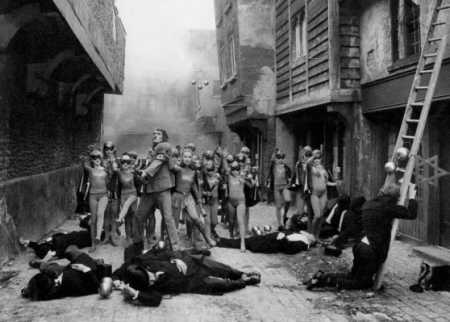 THIS WAS ANOTHER OF KEN'S LITTLE JOBS. ''Just get up the ladder Aitch,
You'll be alright''.
The man in the centre of the top picture is Jack ''Kid'' Berg an ex boxer.
On the right is Stuart Myers and on the far left Tony Allen.
MAHLER…Ken Russell…Robert Powell…Georgina Hale…
Another Ken Russell musical but not in the same vain as ''Singing In The Rain''
DOCTOR WHO…Director Douglas Camfield…Tom Baker…
Episode…The Seeds Of Doom…
In this six part story I'm playing a Guard and have some words to say.
I meet up with Tom Baker again as we film in the BBC Centre and on location down in the West Country…
I had worked with Douglas before but only as a Supporting Artist, this time I'm a cast member.
Another man I meet for the first time is John Challis…(Later to make his name in Only Fools And Horses) We are still friends today.
The most praise on this show must go to the Director Douglas Camfield…
He had time for Extras and Artists alike. He would listen to all the moans and groans from cast and crew and solve the problems.
Douglas used me many times over the coming years but died suddenly at an early age... I have nothing but respect for this man...
DOUGLAS CAMFIELD…A TRUE GENTLEMAN OF THE PROFESSION…
From Dr. Who episode DEADLY ASSASSIN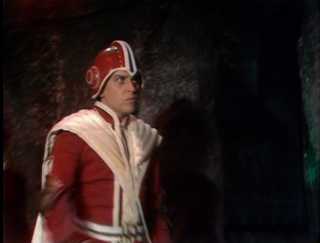 There's that Doctor Who on his own..I'll get my mate Steve..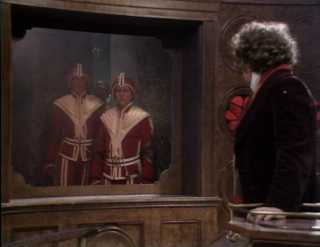 That's him, that's the man we want...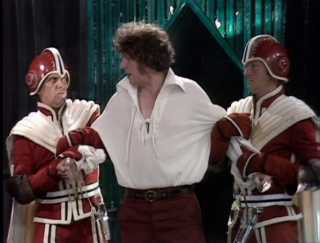 Now come along quietly now sir or I may have to call for a Doctor!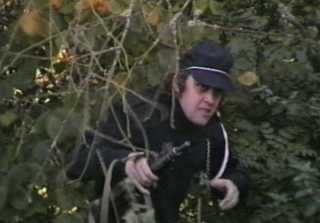 No, I haven't been for a pee in the bushes..I'm looking for the bad guys.