1974
THE TAMARIND SEED
Director:
Blake Edwards

Writers:
Evelyn Anthony (novel)
Blake Edwards (screenplay)

Cast

Julie Andrews ... Judith Farrow
Omar Sharif ... Feodor Sverdlov
Anthony Quayle ... Jack Loder, Head of MI6
Dan O'Herlihy ... Fergus Stephenson
Sylvia Syms ... Margaret Stephenson
Oskar Homolka ... General Golitsyn
Bryan Marshall ... George MacLeod
David Baron ... Richard Paterson
Celia Bannerman ... Rachel Paterson
Roger Dann ... Colonel Moreau
Sharon Duce ... Sandy Mitchell
George Mikell ... Major Stukalov
Kate O'Mara ... Anna Skriabina
Constantine Gregory ... Dimitri Memenov (as Constantin de Goguel)
John Sullivan ... KGB Agent
We all had a day out at London Zoo. Me, the wife and three kid's.
The kids were not impressed by the movie business. (After six takes they wanted to go home)
I managed to take a photo of Omar but it didn't come out to good.
(David Bailey, Don't worry)


OMAR SHARIF HAVING HIGH TEA AT LONDON ZOO…
TOMMY…Ken Russell…
A few days stand/in for various artists...
CARRY ON DICK…Pinewood…Gerry Thomas.
The last Carry On I worked on and one of the best.
I remember Sid James playing Dick Turpin saying a line to a young lady,
''My name's Dick, do you like it?''
The whole cast at their best. (Watch it on video)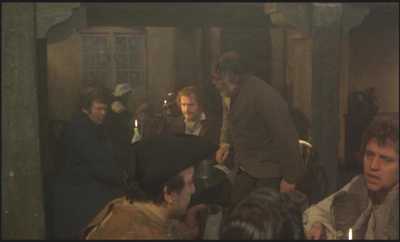 Scene from Carry On Dick
LEGEND OF THE WEREWOLF
Director:
Freddie Francis

Writer:
Anthony Hinds (writer)

Cast

Peter Cushing ... Prof. Paul
Ron Moody ... Zookeeper
Hugh Griffith ... Maestro Pamponi
Roy Castle ... Photographer
David Rintoul ... Etoile
Stefan Gryff ... Max Gerard
Lynn Dalby ... Christine
Renee Houston ... Chou-Chou
Marjorie Yates ... Madame Tellier
Norman Mitchell ... Tiny
Mark Weavers ... Young Etoile
David Bailie ... Boulon
Hilary Labow ... Zoe
Elaine Baillie ... Annabelle
Michael Ripper ... Sewerman
A run of the mill horror film and I was standing/in for the Werewolf.
Guest artists, Michael Ripper and Ron Moody.
I'd known Kevin Francis since Randall and Hopkirk days when he was a 2nd A.D. and we'd had a few beers together.
His Father, Freddy was a well respected lighting cameraman and had worked on a number of big budget films over the years. (Why do lighting cameramen want to Direct?)
Kevin also produced The Ghoul, Trog and Persecution around the same time and always gave me a bit of work when he could. Whenever I'm at Pinewood I make a point to drop into his office and say hello...
In another twenty years time he offers to buy a script off me.
My best wishes go to all the Francis family.
THE SWEENEY…John Thaw…Dennis Waterman…
It arrived with a bang. A British cop show that pulled no punches.
No more ''Evening all'' from Dixon of Dock Green this was the ''Bogs Dollocks''.
A couple of good friends of mine were standing/in for the two main leads.
Whenever they could they'd stick my name up to the various 2nd A.D.'s and get me a couple of days work. Thanks Barry and Tony.
I can't remember the number of episodes I was on but it always seemed to be when it was a bit quiet on the outside.
I got on well with John and Dennis and on some episodes I'd be a plain clothes cop helping them out of trouble and on other episodes they'd be roughing me up.
(I never get to play Vicars or Doctors, is it something to do with my face)
As I've said I worked on The Sweeny on and off over the next couple of years
And was still friends with John up to his death...(Everyone misses you John)
VISITORS FOR ANDERSON…BBC DRAMA…
I'm in the cast again as a prison warder in a jail in South Africa.
Not too much to do or say but mainly rattle cell keys around doors and look horrible and menacing to the inmates…(that isn't too hard)
I worked with Stratford Johns on this but had already worked with him on Z-Cars and Barlow.(it's nice to have a friend on the team)
(For South Africa, read London BBC Centre)
THE LIVER BIRDS…Producer…Douglas Argent…BBCTV…
Cast Inc…Nerys Hughes…Elizabeth Estensen…
I'm saying words again as a cast member…(a spit and a cough)
All I have to do is order a huge breakfast in a transport café and have a bit of a go at the two main artists. (No sweat)
Elizabeth is now one of the main cast of Emerdale. 2002/2003…
IT AINT HALF HOT MUM…BBCTV…
I did a few of these over the next few years and we had a good laugh doing them. All the cast were great and I spent many a happy hour having a swift half in the studio bar…
In between these shows I was fitting in a lot of Doctor Who episodes.
Doctors came and went and I can't remember how many shows I worked on. If they show an old one on Cable I'm not too surprised
If my face pops up in an episode, (It was our bread and butter jobs)