1973
THE MUTATIONS…Director…Jack Cardiff…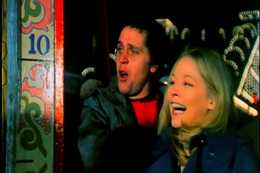 This was a strange film to work on. We used artists from around the world that were genuine freaks. A man that could make his eyes pop out of his head, A lady that had skin like a crocodile and many more.
Tom Baker (Later to become the best Dr Who ever) was playing a Mutant.
I stood-in and doubled for Tom and was used a few times in crowd scenes.
I was also the Barker at the fair ground scene.
Jack Cardiff is better known for his cinematography and started in films at the age of thirteen. I wish you well Jack.
THE MACKINTOSH MAN
Director:
John Huston

Writers:
Walter Hill (screenplay)
Desmond Bagley (novel)

Cast

Paul Newman ... Rearden
Dominique Sanda ... Mrs. Smith

James Mason ... Sir George Wheeler
Harry Andrews ... Mackintosh
Ian Bannen ... Slade
Michael Hordern ... Brown
Nigel Patrick ... Soames-Trevelyan
Peter Vaughan ... Brunskill
Roland Culver ... Judge
Percy Herbert ... Taafe
Robert Lang ... Jack Summers
Jenny Runacre ... Gerda
John Bindon ... Buster
Hugh Manning ... Prosecutor
Wolfe Morris ... Malta Police Commissioner
We were at Pinewood for a couple of weeks filming the prison escape scenes.
There must have been a couple of hundred Supporting Artists on the set everyday. Central Casting were at their best for this casting.
Broken noses, scars, cauliflower ears, pug ugly (And that was just the women).
Some of the best known ''faces'' from north and south of the river (Thames) were teamed up in a mock up of a prison yard.
Let me mention some that I can remember.
The Cardews, the Tippets, Bobby Ramsey, Jack Kid Berg and many many more.
I wish my memory was better. (I'd better remember Gypsy Tom) Hello Tom.
I'm sure we'll get a full list of the people in these scenes when we read Scott Palmers book.
Some of the quieter faces Eric Kent, Trevor Wedlock, Gordon Hann and myself would find a quiet corner and play cards in between set ups.
Trevor and his dog Yogi went to Ireland to hunt for Mr Newman.
Yogi was a BIG Rottweiler. (And I mean BIG)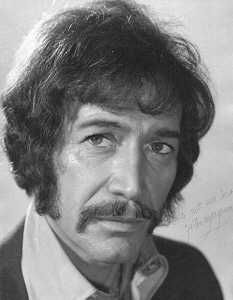 PETER WYNGUARD AS JASON KING
I worked on a few episodes of Jason King the same as I did on Department S. but nothing much to talk about.

I've now got an idea for another script. It's based on a very funny friend of mine. He's a window cleaner and his name is Peter Harvey. (A right Jack the lad)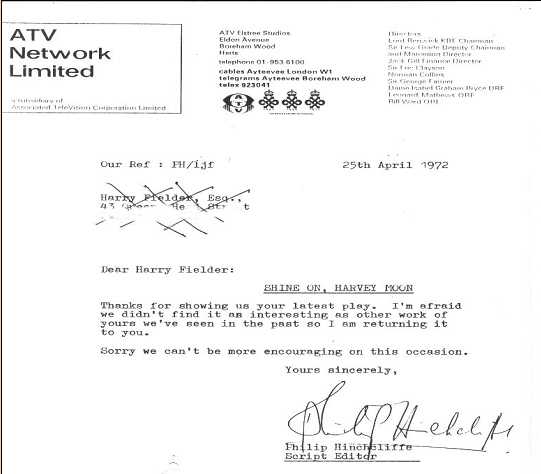 ALAS SOMEONE ELSE MADE A SHOW CALLED SHINE ON HARVEY MOON
SOME TIME LATER. THAT WAS MADE BY ATV.
( Funny old game this writing game when two people come up with the same name for a show, six months apart)
DIAMONDS ON WHEELS
Director:
Jerome Courtland

Writers:
Pierre Castex (book)
William R. Yates (screenplay)

Cast

Patrick Allen ... Insp. Cook
George Sewell ... Henry Stewart
Derek Newark ... Mercer
Dudley Sutton ... Finch
Barry Jackson ... Wheeler
Christopher Malcolm ... Jock
Richard Wattis ... Sir Hilary Stanton
Allan Cuthbertson ... Gus Ashley
Ambrosine Phillpotts ... Lady Truesdale
Maggie Hanley ... Mrs. Maggie Stewart
George Innes ... Insp. Timothy
George Woodbridge ... PC Andrew
Edwin Richfield
Patrick Holt ... Steward
Andrew McCulloch ... Billy
I'm standing/in for Dudley on a kids film which will take us through the long hot summer…
The film has a big cast including Barry Jackson, Christopher Malcolm, Derek Newark, a young Peter Firth and a top stunt team with Alan Stewart and Chris Webb.
We filmed a lot of it in Surrey but we had a few weekends near Smithfield Market. (A five minute walk from my house)
It was really a fun film to work on. Plenty of Supporting Artists, plenty of days and plenty of sun.
I wont tell you Dudley was playing a crook again but if you had to guess I think you'd guess right.
Chris Malcolm is a Canadian and he kept asking me how to talk Cockney. (A touch of the Mary Poppins)

SOFT BEDS HARD BATTLES…Director…Roy Boulting…Shepperton Studios…
Cast Inc…Peter Sellers…Jenny Hanley…
Not one of Peter's best films…

THE ZOO GANG…
Cast includes, Brian Kieth, Sir John Mills, Lilli Palmer and Barry Morse.
I worked a few odd days. (A monkey smoking a pipe)
LORD PETER WHIMSEY...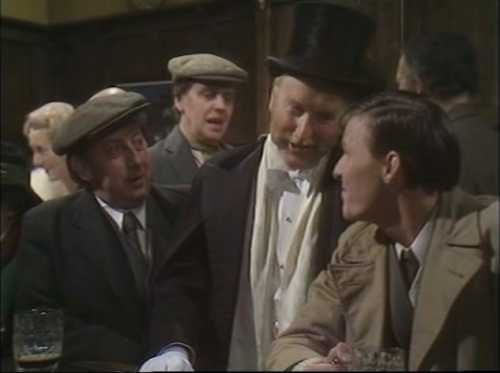 CHURCHILL'S PEOPLE...BBCTV A History of the British Nation…
Season 1, Episode 1: Pritan
Director:
Michael Hayes

Writers:
Winston Churchill (books)
Brian Rawlinson (deviser)

Cast
Jeremy Kemp ... Lucius
Bernard Archard ... Felix
Frederick Jaeger ... Caradoc
William Marlowe ... Adhmin
Paul Darrow ... Marcellus
Claire Davenport ... Boudicca
Joan Rhodes ... Cartimandua
Victor Lucas ... Epatticus
Michael Brennan ... Brigantian chieftan
John Atkinson ... Chief druid
Michelle Scott ... Refugee woman
Ryan Davies ... Chief bard
This was a huge production by the BBC consisting of twenty six episodes of British history.The BBC must have employed a thousand Actors, Walk/On's and extras for the year or so of filming at the BBC Centre at Wood Lane W7.
I probably worked on half (or more) of the twenty six episodes.
One week I'd be a hangman in the sixteenth century, another episode I'd be coming off the mountain carrying the Tablets and speaking Gaelic, another time I'd be in Canada (and we never left the studio)
But the best episode was when I was made up as a Viking!!!
I was called early in the morning to the Centre and was told they were running late from the day before and could I relax in the dressing room and ''pop'' back about lunchtime.
I had a game of cards for a couple of hours then some of the boys decided on a couple of swift halves in the studio bar.
After a nice couple of hours in the bar I went to the make/up room to see if they were ready for me. ''Can you come back at five'' they said.
I remembered where I'd left my mates and joined them for another swift half.
After a bite to eat and a sleep in the dressing room I'm back at the make/up room at five o clock.
''We'll be ready for you at eight after supper''
So it's back to the club bar and another swift half and I meet up with Patsy and Jimmy. Patsy (glug, glug's ) a fine drinker but Jimmy (head down) must be allergic to Mahogany. (he wont go near the bar when it's his round)
It's now ten to eight and with peppermints in the gob it's back to make/up.
I'm stripped down to my pants and there's make up going on my legs, feet, chest, in fact anywhere that looks white. Plus one large beard.
Now it's costume time. I'm going to be a very fierce Viking.
Lace up sandals up to my knees, large pieces of fur fitted and tied about me, a horned helmet, a dagger, a sword, a shield and of course a giant axe.
(I forgot to tell you about the longest wig you've ever seen. It would have done Lady Godiva a great service as an overcoat)
I'm ready now and I weigh a ton. (Even without the kitchen sink)
It's up the stairs to the studio now for my big performance. Let's rock and roll.
The big performance consists of a big light behind me so that my body casts a huge shadow on the wall. That's it, I'm a shadow on the wall.
After thirteen hours at the BBC Centre the old smoke, pipe monkey come to mind.
SPECIAL BRANCH
Director:
Don Leaver

Writer:
Lewis Greifer (writer)

Cast

Margaret Anderson ... Mrs. Robert Miles
Paul Antrim ... Det. Sgt. Maguire
Richard Beale ... Cmdr. Glover
Bruce Boa ... Evans
Kenneth Colley ... Oliver
Paul Eddington ... Strand
Michael Forest ... Charles
Susan Jameson ... Det. Sgt. Mary Holmes
Richard Leech ... Chief Supt. Knight
Patrick Mower ... Det. Chief Insp. Tom Haggerty
Mia Nardi ... Odette Gutman / Bridget Farwater
Suzanne Roquette ... Heidi Schneider
George Sewell ... Det. Chief Insp. Alan Craven
Simon Sharrock ... Simon
Alan Stuart ... Conners
Margery Withers ... Mrs. Miles
Katya Wyeth ... Susanne Brodl

Watch the clip from Special Branch


This was a funny job to do...I play a border USA cop and we have to stop the bad guys.. Bruce Boa is in charge and there's another actor with us to try and stop the villains.. One of us gets shot....Yep...Let's shoot the extra........Me....Funny old game this film game.
First time I've worked with George but we work together many more times over the years.
I think this was the one where I'm silhouetted on the opening titles of the show.
I'm on the police most wanted list. (For breaking in to a five pound note to buy a drink But I got off as it was my first offence)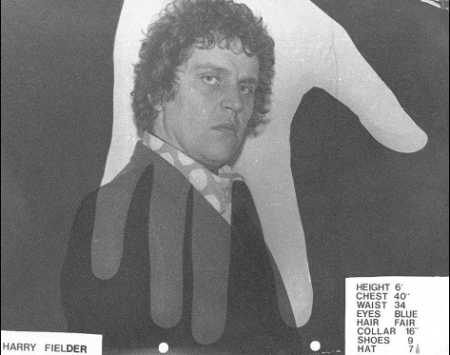 Me in '73...That's my hand print...

SPACE 1999…Pinewood Studios…
Cast…Martin Landau…Barbara Bain…Barry Morse…Catherine Schell…
I'm back at Pinewood to do about ten episodes of this series.
It takes two weeks to film a fifty minute episode so as it's a busy time in films and TV at the moment I can get other work on shows when I get days off of 1999.
I would love to see the show again and look back on some of the faces I met thirty years ago. (Come on TV company's, show it again)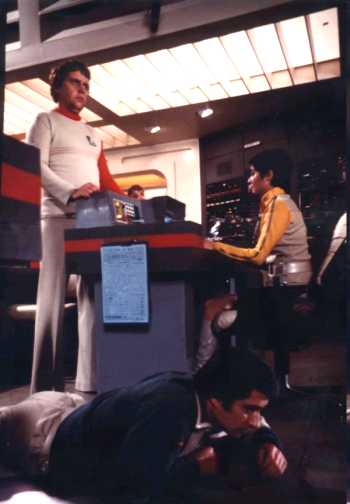 ME (standing) IN AN EPISODE OF SPACE 1999…


STEPTOE AND SON… Episode Porn Yesterday…
Writers:
Ray Galton (written by) and
Alan Simpson (written by)

Cast

Wilfrid Brambell ... Albert Steptoe
Harry H. Corbett ... Harold Steptoe
Anthony Sharp ... Vicar
Dorothy Frere ... Mrs Cakebread
Joyce Windsor ... Gladys
Harry Fielder ... Man in queue
I'd already worked on a couple of Steptoe films but only as a Supporting Artist.
Now I'm in the cast as a disgruntled man who has some words to say near the end of the episode.
We rehearsed for five days at the North Acton Hilton, (BBC rehearsal studios) then do the live (Audience) show on the Saturday night.
Harry H (good name) Corbett and Wilfred Brambell were charming throughout the week as were the rest of the small cast.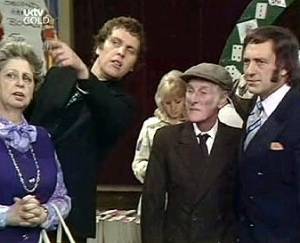 When it was shown on the BBC it had an audience of 23 million viewers and my name was on the credits.(Not bad for a boy that used to swim in the canal)
I'd like to thank Douglas Argent for using me on that show and many shows after.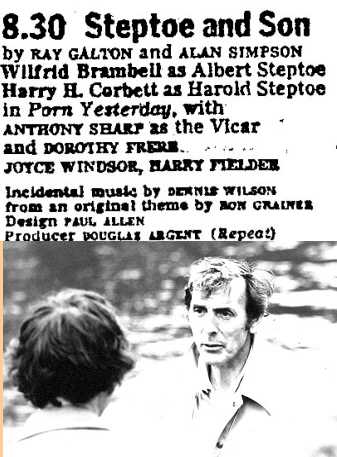 ERIC SYKES DIRECTING IN 73…PHOTO BY AITCH…
As you can see now I've been ducking and diving about on different films and TV shows. Some I can remember some not.
It's like if you work in an office or a warehouse or a shop you can't remember something that happened ten, twenty or thirty years ago.
Unless something happens to click your memory.
If I see an old film or TV show on the box I see people I knew all those years ago and wonder what became of them. Actors (Bit) who were too grand to talk to you. Extra's that were trying to make the big time. (not many do)
Me? I was a Supporting Artist that could say lines. Take each job as it comes, say the words and don't fall over the furniture. (I did fall a couple of times)
My main job in the business was to REACT to actors. (or scenes)
On Department S. one day the 1st A.D. told me to have a look out of the door in one scene. I was dressed as a French Policemen. I looked up and down the road and there wasn't a soul in sight. The camera was just on me.
When it came to being paid he told me it was a crowd scene. No extra money.
We used to get extra money for individual work. (I was a small crowd)

I get to do my first Guinness commercial. (I've been rehearsing for this for fifteen years)
It's a hard job sipping pints of the black stuff take after take, licking your lips and smiling at the camera but someone's got to do it.
THE TWO RONNIES... The Regiment.. Episode 3 Series 3....
Now picture these brave boys on the North West Frontier standing to attention in the soaring heat with no contact from their loved ones and girlfriends for over a year...
So Ronnie Barker decides to give us a treat....
| | |
| --- | --- |
| Is this a mirage I see before My eyes?..... | I'm going a bit dizzy, must be something in my water. |
| It must be passing out time...... | Time to join the lads in some ground work.... |
I'd like to thank The Two Ronnies (and Dilys Watling) for this funny sketch...See it on tv...
THE NORMAN WISDOM SHOW…
In about 1953 my Mother took me and my brothers and sisters to see Norman in a film called Trouble In Store at the local Bug Hutch in New North Rd. (That road still holds many memories).
It was a film about a little man being put down but in the end coming up trumps. Anyway, I'm about to work with the man.
An agent sends me to Watford main line station at 11am to play a crook.
I have to meet up with another actor and wait for the crew to arrive.
Now I'm dressed as a smart crook and I'm in the waiting room at Watford Station and the locals are giving me the beady eye…
After about five minutes another smartly dressed crook arrives and the locals must think the heavy mob are about to take over. (We soon have the waiting room to ourselves)...
Don Henderson introduces himself and it seems we have many friends in common.
Mike Pratt, Dudley Sutton, Tom Baker etc.
After about half an hour of chatting we get a message that the crew are running late at the other location and will not be here till about three thirty.
''Fancy a swift half'' I enquire to Don. "I could fancy a swift pint more" He replies.
After three hours in the pub next door to the station we wend our way back to the waiting room just as the crew are turning up...
''Sorry to have kept you waiting so long, hope you haven't been too bored'' said a crew member.
I'm trying to get the gob and the brain to work as one…
"We're fine, we've been looking at a few sights" (from the bottom of a glass).
The Director tells us that we are going to chase Norman, catch him and beat him up…(No problem).
Now no one told us that Norman is the fittest man for his age that I had ever seen. We could not catch him and I was coming second.
Norman was told to slow down his running so that the big bad bullies could beat him up. (There's got to be another story here somewhere).
We worked quite late but managed to finish the shoot…
Don Henderson went on to greater parts. Thank you Sir Norman Wisdom…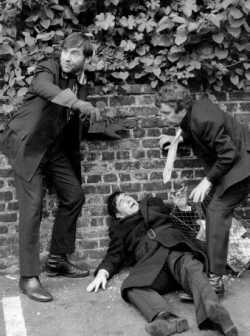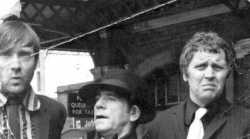 DON, SIR NORMAN AND AITCH AT WATFORD