1972
FRENZY
Director:
Alfred Hitchcock

Writers:
Arthur La Bern (novel)
Anthony Shaffer (screenplay)

Cast
Jon Finch ... Richard Blaney
Barry Foster ... Robert Rusk
Barbara Leigh-Hunt ... Brenda Blaney
Anna Massey ... Babs Milligan
Alec McCowen ... Chief Inspector Oxford
Vivien Merchant ... Mrs. Oxford
Billie Whitelaw ... Hetty Porter
Clive Swift ... Johnny Porter
Bernard Cribbins ... Felix Forsythe
Michael Bates ... Sergeant Spearman

Jean Marsh ... Monica Barling
John Boxer ... Sir George
Madge Ryan ... Mrs. Davison
George Tovey ... Neville Salt
Elsie Randolph ... Gladys
I am now working with the Master of filming.
Where I was born in Islington London, there was a huge warehouse type building on the corner of the Grand Union Canal in New North Road. (Very near the North Pole Pub)
It was in fact a film studio. As a kid in the forties I used to swim in the canal as it cost nothing entrance fee. (You had to watch out for the large Mocking birds floating on top of the water)
I think the studio was called Gainsborough and as a kid I remember strangely dressed people popping into the pub on the corner of New North Road and Elizabeth Avenue. (Supporting Artists of the past)
Anyway, that's where Alfred Hitchcock made many of his films.
(I could have bumped into him while I was going swimming and he was popping in for a swift half. It's a small world)
ONTO THE FILM…
I was now the not so proud owner of an old Bedford van and was booked by the 2nd A.D. on Frenzy to report to Covent Garden fruit market for the start of a weeks work...
There must have been fifty supporting artists working that week as market porters.
It was thirty years ago but some people still come to mind, like Big Mo Dunster who was stand/in on films for Donald Sutherland. Jimmy (the crow) Hammilton, Eddie Dillon And Bill (the body) Hemmings.
I remember the day that Donald Sutherland came down to speak to Mo about a private matter and got into one of the shots.(Everyone wants to be in a Hitchcock movie)
Mo has done well for himself and now lives in the U.S.A. looking after the Sutherland clan. Best wishes Mo, love Boysie.
Mr. Hitchcock was not very well while he was directing this film and would line up all the shots he wanted and leave the running around to his 1st A.D. (Colin Brewer, I think)
We filmed all around the market for the next week or so loading vans and unloading vans (Including my old Bedford) but I was more interested in watching the Master at work. Then near the end of the shoot in the market it happened.
The Master looked at me then at the 1st A.D. and said…
''Tell that man to climb up on that lorry and start unloading it''
(''That man'') he said my name, I was being directed by the great man himself.
We shot a lot of the inside of the film at Pinewood. Then some stuff with the Bedford Following a potato lorry up and down major roads and that was it.
I was sorry to see the end of the filming but it's one film I will never forget.
If you're looking down from that great studio in the sky Mr. Hitchcock ''That Man'' will say hello when he gets there.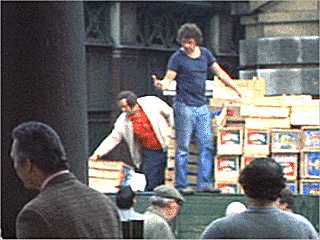 Looking a bit scruffy on Frenzy………

Now so far you have read about all the fun I've had on the film sets. All about close ups and mixing with the stars and enjoying myself on a day to day basis.
Well the film and TV game is not all like that.
Turn the TV on and if a film's being shown have a look at the crowd scenes and look for the person that's furthest away from the front of the screen. Is that me? I've done plenty of them. (Someone's got to be at the back)
Or when there's a queue for a summer cricket match and we're wearing our fine summer clothes. Only we film it in winter.
I've been out of bed by two thirty in the morning to get to a location by four so we can get a sunrise shot, then finish at ten at night. (Hardly office hours)
In this first part I've picked out less than half of a page of Scott V. Palmers original papers. (You should have read all of them first)
If I were to write something about every job it could take me years but if I manage to get all of this on the net I will gladly answer any questions about any film. (If I can remember them)

ONWARD AND UPWARD IT'S STILL ONLY 1972 AND THERE'S FAR TO GO.

FEAR IS THE KEY…Director…Michael Tuchner…
Cast Inc…Barry Newman…John Vernon…
Stood in for John Vernon for a few days at Shepperton Studios…

CRY OF THE PENGUINS…John Hurt…Dudley Sutton..
I knew this film as Forbush And The Penguins. (It got a name change)
I'm stand/in for Dudley again (I like it when Dudley's working)
And I get to meet John Hurt for the first time. (What a rich voice that man has)
We film at Elstree studios and on location around London.
The American Director was a guy called Al Viola. (You can't forget a name like that)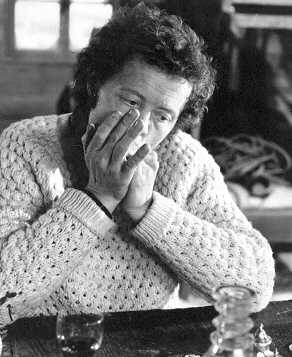 DUDLEY SUTTON IN CRY OF THE PENGUINS

DRACULA A.D. 1972…Director Alan Gibson…
Cast Inc…Peter Cushing…Christopher Lee…Christopher Neame…
Standing in for Chris Neame for a few days…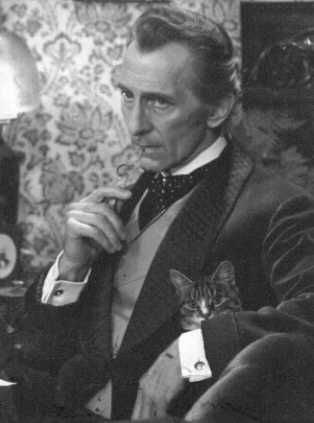 Mr Peter Cushing…..

THE PIED PIPER…Director…Jacques Demy…Lee International…
Cast Inc…Donald Pleasence…Diana Dors…
Eddie Dillon, Johnny Hart myself and a few others playing Flunky's to Donald's whims, and having to hold a live rat in each hand.
Johnny Hart couldn't bear to hold them.
Eddie died in a car crash as a very young man and was sorely missed by all.
I haven't seen John for over twenty five years. (Where are you)

STEPTOE & SON RIDE AGAIN…
Usual cast but Mike Reid as a compare in a club scene…

CARRY ON ABROAD…
Carry On Team…Pinewood…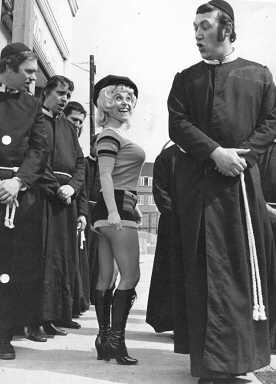 L/R. Tony Allan, Aitch, Cisco, Barbara Windsor and Bernard Bresslaw.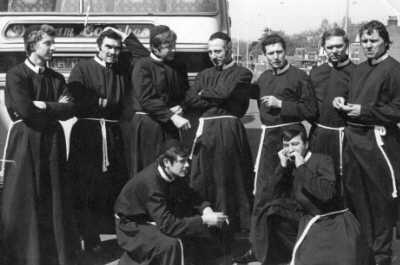 SOME OF THE ''BROTHERS'' HAVING A SMOKE BREAK…BROTHERS???
THEY LOOK MORE LIKE THE TRAIN ROBBERS…AITCH FAR RIGHT.
I'd done a few Carry On's and used to chat to all the main cast as they were a very friendly team.
Sid, Bernard and myself would play cards in between set ups just to pass the time.
Tony (the tailor) Alan (dormouse) Cornflakes, Cisco and even Smelly Bob would join in sometimes. (I wont tell you their real names but they know who they are)
'' Hello boys ''
Carry On Abroad ??? The furthest we got to was Slough. Five miles from Pinewood.
In one scene we had to pretend to be drunk. (me and Tony)
It's eight in the morning and the props hand us glasses of cold tea.(It's supposed to look like beer) Well after a few of those I couldn't wait to get down to the Pinewood bar and have a couple of pints of the real thing. (The black stuff)
It was always a good laugh on the Carry On films and with my old pals Ricky Green And David Bracknell 1st A.D. on the firm things always ran smoothly. (David is the father of Leah Bracknell who plays Zoe Tate in Emmerdale)
Well done David. (I have since heard that David has died and my thoughts are with his family. He was a nice man)

MADAM SIN…Bette Davis…Robert Wagner…Pinewood…
Standing/in for Dudley. He's playing a crook again. (I must have a word with his Sunday School teacher)
Ms Davis wearing a black eye patch throughout the film.

SAVAGE MESSIAH…Director Ken Russell…
I meet a very young Helen Mirren. (Later to top the TV polls in Prime Suspect)
We filmed at Blackfriars Bridge.

MADIGAN…THE LONDON BEAT…Richard Widmark…
The scene is a huge traffic jam on one of London's bridges and Mr Richard Widmark Is trying to sort it out. He screams at me, ''Get that thing out of here Buddy''
(Does he not know the Bedford van I'm still driving has been Directed by Mr Alfred Hitchcock himself) and he calls it ''That thing''. I was going to shout back ''Remember The Alamo'' but I remember he died in that film.
I do meet up with him in ten years time, I'll have a word with him then.

THE ADVENTURER…Gene Barry…Producer Monty Berman…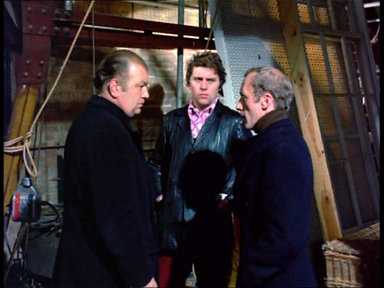 THE PROTECTORS…Episode: The Dragon Chase...Elstree.
Director:
Charles Crichton

Writer:
John Kruse (writer)

Cast

Robert Vaughn ... Harry Rule
Nyree Dawn Porter ... Contessa Caroline di Contini
Tony Anholt ... Paul Buchet
Donald Houston ... Lockier
William Dexter ... Nickolai
Kenneth Colley ... Devlin
Bruce Robinson ... Peter Lockier
Mary Larkin ... Jenny [student]
Jack Galloway ... Jasper [student]
Gary Hamilton ... Mike [student]
Richard Marner ... Russian
Norman Atkyns ... Stage Door Keeper
The Bedford van comes into play again in one of the episodes.
It is used to try and smuggle someone away. I play the crooked driver.
It was directed by Charles Crichton.
I took a picture with my camera on the set one tea break and ended up with a lovely snap of Mr Vaughn mouth wide open about to devour a large cheese roll. I might show it at the end of my writing.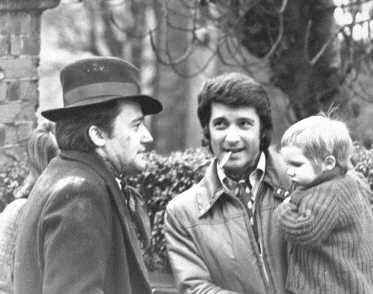 Robert Vaughn and Tony Anholt relaxing on The Protectors…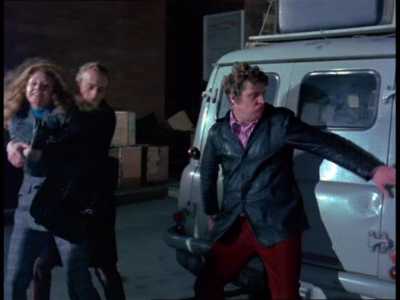 Trying to protect my dear old van in the fight scenes...