1971
THE DEVILS
Director:
Ken Russell

Writers:
Aldous Huxley (novel)
Ken Russell (writer)

Cast

Vanessa Redgrave ... Sister Jeanne

Oliver Reed ... Urbain Grandier
Dudley Sutton ... Baron De Laubardemont
Max Adrian ... Ibert
Gemma Jones ... Madeleine
Murray Melvin ... Mignon
Michael Gothard ... Father Barre
Georgina Hale ... Philippe
Brian Murphy ... Adam
Christopher Logue ... Cardinal Richelieu
Graham Armitage ... Louis XIII
John Woodvine ... Trincant
Andrew Faulds ... Rangier
Kenneth Colley ... Legrand
I worked for about sixteen weeks on this film standing/in for Dudley and doing every crowd scene possible..
From the first day on set I could not believe what I was seeing.
A bevy of young girls dressed as Nuns walking around the set topless.
Reg Prince, who was Oliver Reeds stand/in said to me ''Stop looking Aitch, or you'll go blind''
I said ''I'll risk one eye''.
After the first couple of days it was back to looking at the Racing Post.
I thought this film was Dudley's finest performance. How he could remember all those very long speeches was beyond me.. (That's the difference between an actor and a supporting artist)
As I said, I got involved in many of the crowd scenes. Some days we had six Crowd Artists and another time six hundred.
After a couple of months Ted Morley the 1st A.D. said ''Come in at six in the morning Aitch, Ken's got a little job for you'' (Be wary of Ken's little jobs)
I'm in the make up room bright and early the next day standing in just my underpants. (Not a pretty sight at six in the morning)
I'm painted off/white and grey and have rags tied about certain parts of my body.
One of the make up girls pours some rice crispies into a bowl. (I'm thinking it must be breakfast time.)
Then glue is applied one side of my face, shoulders and body and the rice is stuck on.
After that they're painted yellow, red and a few other colours and it looks like I've got the plague. (That was the plan in the first place)
It's nearly eight o clock now and I'm told I can go over to the Pinewood canteen and have a quick breakfast then go straight onto the set which was on the back lot..
The canteen was packed when I entered but within seconds I had a table to myself. (I wonder why?)
Later on at the back lot they've dug a huge crater and filled it up with raggedly dressed dummies and I'm going to lay on the top.. This is the plague pit and I'm starring. Murrey Melvin was blessing our poor disfigured bodies.
I had a smoke while they were lighting the set and it reminded me of that cigar advert Where the man is all at peace with his lot.. I thought to myself ''Is this it Aitch, on the scrap heap at thirty one years old''
Another of Ken's little jobs was to dress me up as a giant crow and to get drowned in the Pinewood pond. (Under the supervision of Peter Braham, Stunt Director)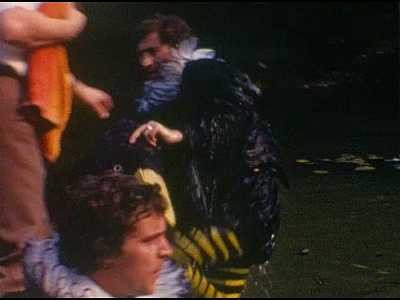 Stunt director Peter Braham has just been shot and is getting out of the Pinewood fish pond..I'm sitting there waiting to go into the pond and get drowned.... Happy days..?????
Now in theory it's quite easy to do. You float in the pond then sink into three foot of water whilst holding a plastic bottle of air in one hand and another one of blood in the other hand…(Simple)
As you sink you squeeze the bottles and the air and blood rise to the surface.
(Now here's the rub)
The giant crows feathers wont let me sink.
After about ten minutes the brains on the film come up with plan B.
They will drop a huge weight with a steel ring in it to the bottom of the pond, then tie a rope around my waist under the feathers then through the steel ring.
Pass the rope To the three prop men standing on the other side of the pond and they will pull me under the water. (It gets worse)
By now I've been in the water for nearly an hour and I'm getting cold. The fish in the pond have got the hump with me and have started nibbling at the feathers and certain other parts of my anatomy. A couple of large brandies help with the cold and we're Ready for a take. (Let's do it) (now here's the plot.)
I'm floating on the top and on a cue the prop men will pull me down to the bottom
As I'm releasing air and blood.. (Big thought) What about my own air supply.???
How will the prop men know when I've run out of air to breathe so that they can release the rope. Another large brandy and it's decided that when I pull on the rope they will release it their end.
Well to cut an even longer story short the idea worked and after about six takes (And Six more brandies) Ken got what he wanted.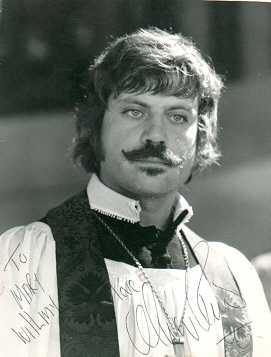 OLIVER REED IN KEN RUSSELL'S…THE DEVILS.
The moral of this story is, don't mix brandy and water. (Oh happy days)
The photo was signed to my wife Mary.
The Devils was a great film to work on and I'd like to thank all the cast and crew for making it such a fun time.
I'd like to say a very special thanks to the wonderful 2nd A.D. Mr. Vincent Winters.
Vincent was a child actor and his great claim to fame was the film ''THE KIDNAPPERS'' Made in the fifties. He played the younger of the two brothers who find a baby on the Scottish Moors and want to call it Rover... (A wonderful film)
I had a row with him twenty years later and never got to say sorry.
Vincent has since died and I'm still sorry. (God bless)

We made three or four Hammer style horror movies in the next couple of months and, never mind your Peter Cushing's or your Christopher Lee's, there was only one man with the title of ''Horror King'' that was the Supporting Artist known as the original Angry Villager, Mr Fred Woods... (Burn the witch Fred we called him)
Fred had been in the business all his life man and cub.
He was as thin as a rake. (I've seen more meat on a jockey's whip) and a set of teeth like a row of dog ends…
Now what he lacked in the upper body he had more than his share in the nether regions. (Now I've never seen it but people tell me it would have put Clark Gable to shame)
Fred would always play tramps even when he had his Sunday best on. He told me wonderful stories about the film game and probably got more work than anyone else.
He liked a pint or three and I would sit and listen to him all day. When he retired a few years ago he was never to be replaced as the BEST character Supporting Artist.
He told me of one job when the Director of the film he was working on asked him if he would ''pee'' on the fire during the scene… (There'd be an extra tenner in his pay) Fred was dressed as a tramp and said ''Of course he would''
The shot's lined up and the Director shouts ''ACTION''
Fred saunters up to the fire and starts to take the old chap out. Now before he begins to ''pee'' the Director shouts ''CUT''
He speaks to Fred and tells him ''In the next take Fred, just take half of it out''
I wish you well Fred Woods…
EDIT……………
I have just received a note from Mr Eric Kent……..4th Sept 2003…

Mr Fred Woods has passed away.. God bless you Fred, you are already missed.
ON THE BUSES...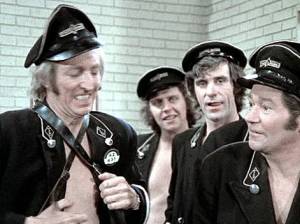 Made at EMI studios Elstree.. Had a nice weeks work and got on well with all the cast. Now in 1971 we used to dress in what I then thought was trendy but when we saw the film the other week on TV, me and the wife cringed. And when you look back and see how Jack and Stan could pull all the ''Dolly'' birds, there was a chance for all of us!...lol.
FIDDLER ON THE ROOF… Topol…Director Norman Jewison…
Playing a Russian for a week at Pinewood… A very good week…
THE PERSUADERS
Series Directed by
Leslie Norman (7 episodes, 1971-1972)
Roy Ward Baker (4 episodes, 1971-1972)
Basil Dearden (3 episodes, 1971-1972)
Val Guest (2 episodes, 1971-1972)
Sidney Hayers (2 episodes, 1971-1972)
Roger Moore (2 episodes, 1971)

Series Writing credits
Terry Nation (7 episodes, 1971-1972)
Brian Clemens (3 episodes, 1971)
Donald James (2 episodes, 1971-1972)
Michael Pertwee (2 episodes, 1971)
Tony Barwick (2 episodes, 1972)

Cast

Tony Curtis ... Danny Wilde (24 episodes, 1971-1972)

Roger Moore ... Lord Brett Sinclair / ... (24 episodes, 1971-1972)
Laurence Naismith ... Judge Fulton (11 episodes, 1971-1972)
Victor Platt ... The Farmer (2 episodes, 1971-1972)
Anouska Hempel ... Carla II / ... (2 episodes, 1971-1972)
Beulah Hughes ... Brett's girl in Bar / ... (2 episodes, 1971-1972)
Alan Chuntz ... Sandor's Bodyguard / ... (2 episodes, 1971)
Juliet Harmer ... Prue (2 episodes, 1971)
Nearly another years work all down to Ricky Green the 2nd A.D. (Where are you Rick)?
I was booked to do a couple of days stand/in for Tony while his regular stand/in Alan (Butch) Meecham was off sick. I got on well with Tony because he liked my Cockney accent. (Well I was born N1/E1)
Now I would either stand/in for Tony, Roger or one of the guest Artists on that episode.(Including Terry Thomas)
Tony was the best to work for because he always had time for you.
He would come on the set early morning and ask how the wife and kids were.
He would tell me of his tough upbringing as a child in the Bronx and how he learned to be tough. He had to be he said.
(As a young man I was madly in love with his ex wife Janet Leigh but I thought it better not to tell him)
One day off set he was doing handstands and ask me would I like to join him. (By now you would have guessed that I'm not the fittest man in the film game)
So I declined saying ''Tone, I have trouble standing the right way up never mind upside down''. He was a very fit man and so should be after working with Burt Lancaster on TRAPEZE.
As I said I was on The Persuaders for nearly a year thanks to Tony, Roger and Ricky Green. (I like the film business)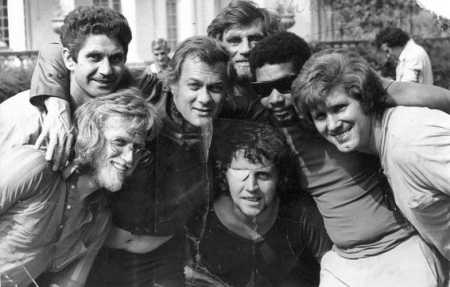 ONE EYED HARRY WITH TONY AND CREW. RICKY GREEN IS FAR LEFT WITH BEARD.
(I HAD A LARGE BEE GO IN MY EYE JUST BEFORE THIS PHOTO WAS TAKEN)...
L-R. Ricky, Ken (Chippy) Tony, Mike (Hair) Sonny (Sparks) Brian (Props)

SHIRLEY'S WORLD…Shirley Maclaine…
When I worked with Shirley the second part of a youthful dream came true.
I saw a film about 1955 called Artists And Models starring Dean Martin and Jerry Lewis And co/starring Ms Shirley Maclaine. Now I had worked with two of the stars but alas I was never going to work with the third, Mr Dean Martin.
(still two out of three cant be all bad)
TWINS OF EVIL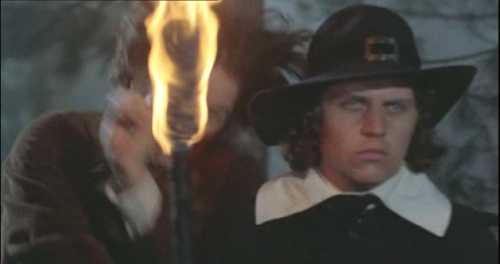 Director…John Hough…Pinewood…
Cast Inc…Madeleine and Mary Collinson…
Lenny Piper and I had a real laugh on this film. As horror movies go it was nice to see the twin girls putting a bit of spice (Sex) into it. I always say if you're going to get smothered to death on a film it does no harm to get smothered by this pair.
(Or is that a double pair. Catch the film on video and see what you think)
DOCTOR JEKYLL AND SISTER HYDE…
Director:
Roy Ward Baker

Writers:
Brian Clemens (writer)
Robert Louis Stevenson (novel)

Cast

Ralph Bates ... Dr. Jekyll
Martine Beswick ... Sister Hyde
Gerald Sim ... Professor Robertson
Lewis Fiander ... Howard
Susan Brodrick ... Susan
Dorothy Alison ... Mrs. Spencer
Ivor Dean ... Burke
Philip Madoc ... Byker
Irene Bradshaw ... Yvonne
Neil Wilson ... Older Policeman
Paul Whitsun-Jones ... Sergeant Danvers
Tony Calvin ... Hare
Dan Meaden ... Town Crier
Virginia Wetherell ... Betsy
Geoffrey Kenion ... 1st Policeman
Back to the foggy streets of old London care of the studio smoke machine…

HUSBANDS…Director…John Cassavetes…
Cast Inc…Ben Gazzara…Peter Falk…John Cassavetes…
Filmed at The Roundhouse Kentish Town. All very hippy.
CARRY ON HENRY.....Pinewood Studio....Director Gerald Thomas.....
I'm on this fun movie for a few days playing a Guard...(Sometimes in armour).
On one of the days the guys are standing round in between set-ups and I noticed that Paddy the propman was dusting off a row of suits of armour ready for the next set-up... So for a prank I got one of the boys to distract him for a few seconds and as he turned away I stood in the line of armour quite still. When Paddy turned back to the armour he continued to dust the armour down. When he got to me I made a ghostly sound and waved my arms about... The cast and crew were in fits of laughter but Paddy was none too pleased.. (until I bought him a pint at lunchtime.)............
Sorry Paddy!.. We did become good friends!................
BLOOD ON SATAN'S CLAW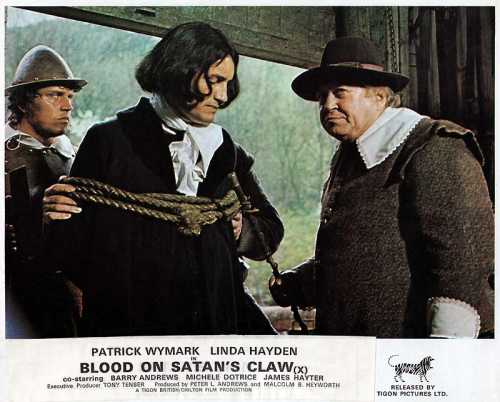 Directed by
Piers Haggard

Writing credits
Robert Wynne-Simmons (written by)
Piers Haggard (additional material)

Cast
Patrick Wymark ... The Judge
Linda Hayden ... Angel Blake
Barry Andrews ... Ralph Gower
Michele Dotrice ... Margaret
James Hayter ... Squire Middleton (also as James Hayter)
Anthony Ainley ... Reverend Fallowfield
Howard Goorney ... The Doctor
Avice Landone ... Isobel Banham (as Avice Landon)
Charlotte Mitchell ... Ellen Vespers
Wendy Padbury ... Cathy Vespers
Tamara Ustinov ... Rosalind Barton
Simon Williams ... Peter Edmonton
Robin Davies ...Mark Vespers
I remember doing some night shoots on this near a very old church out in the countryside.Very dark very eerie and talk of Ghosts and Goolies.. I was having trouble with my own Goolies that night.....................