1970
THE LAST VALLEY…
Director:
James Clavell

Writers:
James Clavell (writer)
J.B. Pick (novel)

Cast

Michael Caine ... The Captain

Omar Sharif ... Vogel
Florinda Bolkan ... Erica
Nigel Davenport ... Gruber
Per Oscarsson ... Father Sebastian
Arthur O'Connell ... Hoffman
Madeleine Hinde ... Inge (as Madeline Hinde)
Yorgo Voyagis ... Pirelli
Miguel Alejandro ... Julio
Christian Roberts ... Andreas
Brian Blessed ... Korski
Ian Hogg ... Graf
Michael Gothard ... Hansen
George Innes ... Vornez
A couple of hundred extras and stuntmen spent a week of nights filming at a Castle in Surrey.. We were going to storm it.
Stuntmen in the front lines with extras bringing up the rear.. Plenty of swordFighting, raping and pillaging. (I'm not too bad at the pillaging)
Now when I say it was cold I mean cold. You could have left sides of beef outside The fridge.
We're all geared up and we hear that famous shout… "ACTION"
We all charge towards the castle and a few of the stuntmen are going to be thrown off of the drawbridge into the moat.. All of a sudden we hear "HOLD IT"
It's now even colder and it comes to bear that the lake around the castle has frozen Over solid.
(Now it doesn't take the brains of Einstien to work out that cold & water = freeze.)
I enjoyed sitting in the huge tents for the next few nights keeping warm and Drinking hot soup. I made friends with some of the guys while we whiled away the hours playing cards.. I'll mention a couple of them. Alan (spiv) Bennett, Charlie (cut price) Price and Lenny Piper. (Lenny died quite young)
By the end of the week we had caught up with the film schedule and everyone were as happy as bunnies...
THE REVOLUTIONARY… Jon Voight…
I only had one days work on this film but it was a day (and night) to remember.
We filmed in a pub in west London and all I had to do was drink a few beers as a customer. (After ten years of singing and drinking in pubs it was no problem)
There were about thirty of us as customers in there and Jon was a really friendly guy and in between takes he would come over and chat to us and ask about England. We would ask about the U.S.A..
The day went well and at the end of it the Director had got his hundred shots in the can. It seems that when this happens the Director pushes the boat out and buys everyone a drink. It's film tradition. (I like this tradition)
Well we all end up nice and nice and after we finished shooting the scenes the landlord of the pub brings down a guitar so it's a sing, song for the last couple of hours and I managed to catch the last train home. (What a night)
I met Jon years later on Mission Impossible 1. I don't think he remembered that night but we still found time to chat.
Don't change Jon, you're alright in my book.
MURPHY'S WAR…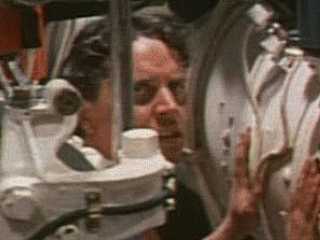 Directed by
Peter Yates

Writing credits
Max Catto novel
Stirling Silliphant screenplay

Cast

Peter O'Toole ... Murphy
Siān Phillips ... Dr. Hayden
Philippe Noiret ... Louis Brezon
Horst Janson ... Cmdr. Lauchs, German Submarine Captain
John Hallam ... Lt. Ellis, Seaplane Pilot from RNMS Mount Kyle
Ingo Mogendorf ... Lt. Voght, Submarine Executive Officer

Harry Fielder ... German sub crewman (uncredited)
George Roubicek ... U-Boat crewman (uncredited)
Central Casting sent Jerry Floyd, Nick (the bubble) and myself down to Portsmouth or Southampton (cant remember which) to play German U Boat crew. We'd be there for a couple of days and stay in a local B/B over night.
When we get called onto the set we go below decks on a British submarine that is decked out like a second world war German U Boat.
Now it seems in the film the U Boat has run aground on a sand bank on an inlet river in South America and is waiting for the tide to turn so it can refloat.
Meanwhile Peter O'Toole is trying to chop a very large tree down and put it across our Sub. (Thus, causing us some discomfort.)
(Got the plot so far, he's dropping trees, and I'm in the basement..)
A cute make up girl asks me to strip to the waist (and I think, from the shoes up, what no flowers? We've only just met) but she has to put make up on my face and body to make me look tanned as if I was in South America.
Bert Batt the 1st A.D. took us all to see the Director Peter Yates (of Bullitt fame) and I was chosen to be the blue eyed German working the controls of the Sub..
After a few different angles the make up girl applies sweat to my hair and face.
The camera is stuck an inch from my nose. (Now we are talking about close ups here. My face plastered sixty foot by eighty foot at the Odeon Marble Arch.
She could have saved on the sweat, I was sweating for England.)
Peter was guiding me through the shots. ''Imagine you can hear a noise above you.
Now imagine there's a noise to your left, now to your right. Don't move your head
Back too far, we're close on your eyes.'' Then it was ''CUT, see you in the morning
Eight O clock.. Thanks Harry that was good''.
Well that was good for me too. It took me hours to come down.
Me, Jerry and Nick went out on the town and got very pissed. (Well it makes a change)?
The next day I'm back at the controls of the Sub and I'm thinking is it to be another starring role. Peter tells us today's the day the Sub gets hit and there could be a drop of water splashing around.
First scene control room…I'm standing at the controls and Peter talks me through it.
''Now concentrate on the controls Harry and keep looking about. It seems the tide is coming in and you're going to be all right. Now give a huge sigh of relief. It's very quiet now but suddenly, !!!!! CRASH !!!!.
That's the cue for the Prop men to sling big buckets of freezing cold water over me.
''You're panicking now Harry (He's got good eyesight) More water on him and CUT.
I spent most of the rest of the day sitting on the Sub deck enjoying the warm sun while the Stuntmen got their share of the water.
We shot some other stuff in one of the cabins drinking beers then it was time to head off back to London. Thanks Mr. Yates.
(You must remember in the film game that all the shots don't make it to the big screen, a lot end up on the cutting room floor)

THE MUSIC LOVERS…Ken Russell…Richard Chamberlain…Glenda Jackson…
(Ken loves his musical films)

NO BLADE OF GRASS…Director…Cornel Wilde…MGM STUDIOS…
Cast Inc…Nigel Davenport…Lynne Frederick…
Riding around on the back of a motorbike on the lot at MGM…

MARTY…ATV STUDIOS BOREHAMWOOD…
Cast Inc…Marty Feldman…
Playing Spanish guitar on one sketch with Marty…