Home > Snippets > The way Christmas once was!
Whirligig Snippets
The way Christmas once was!
You know e-mails and the internet is great; just the thought that another person has taken time to commit their feelings to type; makes you think "Wow"
But to actually receive a letter from someone you know. A tangible piece of paper with that person's writing on it, it's so personal. A joy to be kept and viewed years later to remind you accurately of what happened. You should get your kids to write a letter to each other describing their Christmas AND post it. AND to keep it safe. AND read it in 50 years time!
Memories are priceless, sometimes I think 'how can there be room enough in my head for all these memories' living with all my thoughts of the day etc. And then you go to bed, the memories come alive in vivid colour, just like movies……
I went in our loft the other day to get down our Christmas stuff. Like most people, up there are things from my past, a toy of my daughter's, 45 records, LP's, books, A toy fort I used to play with at my Aunts (more of that soon) and what's that? …… There in the corner…… my train set……hmmmmmm…….
I think around 1957 age 7.
Awake early in the morning, like most kids. One eye open…thinks "Have I been asleep long enough? I wonder if he's been" I feel for my long socks hung on the end of the bed…..yes there's something in them…can't wait… hand goes in….out comes….. an apple…..an orange (may you always have enough to eat)…and a strange bent yellow sqwidgy thing,.... a few sweets (occasionally a treat)…. a piece of coal wrapped in silver paper (an old sign for good luck)…..Some nuts……..a few farthings & some chocolate money wrapped in gold foil in red thin string bag. "Mom….Dad! Father Christmas has been! Can I go downstairs, please? And what's this yellow thing?" "That's a banana son, try it, you'll like it. Yes you can go downstairs now".
Put your slippers on & dressing gown (No central heating or wall to wall carpets) and do as you're told. (With a smug smile, getting your parents up so early)
Downstairs was a wonderland (Parents had put up the tree and decorations while we were asleep!) My world was transformed! Underneath the tree were wrapped presents; an only child, I had a ball…….The first parcel….. (I wait for Dad to say that I can open it)…… a book! Wow a real bound book of my own! The Last Of The Mohicans by James Fenimore Cooper from my Aunt Alice. Next …..a Fret Saw set from Nan & Grad-dad, Next……Flippin eck! A Beano Annual from Aunt Phebe & Uncle Rolf! And from Auntie Jessie and Uncle Stan a Bagatel game. A balaclava knitted by Nan. But wait!……What's this big parcel? For me? I sit stunned. Dad says "Go on son…" I rip the paper and see the red box "Tri-ang"……… (shrieks of joy) Mom. Dad!……… It's a TRAIN SET! (It cost Dad £5.00 a huge sum in those days) This was the best Christmas EVER!
This must have been about 6.00 a.m. Mom & Dad didn't mind because Dad was going out early to help my Uncle Charlie finish his milk round as early as possible and give him a lift home (he went to work on a bike) so he could enjoy Christmas day with all of us. Dad dons his big overcoat, he is wearing his corduroy trousers over a pair of long johns (which I find amusing), a shirt with no collar and a big jumper, more of Nan's knitting. He kisses us goodbye and crunches through the snow to his Land Rover with a canvas roof, parked on the patch of land opposite the house. Mom has given Dad a flask of tea and some bacon sandwiches wrapped in greaseproof paper. I stand at the window peering out at my wonderful Dad (thinks…A Train Set!) he gets out the starting handle, it takes him some 7 or 8 goes to get it started, off he chugs.
My Auntie Alice, who is staying with us, comes downstairs in her hairnet with bits of rag for curlers, cuddles me and asks what Father Christmas has brought. I delight in telling her about my train set and like a good boy dutifully thank her for her present of the book. It's our turn for breakfast. I have Cornflakes then my favourite of fried bread with a little tommy sauce, Auntie has some toast, toasted on a long fork in front of the fire, which is now roaring in the grate. Mom cooks the "piggies in blankets" (little sausages wrapped in bacon) and finishes off the roast pork joint for the meal later.
I go outside to play with my friends for a bit. We would discuss our presents and one would be riding his new bike, another on a new scooter. Even in snow we would play cops and robbers! High noon would be played out with two boys facing each other; guns in holsters, whoevers cap fired first won.
At about 11.00 a.m. Me, Mom and Auntie Alice would set out walking through the snow the three miles to Auntie Edna (Mom's sister) and Uncle Charlie's house. Dad would collect some of the food, drink and my toys later. We arrived to a wonderful smell of a huge turkey roasting in the oven and a roaring fire. Mom and Auntie Alice would don their wrap round pinafores and join Auntie Edna and Nan in the kitchen. How they ever did anything together amazed everyone. The kitchen was only 3 metre by 2 metre! But Christmas day was the exception. The women worked together like a well-oiled machine.
I join cousins Robert (same age as me), Susan (3 years older) and Ann (who was really old at 16). Robert and me would play with his toys (with me saying my Dads bringing my train set later)
Our Dads arrive in the Rover with Charlie's bike sticking out the back. It was unspoken but everyone knew they had stopped for a drink at the Fox & Goose. Now I think about it I suppose their red noses, louder than usual chatter and slight unsteadiness should give it away.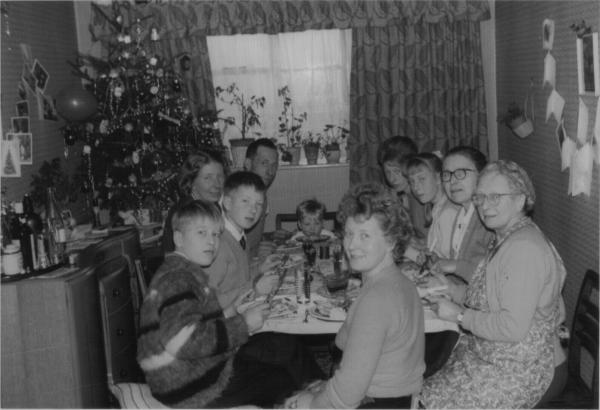 It's now about 1:00 or 1:30 we all sit down for dinner. As Charlie worked at the Dairy he got a huge turkey each year and this magnificent bird was, with suitable solemnity, brought in and laid at the end of the table. We would all join hands and someone would say grace "Lord. For what we are about to receive, may the Lord make us truly grateful…..Amen" Bearing in mind that most of the year we all ate simple but wholesome fair, the bountiful feast set before us was a sight to behold. My Dad usually carved. He would make a big show of sharpening the carving knife with the steel. It was like watching a sword fight, his hands going up and down alternately making a loud swishing clackerty clack noise, a huge grin on his face. The meal would be eaten at a leisurely pace, with everyone chattering back and forth.
At the end of the main course the men would disappear into the kitchen with the ladies. After muffled cursing and a little cheer the men would proudly waltz in with the large Christmas pudding flaming with real fire from the ignited brandy liberally poured over the pudding swishing round the plate. This was the queue for us all to join in and sing "We wish you a merry Christmas; we wish you a merry Christmas and a happy New Year……" While some hunted the hidden silver sixpence that Nan had put in the mix when she made the pudding months before, others preferred "Mom's apple pie."
While the ladies cleared up the crockery and quickly washed up, Aunt Alice, who was a very gentile lady, would go round the table collecting the unused cutlery mumbling about "counting your blessings." The men would raid the drinks table for a liqueur [my Dad loved his Drambuie as do I] and tea or coffee would be served up. Now was the time us younger ones would say "Can we have our presents now Mom?" to which the stern reply would be "Not until we have seen the Queen!" The reverence for the Crown was very prevalent in those days. Men had fought for King and Country and it was still in recent memory. So we all dutifully sat down to watch Her Majesties Christmas broadcast. The Queen was switched on at 3 o'clock, and her observations and wishes which were all greeted by our elders. The TV set was then switched off and was not switched on again that day.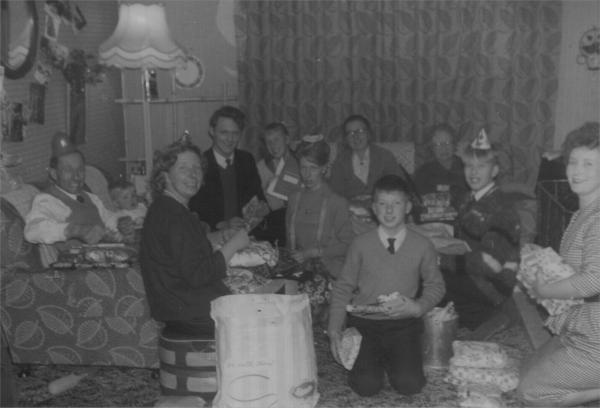 Our bags of presents had been added to the lot under the tree earlier and the two youngest, Robert and me would be tasked to read the labels and hand them out. So then we would be all sat down with a little pile of presents looking at each other expectantly. One of the adults would shout "Go!". Now the previously clean and tidy lounge would be covered in discarded wrapping paper, Sellotape, bows, ribbons and tags in two minutes flat. The yelps of delight from us kids drowned the polite thank yous from the men for their jumpers, socks, ties, slippers and Old Spice aftershave reciprocated by the ladies for their perfume, scarves, stockings and other lady stuff. That year our mothers had got together to get Nan and Aunt Alice hampers full of canned stuff, cakes, washing powder and the like which was supposed to have come from us Boys. That went down very well. I remember that year even with all the expensive presents we got, us boys both got a simple Ever Ready torch which had 3 lenses white, red and green. We loved those torches
During the afternoon us kids would play with our toys, I would get to play with my train set and Robert with his. The elder girls would retire upstairs to do whatever girls do. The men would fall asleep on the sofa and snore away and the ladies would talk, talk for a bit and then talk some more. Around 7 o'clock out came the chicken sandwiches, all manner of cakes and delicious Typhoo tea. Dad would then return Aunt Alice to our house in the Rover so she could watch TV and get to bed early. And Nan would be walked home a few hundred yards for her to do the same.
Earlier in the evening Carol Ann had trudged off to the phone box to telephone her boyfriend. He duly turned up on his motor scooter. Carol Ann went out in that freezing weather with her frilly skits, bobbed hairdo, bobby socks with just a small jacket, sitting side saddle and loving it, off to the dance with her Beau.
Then the fun started. The evening would consist of playing the latest records on the record player, playing party games, with the adults slowly getting drunker as time went on. I honestly don't remember ever getting bored or asking for the TV to be put on. We all played, talked and laughed till we cried.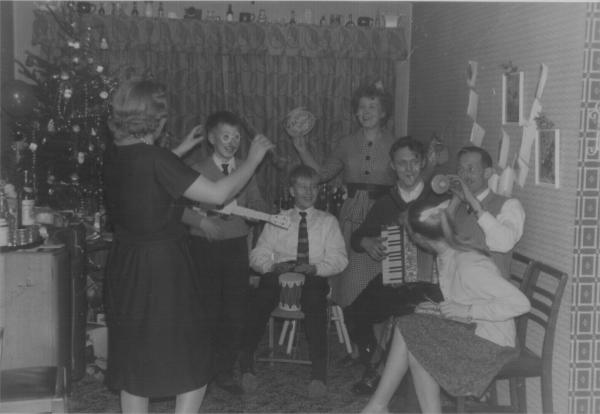 Us boys were put to bed around half past nine, totally tired out. I slept with Robert in his single bed [Remember we were 7]. We played for an hour or so with those wonderful torches and fell asleep. The elders, a few more drinks later would call it a day, Uncle Charlie had to get up at 4 a.m. for his milk round. My Mom and Dad walked the 3 miles home in the freezing snow, I suspect not feeling the cold due to their alcohol intake but giggling all the way. Still so very much in love.
We were all tucked up beneath our eiderdowns and asleep before you knew it.
Another great Christmas with loving family No Central Heating, carpets, TV [almost], smart phones, computer games, I wouldn't swop those memories for the world.
As the current custodian of the family 78's, I know the records in vogue in '57 were:
Elvis Presley – Love Me Tender - Hound Dog - All Shook Up – Teddy Bear
Frankie Laine – A Woman In Love
Nat 'King' Cole – When I Fall In Love
Chas McDevitt Skiffle Group – Freight Train
Lonnie Donnegan – Putting On The Style
Ronnie Hilton – Around The World
Johnny Duncan – Last Train To San Fernando
Petula Clarke – With All My Heart - Alone
Paul Anka – Diana
Tommy Steele - Handful Of Songs
Winifred Atwell – Lets Have A Ball
[The pictures are actually 1962/3 but the traditions were the same.]
Keith
December 2016
If you have any comments or further information of interest, please e-mail snippets@whirligig-tv.co.uk