Home > Snippets > Stanley Watson & Diane - Magic's Royal Couple
Whirligig Snippets
"Stanley Watson & Diane - Magic's Royal Couple"
by Calvin Watson [their son]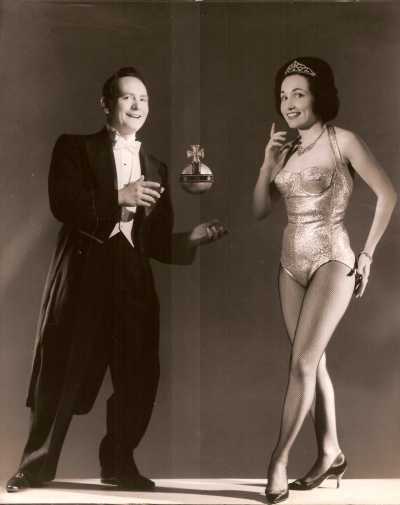 Stanley Watson and Diane
Stanley Watson started his magic career during the Second World War. He worked on Mosquito fighter bombers as an electrician in the RAF, so his mates dubbed him 'Merlin' after the famous engines in that plane. Finding he had an interest in Magic the powers that be soon seconded him to entertaining the troops.
He was stationed in Burma with fellow RAF recruit Harry Worth, who was then a Ventriloquist. After the War Stan did variety and married tap dancer Kathleen Rhodes from Greenford. They formed a magical double act named "Stanley Watson & Diane". Going on to perform stage shows and many television performances in the '50s, they performed the magic act regularly in Soho's famous Murrays Cabaret club in the '60s.
They appeared in a film about Night Club acts called "European Nights" which was released by Warner Bros in 1957.
In those days artists often toured in their own Caravan. They would park their caravan on dedicated theatrical sites Sometimes along side of Terry Hall [Lenny the Lion fame] and the Clitheroe Kid [Jimmy Clitheroe]. So us kids got to know other artists kids quite well. In fact I used to play with this kid, not knowing that he was in fact a man...Jimmy Clitheroe!!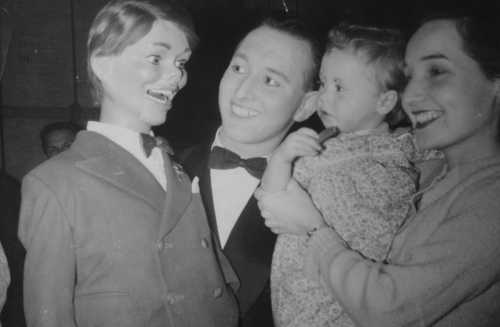 Terry Hall (pre-Lenny The Lion) with his daughter Beverley and "Diane" Watson
'Uncles and Aunties'[as we kids called them] were Terry Hall and his first wife, Kath. Singer Alma Cogan, comics Max Wall and Arthur English, Hylda Baker and her two monkeys and Don Arrol [compere of Sunday Night at the London Palladium] . These to name just a few from yesteryear.
Stan and 'Diane' had their Diamond Wedding telegram from H.M. the Queen in Sept 2008.
Stan died aged 85 in August 2009. He was sitting up in Yeovil Hospital bed showing the staff magic tricks, when he had a stroke and lapsed into a coma.
'Diane' lives in retirement in Sturminster, Dorset. She has a son Calvin and daughter Diane, two grandchildren and one great grandchild.
If you have any comments or further information of interest, please e-mail snippets@whirligig-tv.co.uk