We have mentioned before how little information is out there on the web concerning these serials, which as far as the BBC itself is concerned, are a non event. I have tried to reconstruct as many as I could from various sources and then following up little clues in order to build up a bigger picture. You already have a fairly comprehensive article in your index re Francis Durbridge. This post extends this somewhat, and in one instance adds a minor correction. What has been disclosed is the surprising extent to which the BBC were reliant on this famous writer of the "Paul Temple" radio serials. In fact, I would go as far as to say that Francis Durbridge virtually "was" BBC drama serials in the fifties. The extent of his input can be witnessed in the ensuing information.
I have tried to slot everything into a timescale, which I realise may not be entirely correct, but it's the best I could do with the information available. At times I had to resort to a German site to dig out the info.
Scandalously, there seemed to be more interest in F.D's work in that country than our own. It is obvious that he is more highly thought of there. (Of which, more later.)
First a slight correction to the index. info.
From 1960 (when the "World of Tim Frazer" was conceived), all works fell under the banner of "Francis Durbridge Presents".
Up until 1959 his works were just known as "a serial by Francis Durbridge".
Here, then, is the order of play, including as many non Francis Durbridge serials as could be discovered. The lists include episode titles, where available, cast credits, where available and any other matters of interest alluding to the serial. Most serials ran on Saturday evenings and were usually 30 minutes long.
1952.
THE BROKEN HORSESHOE. by Francis Durbridge.
Broadcast live from the old Alexandra Palace Studios.
Thriller serial in six episodes.
Original TV cast - unknown. Ran 15.3.52 to 19.4.52.
Episode titles:

1. Mr. Constance
2. Mr. Felix Gallegos
3. Miss Jackie Leroy
4. Mr. Ernest Carrol
5. Mr. Mark Fenton
6. Operation Horseshoe. All episodes have been wiped.
This serial was made into a feature film in 1953, with Robert Beatty and Elizabeth Sellars.
1952.
OPERATION DIPLOMAT. by Francis Durbridge.
Thriller serial in six episodes. Ran 25.10.52 to 29.11.52.
Original TV cast unknown.
Made into a feature film in 1953 with Lisa Daniely and
Anton Diffring.
Episode titles:
1. Sir Oliver Peters
2. Two dozen carnations
3. Under suspicion
4. Gida
5. A change of plan
6. The other man. All episodes have been wiped.
Plot: The sister of a test pilot gets mixed up in espionage.
1953.
THE LITTLE RED MONKEY by Eric Maschwitz.
TV cast - Donald Houston; Arthur Rigby and Honor Blackman
Six 30 minute episodes between January 24th and February 28th, 1953.
Plot concerns atom scientist and a midget Russian spy.
Cold war thriller.

All episodes wiped.

Made into a feature film in 1955 - The Case of the Red Monkey, with Richard Conté and Rona Anderson.
1953.
THE QUATERMASS EXPERIMENT by Nigel Kneale
Directed by Rudolph Cartier.
Cast; Reginald Tate, Duncan Lamont, Isabel Dean.
Ran 18.7.53 to 22.8.53. 6 episodes.
Plot: Astronaut returns to Earth transformed into a strange and alien creature. Hides out in Westminster Abbey.
Atmosphere ratcheted up by unforgettable theme music - Holst's "Mars, Bringer of War". Unless you were there at the time to see this, you will have no idea of how terrifying this seminal serial was to a largely naive post war public who had scant knowledge previously of space travel or the power of the "new" medium of television. Possibly the most famous television programme of the fifties.
Made into a feature film in 1955 with Brian Donlevy and Jack Warner. Only two episodes are now in existence. Episodes 1 and 2.
Episode titles:
1. Contact has been established.
2. Persons reported missing.
3. Very special knowledge.
4. Believed to be suffering.
5. State of emergency.
6. Grave situation exists.
1953.
THE TECKMAN BIOGRAPHY by Francis Durbridge.
6 episodes - ran 25.12.53 to 30.1.54.
Cast: Patrick Barr, Pamela Alan.
Episode titles:
1. The Proposition
2. Charmaine
3. 47, Harrison Court
4. A cable from Kessner
5. The Man
6. Third person
The theme music for this serial was "The Shadow Waltz" by Paul Dubois.
It was made into a feature film in 1955," The Teckman Mystery", with John Justin and Margaret Leighton.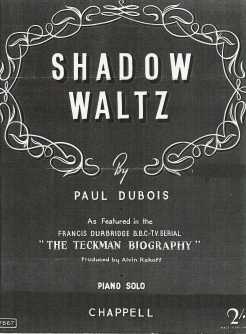 Plot: An author commissioned to write the biography of a dead airman finds him very much alive and his own life in danger.
All episodes have been wiped.
1954.
THE SIX PROUD WALKERS by Hilary St.George Saunders

Adapted by Donald Wilson.

Produced by Leonard Brett.
Directed by Brandon Acton-Bond.
Ran July 14th. 1954 to August 18th. 1954.
6 episodes.
All episodes have been wiped.
Cast: Peter Croft, Lisa Daniely, Anne Crawford.
Plot: Crime drama.
Episode titles:
1. The nine bright shiners.
2.The rivals
3. One is one and all alone.
4. The lily white boys.
5. The seven stars.
6. The twelve apostles.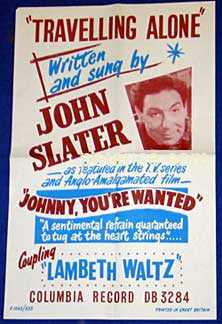 1954.
JOHNNY YOU'RE WANTED. by Maurice McLoughlin.
Ran 7th. November 1953 to 18th. December 1954.
. 6 episodes.
Cast: John Slater, Joan Newell.
Episode titles:
1. Dead End
2. Blind Corner
3.No entry
4.Left Hand Drive
5.Road Narrows
6.One Way Traffic.

Plot: A long distance lorry driver gets mixed up with
dangerous criminals.
All episodes have been wiped.
Made into a feature film in 1955 with John Slater, Alfred Marks and Joan Rhodes (Playing herself!)
1955.
PORTRAIT OF ALLISON by Francis Durbridge.
Ran 16.2.55 to 23.3.55 6 episodes.
Cast: Patrick Barr, Elaine Dundy.
All episodes have been wiped.
Plot: A well known portrait painter does not believe that a fatal accident has befallen his brother in Italy.
1955.
QUATERMASS 2. by Nigel Kneale
Director: Val Guest.
Ran 22.10.55 to 26.11.55. 6 episodes.
Cast: John Robinson, Hugh Griffith.
Episode titles:
1. The Bolts
2 The Mark
3. The Food
4. The Coming
5. The Frenzy
6. The Destroyers
Music - Holst - "Mars, Bringer of War.(Used for the
second time).
Location filming at Shell Haven Refinery, Essex.
Made into a feature film in 1957 with Brian Donlevy.
1956.
MY FRIEND CHARLES by Francis Durbridge.
Ran 10.3.56 to 14.4.56. 6 episodes.
Cast: Stephen Murray, Francis Matthews.
All episodes have been wiped.
Plot: An actress is found dead in a doctor's flat and the murder weapon later turns up in his car.
Made into a feature film in 1957 - "The Vicious Circle", with John Mills, Derek Farr and Noelle Middleton.
1956.
THE OTHER MAN by Francis Durbridge.
Ran 20.10.56 to 24.11.56. 6 episodes.
Cast: Tony Britton.
Plot: The dead body of a mysterious Italian whistleblower turns up on an English houseboat for no apparent reason.
All episodes have been wiped.
1957.
A TIME OF DAY by Francis Durbridge.
Ran 13.11.57 to 18.12.57. 6 episodes.
Cast: Unknown.
Plot: The ten year old daughter of an atomic scientist
. is kidnapped.
All episodes have been wiped.
1958.
QUATERMASS AND THE PIT by Nigel Kneale.
Director: Rudolph Cartier.
Ran 22.12.58 to 26.1.59. 6 episodes.
Cast: André Morrell and Cec Linder.
Plot: Prehistoric skulls are discovered during a London Underground excavation and a weird and deadly force makes itself felt.
Episode titles:
1.The Halfmen.
2.The Ghosts.
3.Imps and Demons.
4.The Enchanted.
5.The Wild Hunt.
6.Hob.

Music by Trevor Duncan.

Made into a feature film in 1967 with Andrew Keir and James Donald.
1959.
THE SCARF by Francis Durbridge.
Ran 9.2.59 to 16.3.59. 6 episodes.
Cast: Stephen Murray.
Music - "The Girl from Corsica" by Trevor Duncan.
Plot: The body of a beautiful photographic model is found dead in the quiet English village of Littleshaw. Inspector Harry Yates investigates. A scarf suspected of being the means of murder is the only clue.
All episodes have been wiped.
1960.
"FRANCIS DURBRIDGE PRESENTS":
Under this banner all Durbridge's subsequent work was presented, commencing with, in 1960,
THE WORLD OF TIM FRAZER.
This ran in three parts of 18 episodes in all.
The three serials of 6 episodes each which ran consecutively from 5.11.60 to 14.3.61 were:
Series 1. THE WORLD OF TIM FRAZER.
Series 2. THE SALINGER AFFAIR.
Series 3. THE MELLIN FOREST MYSTERY.
Theme music to this series:
The Willow Waltz by Cyril Watters.
In all, between 1952 and 1980, Francis Durbridge wrote no less than 17 serials for the BBC. A staggering body of work, which when considered alongside his work for radio including his famous Paul Temple, detective series, and several radio plays, makes him one of the most prolific writers ever to put pen to paper for the BBC. His work has been translated into many languages worldwide, and particularly in Germany where his name commands tremendous respect. Incredibly, he does not seem to have commanded the same respect at the BBC.
Whether it is because his work nowadays is looked on by the politically correct BBC as rather "class conscious", is a moot point. His work was mainly dialogue driven and some of his representations of the working class tended frequently to be a little inclined towards the "not me,guv." variety .
Whatever the reason, it defies belief that after he died the BBC should put on their website such a cold and parsimonious,so called "tribute" to a writer who had virtually kept their drama department in business single handed in the nineteen fifties.
My own conclusion is that it is more likely that they want to keep his name low key simply because of the sacrilegous wiping of his whole body of work throughout this decade.
Not one episode of one piece of work from this master craftsman's output listed above remains in existence. Quite incredible!
Well, there we are Mr. Turnip and others, that's the best I can do in trying to gather up some of the lost debris of fifties TV serials. Part research, part folk memory, part insanity.
I would be grateful and pleased if you could find your way to archiving it, as it was a lengthy process and I do not have a copy. I'm sure there are some people out there whose memories may have been jogged by this and if you do have any concrete information to revise the above or put in some cast names, then they would be gratefully received.
Good reminiscing to you all.
William Brown.
May 2004