Whirligig Snippets
Steve Race on Whirligig
When Michael Westmore was taken on to the BBC staff as one of the first producers for Children's Television, he offered me the job of looking after the music for his first series. It was a fortnightly magazine programme on Saturday evenings, called Whirligig.
Those were, in television performer's terms the Golden Years. Relatively few people had TV sets, but those who did own them threw their homes open to friends, especially when children's programmes were on. The result was that virtually the whole country was watching Whirligig on the nation's one-and-only TV channel, at five o-clock on Saturdays.
At first I was merely the accompanist on the show, playing my piano (or as Hank the Cowboy called it, my 'joanna') for our resident puppet characters Hank, Silver King, Mr. Turnip and later Sooty. Their human friends and operators were also in attendance: Francis Coudrill, Joy Laurey, Peter Hawkins, Humphrey Lestocq and Harry Corbett.
Francis Coudrill not only made his own 'Hank the Cowboy' glove puppets, he painted their scenic backgrounds and appeared alongside the characters as narrator and ventriloquist. One of the most congenial people I have ever met and certainly a brilliant graphics man, Francis was just about the worst ventriloquist in the history of that curiously introverted art. He made scarcely any attempt to conceal his lip movements, and it was often impossible for the viewer to tell whether Hank, Silver King, Francis himself or one of the other characters was supposed to be speaking, other than from the context of the words. A useful rule of thumb for Hank-watchers was that if the Hank puppet was waggling about, it was probably Hank who was speaking. If Francis's lips were still, it could only be because I was playing a four-bar introduction to one of his songs.
The reason for this strange non-ventriloquism was, I firmly believe, simply that Francis enjoyed it all too much. He adored working, lived for the moments he was on the screen, and - like so many puppeteers before and since - was more than a little in love with his dolls.
I had proof of this one evening in the studio when we had just come off the air and were packing up before wandering off to the pub. Francis had put his puppets away - it was always something of a shock to see Hank folded in half and stuffed into a suitcase - and was reaching for his coat when I passed beside him, and said 'I left my watch at home. What's the time, Francis?'
For a moment I thought he had not heard me. He turned aside, fumbled with his suitcase for several seconds, then finally drew out the Hank puppet. Straightening it, he put it on his right hand and wagged the model's head in the direction of his left wrist.
'Why Steve ole partner', he said, in Hank's Western drawl, 'it's a quarter after six.'
'Thank you', I said. And feeling the words somehow inadequate, I added, ' Thank you, Hank.'
A few months into the run of Whirligig I was offered my own spot, and moved into vision as piano-playing compere of 'Steve Race's Music Room'.
For some of the editions I would be able to afford the fee for a guest, and I remember inviting the great horn player Dennis Brain to play 'The Swan' for my young viewers. Cleo Laine was another guest, at a time when she had scarcely met John Dankworth. Julian Bream played guitar solos for me sometimes. Stanley Holloway came, to give (at my request) his monologue ' Per tuppence per person per trip'.
Every now and then I would announce a competition for the young viewers, when I invited them to write a song or submit a painting on a given subject. One fateful week, I asked the viewing children of Britain to make up a tune for the recorder.
During the following week the entries came in through the post, over six hundred of them, which was pretty good when one considers that I was asking the contestants to go to the trouble of first composing and then laboriously writing out their musical manuscripts. I chose the three ultimate prize-winners with great care, and the following week hired a guest recorder player to demonstrate them as I read out the winners' names and addresses.
Leaving the Lime Grove studios that evening, I was handed a telegram from a viewer which read:
SECOND PRIZEWINNER NOT MARY JANE BIDDLES OF YORKSHIRE BUT WOLFGANG AMADEUS MOZART OF SALZBURG.
(I have changed the little girl's name in order to protect her still, though she must now be in her early forties.)
How well I recall the chill of discovery as I checked my Mozart scores and found an early Minuet (K.2) which that little horror of a girl had copied out and submitted under her own name! Hastily I rearranged the prizewinners' order and got the programme secretary to send the Book Token prizes to the three children who had deserved them, leaving out the one who had not.
I then made my great mistake. On the next available programme I announced that the prize list had been changed because one of the pieces had proved to be by Mozart instead of being original, and that the amended prize list was as follows . . .
When the programme ended, a harassed-looking BBC Press Officer came looking for me. Harrassment is not a characteristic one associates with that particular man, since his name was Huw Wheldon. (Later, as Sir Huw Whendon, he became the head of the whole BBC set-up.)
Huw told me that the press had already been on to him, and that they were about to enjoy a field day at our expense.
"They want to know the name and address of the little girl who cheated," asked Huw. "Are we going to tell them?"
"Certainly not."
"Good man," said Huw briskly. "We'll tell them everything else they want to know, but we're not going to have that child branded as a cheat, are we? - Even though she is."
We stuck to our guns, Huw and I, through a barrage of national press phone calls. The reporters tried everything they knew to squeeze out of us the name of the cheating competitor, including the muckraker's favourite line about 'the public's right to know', and the Fleet Street sob-story that begins 'Would you gag the freedom of the press...?' Only later did I learn that one reporter, smarter than the rest, had rung my home and said to my wife "I've just spoken to Steve and he asked if you would look up the little girl in his files and give me her name." She did not oblige.
By now Huw Wheldon was enjoying the whole thing, the light of battle gittering in his Welsh-eyes. He issued a statement which had me goggle-eyed with admiration, in which he stated that (a) the BBC wished to congratulate Steve Race on finding Mozart's piece at all among so many entries, even if he didn't recognise the Master's work; and (b) who was to say that Penelope Twistlethorp, the winner of the first prize would not one day be regarded by posterity as the equal, nay even the superior, of the great Mozart whose work she had relegated to second place? It was quite in vain. The following morning the Sunday papers came out gleefully with the story and typical of them was the Sunday Express's one-page headline, which I so richly deserved:
BBC GIVES MOZART SECOND PRIZE
The above is an extract from Steve Race's Autobiography...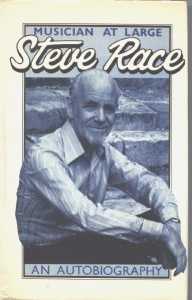 If you have any comments or further information of interest, please e-mail snippets@whirligig-tv.co.uk