'Lenny The Lion' (1956-66)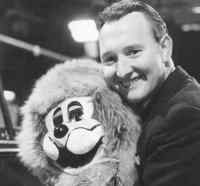 The King of the Jungle who couldn't roll his 'r's and who had wide eyes and a habit of putting his paw to his head and sighing "Aw, don't embawass me!".
With Terry Hall the ventriloquist.
Traditionally, these sidekicks had been boy puppets, such as Arthur Worsley with Charlie Brown and Peter Brough with Archie Andrews, but Hall took advantage of the booming television medium in the 1950s to tweak the format.
Inspired by a visit to Blackpool Zoo while performing a 1954 summer season in the seaside resort, Hall created the dummy using old fox fur, papier-mâché and a golf ball for a nose. At first, Lenny had lion-like teeth and a growling voice, but the character frightened children in the Blackpool audience and the singer Anne Shelton, also on the bill, suggested the teeth come out and the voice be made gentler. As a result, the puppet - one of the first with moving arms, as well as a lisping, falsetto voice, wide eyes and a habit of lifting a paw to his head and sighing "Aw! Don't embawass me" - kept Hall in front of television viewers for a quarter of a century.
Making their BBC debut in 1956 alongside Eric Sykes in the one-off BBC comedy-variety show Dress Rehearsal, Hall and Lenny were an instant hit with children, who were captivated by the idea of a talking lion that was, by turns, cowardly, bashful and generally unleonine, and whose catchphrase - "Aw, don't embawass me!" - became one of the best-known on the air.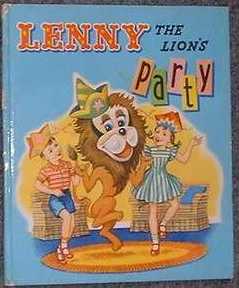 After Hall found screen success in his own right with the BBC's The Lenny the Lion Show, the animal-puppet craze gained momentum, notably with Muriel Young on ITV, joined by Pussy Cat Willum and Ollie Beak in the children's series Small Time, Tuesday Rendezvous and The Five O'Clock Club.
Hall himself was invited to guest-star on the legendary Ed Sullivan Show in the United States (1958) and returned home to take his puppet to two more popular programmes, Lenny's Den (1959-61) and Pops and Lenny (1962-63).
The Beatles made one of their earliest television appearances in a May 1963 episode of Pops and Lenny, singing their first No 1 single, "From Me To You", and "Please Please Me", as well as joining Hall and his puppet for a song titled "After You've Gone". At the time, the future pop star David Bowie's father was working on the show and he launched the Lenny the Lion Fan Club. Hall and his stooge also released their own single, "Lenny's Bath Time" (1963).
The pair remained popular in summer seasons and pantomimes on stage and as guest stars in television variety programmes including Big Night Out (1965), David Nixon's Comedy Bandbox (1966) and The Blackpool Show (1966).
Later, they enjoyed fame together with a new audience in the ITV children's educational series Reading with Lenny (1977-80), for which Hall wrote a number of accompanying storybooks featuring Kevin the Kitten.
The Lenny the Lion Song
"I'm Lenny The lion and I'd like to say
I'm strong and ferocious, but I'm not that way.
I wish I had courage then I'd shout with glee
that I'm Lenny the Lion, so Don't Embawass me!"
(as remembered by Calvin Watson)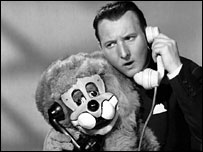 Terry Hall died in April 2007 aged 80.


Terry Hall has been honoured with a Plaque in Oldham where he lived
Click on the picture above to read the article from the Oldham Evening Chronicle (14 September 2009)