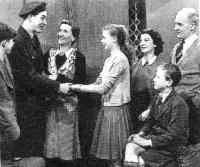 Mr. and Mrs. Appleyard (played by Constance Fraser, 3rd left, and Frederick Piper right, and later by Douglas Muir) and their four children, teenagers John (David Edwards left) and Janet (Tessa Clarke, 3rd right), younger brother Tommy (Derek Rowe, 2nd right) and Margaret (Pat Fryer, centre). The boy at far left isTommy's chum and neighbour Ronnie Grant (Robert Dickens).
Transmitted once a fortnight from 1952 in the Children's Television slot, 'The Appleyards' is generally regarded as Britain's first television soap opera - even if it was made for kids.
A lightweight domestic series about the trivial ups and downs of the rosy Appleyards, a suburban Home Counties family, the show was broadcast live on Thursday's around 4.30 to 5.00pm with a repeat performance the following Sunday. Each episode was approximately 20 minutes in length.
It was a junior version of the adult Grove Family.
Some memories of The Appleyards from John Matthews:
As the series developed, a new character was introduced, an eccentric elderly male neighbour, who was always getting in on the family's activities. He was always cadging meals. Not popular with the family, he excited the pity of Mrs Appleyard. On one occasion, he invited himself to Christmas dinner, by coming round looking pathetic and carrying his cat in a basket. An episode had a lucky charm given to the elder daughter which she looked at whilst she was sitting her exams. Another episode had the younger daughter quarrelling with her best friend as both their fathers contested the local council election (Mr Appleyard won). In another episode, towards the end of the series, the elder son was getting married and the younger son was his best man. Panic set in when the bridegroom did not get to the church on time. The neighbour struck up with the song "There was I waiting at the Church". The delay was something to do with the best man trying to get a bow tie for his brother and ending up with a toy revolving one for him to wear. The closing line from the groom was "Tommy-on my wedding day!"