Home > Adults' Programmes > The Grove Family
The Grove Family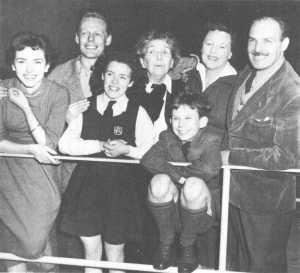 Named after the BBC's Lime Grove Studios,'The Grove Family' was Britain's first soap for adults. The first twenty-minute story went out on Friday 2nd. April 1954 at 7.50pm and showed a lower-middle-class couple who'd worked hard to build a home for themselves and their family after the war and were just beginning to feel comfortably off after years of hardship. The stories were more naive than dramatic, dealing with simple social issues and consumerist concerns.
By the end of the year, The Groves had built up a following of nearly 9 million people, a quarter of the population. Viewers of all ages wrote angry letters to the BBC about the atrociously ungrateful Gran; asked for estimates for building work from Bob Grove; advised Gladys about slimming, Jack about his girlfriends and Pat about her admirers.
Gran's famous saying was "I'm faint from the lack of nourishment"
On a visit to the studios, the Queen Mother declared herself a fan, calling the family, 'so English, so real'.

Grove Family Video clip

Above (l. to r.), Lennie (Christopher Beeny), Mrs. Grove (Ruth Dunning), Pat (Sheila Sweet), Gran (Nancy Roberts), Jack (Peter Bryant), Mr. Grove (Edward Evans) and Daphne (Margaret Downs) .

If you have any comments or further information of interest, please e-mail webmaster@whirligig-tv.co.uk