Home > Adults' Programmes > In Town Tonight
In Town Tonight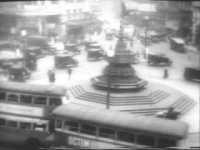 Click on the picture for
In Town Tonight Introduction
"Once more we stop the mighty roar of London's traffic and, from the great crowds, we bring you some of the interesting people who have come by land, sea and air to be In Town Tonight"
Originally a long running BBC Radio programme, the television version always started with a view of Piccadilly Circus (above) in London and the traffic was ordered to 'STOP!' by the announcer whilst the programme was being shown. At the end the announcer would command 'Carry on London!'
An early compere of the TV programme was John Ellison.
The movement Knightsbridge March from Eric Coates' London Suite with its traffic noises, street cries and fanfares was chosen to introduce the BBC's new radio feature "In Town Tonight". Thousands of listeners rang the BBC to request the title of the tantalising few bars they had just heard and 20,000 letters descended on the BBC asking the composer's name. Gramophone records of the march could not be made fast enough. Like his favourite poet, Byron, Eric Coates woke up one morning to find himself famous.
In Town Tonight ran for 27 years on radio and Eric Coates became England's best known composer at home and abroad. His melodies were whistled in the streets as well as sung in concert halls.

Knightsbridge March Theme
The theme tune is available on CD here.
Watch The Southlanders on In Town Tonight from 1955
---
Musical Anecdote
Eric Maschwitz was getting together a new programme called "In Town Tonight" - a Saturday evening, half hour radio programme introducing well known or unknown - but interesting - people who were "in town tonight." They had everything ready for the introduction: the sound of traffic and flower sellers in Piccadilly Circus "Buy My Sweet Violets", that sort of thing. Then, at the last moment, Eric Maschwitz said 'We've got to have some music for this; send someone down to Chappells (in Bond Street down from Broadcasting House) and get them to send every record with a London title. The records came up - amongst them The Knightsbridge March part of the London Suite which my father had just recorded with the London Philharmonic Orchestra. It was chosen by Maschwitz about twenty minutes before the programme went on the air. As it happened, it was part of the show's success from the start. Thirty thousand letters were received in six weeks asking about the music which was a huge postbag in those days.
Eric Coates' Son wrote:
But the best part of it all was that my father was in his dark room in his Baker Street flat the night when In Town Tonight was first broadcast (he used to transform his writing room into a dark room when he was developing) and my mother called to him and said: "They're playing something of yours on the radio; I can't think what it is.". He emerged from the dark room, listened a moment and said "No, neither can I" and went back again. Half an hour later my mother called him again. "Dear, they're playing this thing again; it must be a signature tune or something." He emerged again and said: "Yes, well I don't suppose it will do it any harm!"

If you have any comments or further information of interest, please e-mail webmaster@whirligig-tv.co.uk