In Town Tonight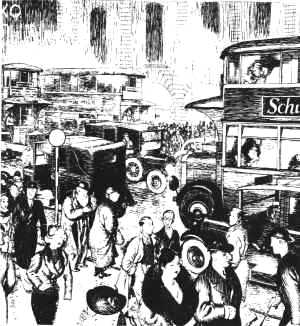 Grandpa: "'Old 'ard Maggie. Another minute and you'll hear the BBC chap shout 'Stop!' and we can cross in peace"
"Once more we stop the mighty roar of London's traffic and, from the great crowds, we bring you some of the interesting people who have come by land, sea and air to be In Town Tonight"
In Town Tonight was a national institution which started on the Home Service on 18 November 1933 and lasted right through until 1960 on Saturday nights at about 7:30pm. The programme was a skilful blend of outside and studio broadcasting in the form of a topical magazine programme. Interviews were carried out with well known personalities on a variety of subjects and also with ordinary people who may have done something particularly interesting.

Not only Eric Coates's Knightsbridge March but also "mighty roar of London's traffic" and the Cockney flower-girl crying "Lovely sweet vi'lets", were safely recorded and transmitted from the studio.

The programme was edited and produced by Peter Duncan.

It also transferred to BBC television in 1954 but only lasted for two years because it was unable to compete with the offerings from the new ITV on Saturday evenings.

The theme tune is available on CD here.


Theme Tune

Audio clip

Programme ending
In 1938, Churchman's Cigarettes published a set of 50 cigarette cards on the theme of 'In Town Tonight' depicting characters who had been featured on the programme.
A selection are shown below: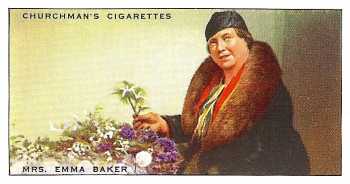 Card images courtesy of Jim Ruston, who is the son of Mr. James Ruston who is featured on the Ruston and Steel card above.

If you have any comments, questions or further information of interest, please e-mail:
radiodays@whirligig-tv.co.uk