Home > Adults' Programmes > Other > Imported Programmes
Programme output for adults during the 1950's, included the items below. If you have any information about these or any other programmes of the era, we would be very grateful to receive it. Just e-mail the address at the foot of this page and we will try to feature them on their own pages
'The O. Henry Playhouse' (1957) starred Thomas Mitchell. Series about the author O. Henry (the same one who wrote the Cisco Kid).
'Cannonball' (1958-59) - "The rumble of the diesel, the shifting of the gears, name your destination, and brother, he'll be there, Cannonba-a-a-ll, Cannonba-a-a-all"
This was a series of half-hour family dramas about the adventures of two truckers who hauled freight on the highways of Canada and the U.S.A. U.S. actors Paul Birch and William Campbell played Mike Malone and Jerry Austin in this Route 66 on eighteen wheels. Canadian talent played supporting roles. Beth Lockerbie was Mary Malone, Mike's wife, and Beth Morris and Steve Barringer were Ginny and Butch Malone. Howard Milsom portrayed dispatcher Harry Butler. Other Canadian character actors who appeared in the show included Ruth Springford, Alfie Scopp, Sylvia Lennick, Eric House, and Cy Mack.

Cannonball Theme
'Hey Jeannie ' / 'The Jeannie Carson Show' (1956-57) - a series about a Scotswoman who emigrates to New York City, whose first contact, a cab driver who drives her from the airport, becomes her U.S. Sponsor. So she lives with him and his sister and gets a job as a waitress in a donut shop.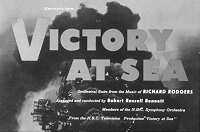 'Victory at Sea' (1952) - US wartime documentary series 26 episodes x 30 min bw.The story of the battle for sea power during World War II (1939-45) produced by Henry Salomon in co-operation with the United States Navy. Original musical score by Richard Rodgers played by the NBC symphony orchestra arranged and conducted by Robert Russell Bennett.
More information about the series

Victory at Sea Theme

If you have any comments or further information of interest, please e-mail webmaster@whirligig-tv.co.uk