Home > Children's Programmes > Whirlybirds
Whirlybirds ran from 1957 into the Sixties, it was a syndicated show with a large children's audience. The show centered around Chuck Martin (Kenneth Tobey) and Pete (P.T.) Moore (Craig Hill), owners of 'Whirlybirds, Inc', who flew their helicopter (N975B) between Longwood Field and anywhere where they could be of help to someone in trouble.
Often the boys would be called in to help the police locate an escaped prisoner, or save some stranded fool out in the middle of nowhere. This would inevitably lead to one of the guys dangling at the end of a rope at some point in the episode. When they didn't just jump right out of the helicopter.
Their secretary Janet Culver (Sandra Spence) left after the first series and was replaced by Helen Carter (Nancy Hale)
In N975B on the set in the

mock-up helicopter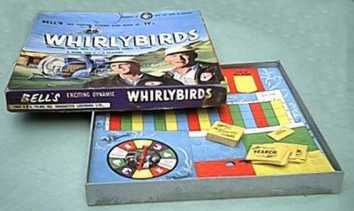 111 episodes were filmed between 1956 - 1959. The US National Helicopter Service provided all the helicopters and expertise in all but the first 4 episodes of the show. You can visit their website for a few photos.

If you have any comments or further information of interest, please e-mail webmaster@whirligig-tv.co.uk