Home > Adults' Programmes > Francis Durbridge Presents
Francis Durbridge serials (1952-80)
THE BROKEN HORSESHOE (6 parts)
15.03.52 to 19.04.52
Was TV's first thriller serial, produced live in a tiny studio at Alexandra Palace.
Episode titles:
1. Mr. Constance
2. Mr. Felix Gallegos
3. Miss Jackie Leroy
4. Mr. Ernest Carrol
5. Mr. Mark Fenton
6. Operation Horseshoe
Durbridge, who had been a radio writer since the 1930's (and in 1938 had created for radio "Send for Paul Temple"), followed with......
OPERATION DIPLOMAT (6 parts)
25.10.52 to 29.11.52
Original TV cast unknown.
Episode titles:
1. Sir Oliver Peters
2. Two dozen carnations
3. Under suspicion
4. Gida
5. A change of plan
6. The other man. All episodes have been wiped.
Plot: The sister of a test pilot gets mixed up in espionage.
Made into a feature film in 1953 with Lisa Daniely and
Anton Diffring.
THE TECKMAN BIOGRAPHY (3 parts)
26.12.53 to 9.01.54
Cast: Patrick Barr, Pamela Alan.
Episode titles:
1. The Proposition
2. Charmaine
3. 47, Harrison Court
4. A cable from Kessner
5. The Man
6. Third person
The theme music for this serial was "The Shadow Waltz" by Paul Dubois.
It was made into a feature film in 1955," The Teckman Mystery", with John Justin and Margaret Leighton.
Plot: An author commissioned to write the biography of a dead airman finds him very much alive and his own life in danger.
The theme tune for "The Teckman Biography" was 'The Shadow Waltz' and was written by Clive Richardson under the pseudonym Paul Dubois.
PORTRAIT OF ALISON (6 parts)
16.02.55 to 23.03.55
Television suspense thriller writer Francis Durbridge's fourth BBC TV serial starred Patrick Barr as Tim Forester, a well known portrait painter, whose brother was killed in an apparently straightforward motor accident in Italy;
Elaine Dundy, Peter Dyneley and Brian Wilde also appeared. Alan Bromly produced the six half-hour episodes.

"Portrait of Alison" was also made into a theatrical film and released under the same title (except in the US where it is known as "Postmark for Danger"). It was released in 1956 and starred Robert Beatty, Terry Moore and William Sylvester.

MY FRIEND CHARLES (6 parts)
10.03.56 to 14.04.56
Cast: Stephen Murray, Francis Matthews.
Plot: An actress is found dead in a doctor's flat and the murder weapon later turns up in his car.
Made into a feature film in 1957 - "The Vicious Circle", with John Mills, Derek Farr and Noelle Gordon.
THE OTHER MAN (2 parts)
20.10.56 and 27.10.56
Cast: Tony Britton.
Plot: The dead body of a mysterious Italian whistleblower turns up on an English houseboat for no apparent reason.
A TIME OF DAY (6 parts)
13.11.57 to 18.12.57
Plot: The ten year old daughter of an atomic scientist is kidnapped.
THE SCARF (6 parts)
09.02.59 to 16.03.59
Cast: Stephen Murray.
Music - "The Girl from Corsica" by Trevor Duncan.
Plot: The body of a beautiful photographic model is found dead in the quiet English village of Littleshaw. Inspector Harry Yates investigates. A scarf suspected of being the means of murder is the only clue.
THE WORLD OF TIM FRAZER (18 parts)
15.11.60 to 14.03.61
The first serial to be transmitted under the 'Francis Durbridge Presents' banner
It was up until that time, the longest serial transmitted by BBC TV.
Three Tim Frazer adventures (in individual six-part series) were shown in a straight run of 18 episodes x 30mins.
Series 1. THE WORLD OF TIM FRAZER.
Series 2. THE SALINGER AFFAIR.
Series 3. THE MELLIN FOREST MYSTERY.
starring Jack Hedley as Tim Frazer, an easygoing structural engineer who gets involved with a secret government department and is recruited as an undercover agent.
Durbridge collaborated with three writers for the series: Clive Exton for the premiere series (produced by Alan Bromly); Charles Hatton for the second series ('The Salinger Affair' produced by Terence Dudley); and Barry Thomas for the third series ('The Mellin Forest Mystery'; produced by Richmond Harding).
Theme music to this series: The Willow Waltz by Cyril Watters.
Thanks to William Brown who helped by filling a lot of gaps in the above information (May 2004). See also William's 'Snippet' about Fifties Drama serials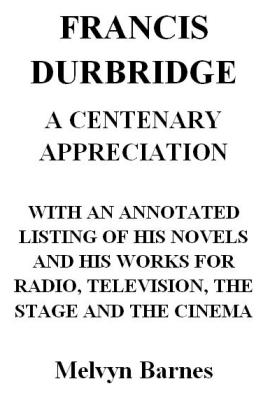 (click on flyer for more information)

If you have any comments or further information of interest, please e-mail webmaster@whirligig-tv.co.uk