Home > Adults' Programmes > Cookery Programmes
Cookery Programmes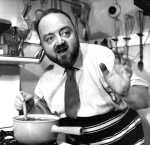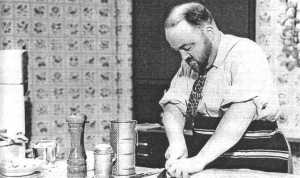 Philip Harben, bearded and striped apron clad, was BBC's great post-war chef. His 50's series included "Cookery" 1946-51, "Cookery Lesson" 1950, several one-offs in 1952-53, and "What's Cooking?" 1956. During one of his cookery programmes, Philip Harben went to retrieve a dish from the oven and promptly declared, 'Well, they're not quite ready yet. Goodbye everybody.' Later, when asked why he had finished the programme when there were several minutes still to go, Harben explained, 'It wouldn't have done any good, I forgot to switch on the oven!'
Philip Harben often used his personal rations (Britain was on war rations until about 1954) as ingredients. Harben showed his audience how to cook with what was available, and he was famous for his chips and steak and kidney pie. A former seaman, who was the spitting image of Falstaff, Shakespeare's gluttonous anti-hero, Harben sported a marvellous beard, a fruity BBC accent and always wore a striped apron over his stout belly.
His no-nonsense approach assumed his audience had never boiled an egg, much less whisked up a cinnamon and calvados souffle.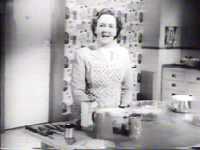 Click on picture above for video clip
Marguerite Patten was another of the first TV cooks. She popularised the one food stuff almost no one would even try to popularise, let alone succeed -- SPAM. Marguerite Patten was most often called, "the doyenne of British cookery" (but alternatively known as, "the doyenne of wartime cookery", "the doyenne of the tv kitchen", or "the Queen of ration book cuisine") and author of more than 165 cookery books. To say she's prolific is obviously a mild understatement, sales of her books are well over 17 million and of her recipe cards more than 500 million world-wide.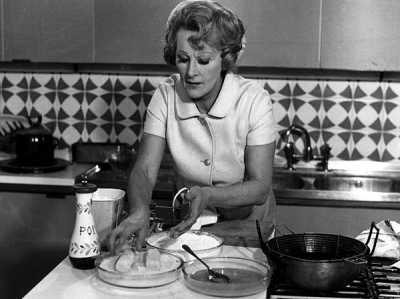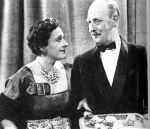 Kitchen Magic featured famed tele-chefs John (Johnnie) and Phyllis (Fanny) Cradock in this series in which they performed their unique brand of cookery to a studio audience. Fanny was an extraordinary woman. She was the first real celebrity TV cook with her evening gown, dangling earrings, pearls and bouffant hair. We remember her strange mask-like face on our black and white TV, ordering husband Johnnie about as she strutted between counter and cooker.
Johnnie was her stooge; she ferociously chased him around the studio and verbally lacerated him with cries of "Come on, Johnnie, hurry up." Fanny was the first to present food as a ritualised form of TV entertainment. A still repeated line from a Scottish TV chat show, with Fanny being interviewed by Bill Tennant, is the immortal: "I hope all your doughnuts turn out like Fanny's."
She was ridiculous, rather glamorous, but very frightening too. She introduced a new wave of sophisticated foods, including prawn cocktail. They soon moved over to ITV to present ITV's first cookery programme, where they quickly established themselves as the countries leading experts on all things culinary.
Fanny Cradock: First lady of food
Terrifying, strange and rather grand – and that was just her cookery. In the centenary year of Fanny Cradock's birth, John Walsh pays tribute to the original television chef

If you have any comments or further information of interest, please e-mail webmaster@whirligig-tv.co.uk