Home > Adults' Programmes > Cafe Continental
Café Continental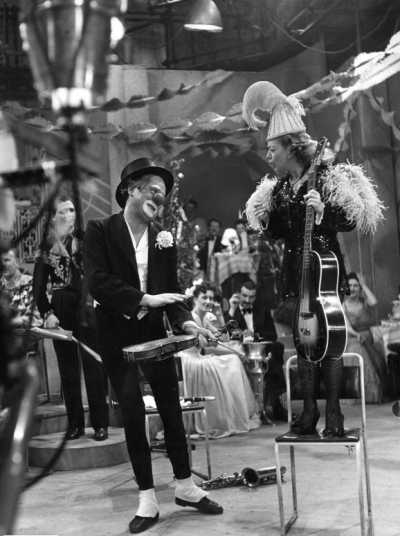 Café Continental (1947-53) was premièred as a spectacular, 45-minute cabaret show originally with Al Burnett as master of ceremonies; the introductory billing announced to the viewer that "Your table has been reserved by The Maître d'hôtel" (played by Claude Frederic).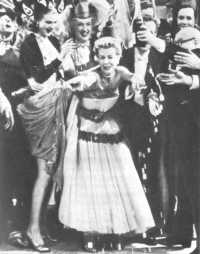 The programme had been devised and produced by Henry Caldwell; a variety format he had first produced for ENSA in the Middle East. A 1948 programme featured the Italian comedy singing quartet, Quatuor Cetra, three men and a girl who burlesqued everything from opera to swing and who in their own country dubbed all the sound tracks for Walt Disney cartoon films.
Perhaps one of the biggest scoops and attractions for Café Continental during the late 1940's was presenting Josephine Baker, famous star of the Folies Bergères, who appeared with her bandleader husband Jo Bouillon as a curtain-raiser for a special show on the following Tuesday with Eric Robinson and his Orchestra.
By early 195O, the Maître d' hotel, was played by Pere August, and the presenter was Helen Cordet.
The theme music used in the opening credits was the overture to The Merry Widow, by Franz Lehar.
Gerry George writes:
"Perhaps the most thrilling treat, in those far-off days, for a young and dream-filled lad, such as me, was to switch-on at 8pm, every other Saturday, for 'Café Continental' , which was hosted by the lovely Helen Cordet, assisted by Pere August, who announced, in a suitably upstage, French guttural accent: "Your table is reserved, as always".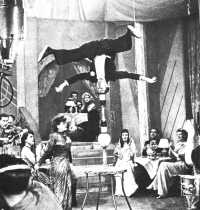 "There was a novel touch to the opening credits: A commissionaire walked up to your TV screen, released the blind on your taxi window, saluted you, and gestured as though he were opening the door of your taxi, before another liveried attendant beckoned you through the cordially-opened doors.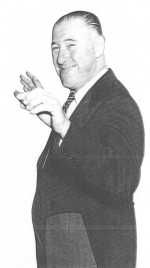 "There followed a five-star cabaret, with fittingly sensational, top continental acts, punctuated by the regular emergence of scintillating troupes of gorgeous, plumed, and satin-sheathed lovelies, whose glamour, dexterity and terpsichory was good enough to equal, and surpass, anything on the menu, at Paris' Moulin Rouge.
"At the end of the show, the welcoming procedure was reversed, and down came the taxi blind...and on it - surprise, surprise - were the credits, annotating the names of those who had performed in the evening's cabaret.
"So realistic was 'Café Continental', that I insisted on having in front of me, a mahogany coffee table - that I had made myself, at school woodwork - on which I stood a large bottle of Tizer, and a long-stemmed Champagne glass, thereby achieving the 'feel', of actually being 'there', in this fascinating nightclub atmosphere...at aged only 12 !"

If you have any comments or further information of interest, please e-mail webmaster@whirligig-tv.co.uk