Home > Adults' Programmes > Eric Robinson
Eric Robinson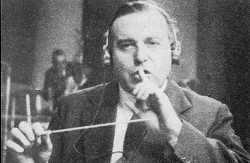 Eric Robinson and his Orchestra gave us hours and hours of wonderful musical entertainment, in his own, very easy-going style.
'Music For You' was a classical music programme introduced by Eric who also conducted the orchestra. It went to air live for an hour on a Wednesday evening once a month and featured artists like Hilde Gueden, Joan Hammond, Luigi Infantino and Annaliese Rothenberger. It was usually broadcast from Studio G at Lime Grove Studios with Crew 5 with Bernard Fox, the senior cameraman, and was produced and directed by Patricia Foy.
(Information from Derek Donoghue, ex BBC staff-member)
Eric was the brother of Stanford Robinson, another famous conductor of the period.

If you have any comments or further information of interest, please e-mail webmaster@whirligig-tv.co.uk