Home > Adults' Programmes > Other > British Programmes
Programme output for adults during the 1950's, included the items below. If you have any information about these or any other programmes of the era, we would be very grateful to receive it. Just e-mail the address at the foot of this page and we will try to feature them on their own pages
'How Do You View?' (1951) - was the first-ever comedy series on British television and starred Terry Thomas with his famous waistcoats, mononcle and cigarette holder. Written by Sid Colin and Talbot Rothwell, the programme opened on Terry in close-up with a very broad smile saying the classic lines, "How do you view? Are you frightfully well? You ARE? Oh, good show!".
In the show Terry was supposed to be a man-about-town complete with butler, a very decrepit character named Moulton, played by Herbert C. Walton. Avril Angers was Rosie Lee, 'the girl with the tea', Janet Brown was Miss Hap, Terry's secretary and Janet's husband Peter Butterworth, played the chauffeur, Lockit. The running joke was that, although Terry had a chauffeur, he hadn't a car.
Later in the show there was another spot where Leslie Mitchell (of Movietone News fame) used to interview Terry playing some strange characters such as the Rank Organizations's gong-man, a broken-down boxer or a Beefeater. The show's musical spot was filled by guests such as Dickie Valentine, Lita Roza, Adelaide Hall and once or twice by Jimmy Young. Jimmy played the piano and was a pop-singer of hits like 'Unchained Melody' and 'Too Young'. The show was broadcast live.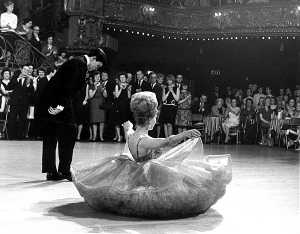 'Come Dancing' (Sept 29 1950) - was one of television's longest running programmes. It was originally conceived as a showcase for events from regional ballrooms, with professionals Syd Perkins and Edna Duffield offering instructions for viewers at home. It assumed the familiar dance contest format in 1953. The suits and dresses were a bit different then. The deviser of the programme was Mecca's Eric Morley. The comperes in the '50s were McDonald Hobley, Peter Dimmock, Sylvia Peters, Peter West, Brian Johnston and Peter Haigh.
'Picture Parade' was also co-presented by Peter Haigh with the actor Derek Bond and was a weekly review of the film world. The programme ran for many years and Haigh regularly interviewed visiting Hollywood stars, including Joan Crawford, Bob Hope, John Wayne, Tyrone Power and Anna Neagle.
The beautiful 'Yana' (Pamela Guard) was a frequent visitor to television who had her own show, in which she sang her seductive, hit-song: 'Climb Up The Wall'.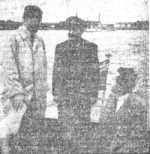 'Nick of The River' (1959) was a series about the Thames River Police. 'Nick' was ex-Detective Inspector D.H.C. Nixon who had written a book about his 34 year career in the Metropolitan Police, of which 20 years was spent in the Thames Police, and which became the inspiration for the series. Incidents in the series were fictional but the story of his career was authentic. The police headquarters were at Wapping Police Station and his 'beat' covered 38 miles of river from Teddington to Dartford Creek. He organised the detection of crime for the whole of London's riverside docks. Murder, theft, suicide, smuggling, drug trafficking.... they all came his way.
Starring George Baker as Detective Inspector Nixon with Martin Wyldeck as 'Tiny' Wainwright and Lane Meddick as Sgt. Flowers. (left to right in picture)
'The Good Old Days' - began in July 1953 from the City Varieties Theatre, Leeds, and Leonard Sachs was to become the celebrated chairman of a show that lasted for thirty years and featured 2000 artists. The assembled throng not only wore period clothes like the artists; they were encouraged to join in the songs too. All the money for their outfits, false beards, stick-on moustaches and side-whiskers came out of their own pocket, although some were known to cheat by only wearing costume from the waist up since only their top halves were visible on television. The other splendidly individual feature about "The Good Old Days" was the performance of Leonard Sachs. No act ever had a bigger build-up as he reeled off a list of sesquipedalian provincialisms (long words) with the audience reaching a crescendo of oohs and aahs as Sachs sounded increasingly constipated. Finally, as the atmosphere reached fever pitch, he would activate his gavel, shriek, "Your own, Your very own..." and often introduce an act that nobody had ever heard of. Each show would close with an exuberant exaltation from the Chairman to the audience to join in the chorus from 'The Old Bull and Bush' featuring the whole cast, "but chiefly yourselves". The programme was produced by Barney Colehan who also produced 'Have a Go' on the radio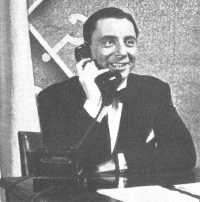 'Kaleidoscope' (1946-53) - began as a fortnightly magazine programme (every other Friday), presenting such viewer interest material as Iris Brooke describing antique treasures in 'Collector's Corner'; 'Word Play', a game of charades, played by members of J. Arthur Rank's Company of Youth (aspiring young film stars); Leslie Welch, 'The Memory Man'; and the comedy 'Watch that Faux Pas' with Max Kester as the Lecturer. 'Be Your Own Detective', a short thriller by Mileson Horton testing the viewers' powers of observation, started in 1947 with a theme along similar lines to 'Telecrime'. 'Puzzle Corner' was a slot in Kaleidoscope presented by Ronnie Waldman (right). Viewers in a pre-announced town would be invited to display a copy of the Radio Times in their front room window, if they wished to be considered for the programme. A house and family being chosen by the advance production team, the live programme would consist of a quiz, conducted by Ronnie Waldman by telephone, with the answers from the participants being heard. The programmes were introduced by MacDonald Hobley; edited and produced by John Irwin.
| | |
| --- | --- |
| Eileen Fowler's broadcasting career began on the wireless in 1954. In 1956 she established the Keep Fit Association. Before long she was on televison, surrounded by a gaggle of girls whose healthy, shining faces, and whose exhibition of the initials "EF" on their chests, proclaimed their devotion to the correct ideals. In 1961 the BBC suddenly dispensed with Eileen Fowler's services; still irrepressible, however, she published Stay Young Forever. There were also long-playing records to enable her devotees to persist with her exercises. By the early Seventies she was back on television with a new "dance-disco" fitness programme. | Video clip |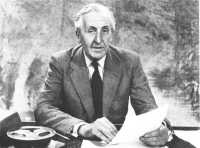 'Men in Battle' (1956) Introduced by General Sir Brian Horrocks (right) and produced by Huw Wheldon.
The Adventures of Brigadier Wellington-Bull (1959) - Starred Alexander Gauge with Valerie Singleton and Donald Hewlett.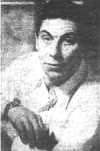 John Slater (left), television's well known story-teller, invited you to join him at Johnny's Place (1955)
The Lost Planet (1954) Scifi drama serial based on Angus MacVicar's books. A group of travellers journey to the lost planet of Hesikos in an atomic spaceship. Starred John Stuart as Dr Lachlan McKinnon, Geoffrey Lumsden as Lars Bergman, John Springett as Spike Stranahan, Mary Law as Janet Campbell, Joan Allen as Madge Smith and Peter Kerr as Jeremy Torant. (6 x 30 minute episodes). Also The Return to the Lost Planet (1954-55).
'The Dickie Henderson Show' - was one of those somewhat forgotten "curios of television", based on the deeds of a sophisticated, if often hard-pressed, song-and-dance man plus his wife (played in the series by June Laverick), scriptwriter and accompanist (Lionel Murton) plus various guests. Also 'The Dickie Henderson Half-Hour' in which he starred with Anthea Askey playing his wife (1959).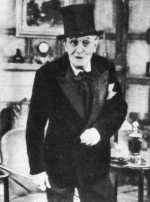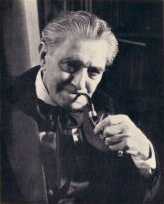 'Bransby Williams' - an elderly, rather threatening, seated figure (left) who used to do Sunday evening short readings from Charles Dickens and also Alexander Pope's poetry and prose straight to camera. Character changes were signalled by changing the camera's angle and his turning to face it.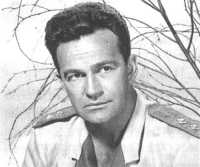 'African Patrol' (1958) Policing the East African territory of Kenya was the theme and setting for this action-adventure series. John Bentley (pictured right) played Patrol-Inspector Paul Derek, a safari sheriff and was later to appear in "Crossroads". (39 episodes)

African Patrol opening theme
'The New Adventures of Martin Kane, Private Eye' (aka Martin Kane, Private Investigator) (1957-58) Starred William Gargan as Kane with Brian Reece as Superintendent Page. A Towers of London Production for ABC TV, produced by Harry Alan Towers. (39x30-minute episodes)
Link for more information about Martin Kane
'Man From Interpol' (1959-60) starred Richard Wyler as Interpol Agent Anthony Smith with John Longdon as Superintendent Mercer.
The supporting cast included John Serret as the French Police Chief and Peter Allenby as Ricardi of the Italian Carabineri.
The series was based on cases of an Interpol Agent assigned to Scotland Yard.
In the U.S. some episodes of "Man From Interpol" were shown on
NBC's "Detectives Diary" series (circa 1961).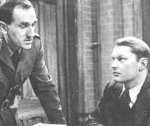 'Spycatcher' was based on the published wartime experiences of Allied counter-espionage wizard Lt.-Col. Oreste Pinto. The theme of the series was that with the German occupation of Europe there was a steady flow of refugees into Britain, all of whom had to be screened by Col. Pinto and his team of interrogators to prevent the infiltration of enemy spies. Bernard Archard played Pinto as the relentless spycatcher who, generally through a bit of verbal psychological warfare, usually got his man; in one particular episode forcing a confession out of a spy by the simple means of using Hitler's portrait as a dartboard!

Spycatcher Theme
'War in the Air' (1954) - A classic BBC documentary series from the 1950s chronicling the air war in World War Two. In its time, it was regarded as the definitive analysis and for twenty years it was part of the required viewing for all new RAF recruits.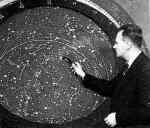 'The Sky at Night' (1957)
Introduced by Patrick Moore. Began 6 months before Sputnik was launched. With his terse diction and generally windswept appearance Moore has explored, charted, explained and analysed the great astronomical events of the past half century for the benefit of the late-night TV viewer.
'Shadow Squad' (1957-59)
Detective Vic Steele (Rex Garner) had resigned from the Flying Squad, tired of the rules and regulations which hampered his work. He set up his own agency, assisted by Londoner Ginger Smart (George Moon), and named it Shadow Squad. Often calling on the help of their cleaner, Mrs. Moggs (Kathleen Boutall), the pair investigated all manner of intriguing crimes. After 26 episodes, Steele was mysteriously written out and the agency was handed over to another ex-cop, Don Carter (Peter Williams). Steele was sent off on a mission to Australia, never to return.
It was the Carter/Smart combination that made this twice weekly show a success, although a spin-off entitled Skyport (see below), featuring Ginger as an airport security man, failed to 'take-off' and lasted only a year.
'The Trollenberg Terror' was a Saturday evening serial shown in 1956 and featured Ronan O'Casey.

If you have any comments or further information of interest, please e-mail webmaster@whirligig-tv.co.uk