Home > Adults' Programmes > Tonight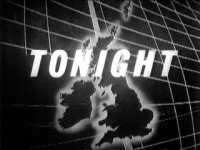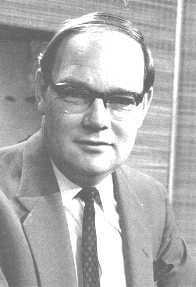 At 6.05pm on Monday 18th. February 1957, sandwiched between all the other programmes, the formidable Grace Wyndham Goldie launched Tonight. The early evening news was still only ten minutes long and Tonight was the equivalent of a daily newspaper's middle pages. It broke the mould of the conventions of the early '50s. Tonight believed in respect for its audience; in less respect for its interviewees than most of its precursors; in the idea that there was no such thing as a boring story - only a boring approach. But it treated most subjects as television fodder, chewed it well and then spat it out.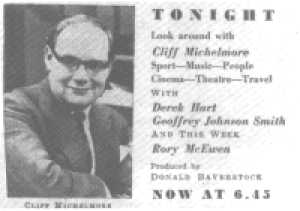 On the face of it Tonight was a teatime programme soon watched by roughly seven million viewers. Michelmore (left, who had graduated from producing 'All your Own') was for a time its best known face but, as the programme marched forward, many other famous faces were made on it. Macdonald Hastings, Fyfe Robertson, Slim Hewitt and Alan Whicker and others became hugely familiar as film reporters roaming the world for Tonight. Film directors of the calibre of John Schlesinger (fleetingly and unsucessfully), Jack Gold, Kevin Billington and Michael Tuchner joined the team. Tony Essex was a film editor, an exceptionally skilled influence. The back-room triumvirate of Donald Baverstock ( who went on to run Yorshire Television), Antony Jay (author, top-flight consultant and co-creator of 'Yes Minister') and Alasdair Milne (later Director General of the BBC) were formidable controllers of the operation. In the studio, which was quite simple for the time and required no expensive equipment financing to host the show, Michelmore, Derek Hart and Geoffrey Johnson-Smith became household names and faces along with reporters Kenneth Allsop, Christopher Brasher, Julian Pettifer, Brian Redhead and Polly Elwes.
Its infuence on television since cannot be ignored
Tonight went on the air from 6:05 to 6:45 every weekday evening, with the pop programme Six Five Special filling the space on Saturdays and quickly established itself a regular audience.
| | |
| --- | --- |
| | The picture above shows Producer Donald Baverstock and Cy Grant (left), Janette Fairer (centre) with Cliff Michelmore and Jonathan Miller (right) |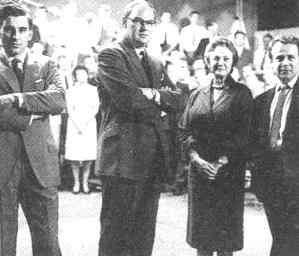 Pictured (above) from left to right, Alisdair Milne , Cliff Michelmore, Mrs. Grace Wyndham Goldie and Derek Hart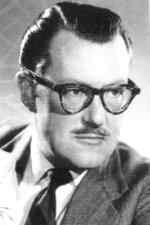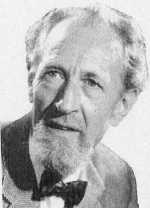 Fyfe Robertson (left), Alan Whicker (right), MacDonald Hastings, Trevor Philpott and John Morgan provided outside reports; film cameraman Slim Hewitt contributed dead-pan cockney pieces written by Tony Jay, and the film editor was Tony Essex.
For a time it was directed by the urbane and supremely unflappable Ned Sherrin. He needed to remain calm, for more often than not the programme was literally put together on the air while film reports were being biked across London, or the sound was being dubbed elsewhere in the building.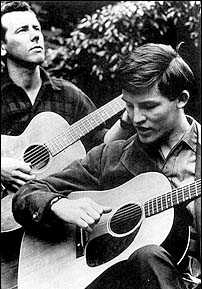 Cy Grant would sing, ("Bringing you the news you ought to know, on Tonight's topical calypso") and Robin Hall and Jimmy McGregor sang accompanied by their guitars. Rory McEwan also alternated from time to time with Cy Grant. Elaine Delmar also sometimes provided musical interludes.

Robin Hall & Jimmy McGregor audio clip
It had a catchy signature tune called "Tonight and Every Night".
The programme would always finish with Cliff saying "That's all for tonight, the next 'Tonight' will be tomorrow night. Until then, goodnight".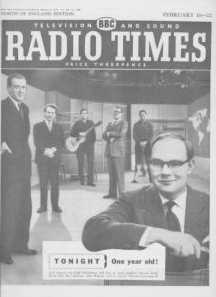 A Memory of 'Tonight' from Andrew Filmer
Dear Whirligig,
As a child I used to look forward to watching "Tonight" after returning from school and having had my evening meal. I usually found it very entertaining. One particular item that stayed in my memory concerned a man who had seen the film "The Al Jolson Story" perhaps fifty or sixty times. He had recently returned from his honeymoon and had chosen a somewhat unlikely location for such an event, on account of the fact that the film was showing in a local cinema. He was interviewed in the studio by Derek Hart, I think, together with his new wife.
She appeared fully supportive of her husband's obsession and it seemed from the interview that she was quite happy to go and see the film several times during their holiday. Even at my tender age the pair appeared very strange.
The high spot of the interview came towards the end, when the interviewer said to the man that he believed that he did Al Jolson impersonations and would he do one for the programme. Without much prompting, except from his adoring wife, the man then went down on one knee and proceeded to do an absolutely dreadful impersonation of Al Jolson in a voice that showed little sensitivity to musical pitch.
As he was singing, the camera panned back. First one saw his wife watching him with fond admiration and then it panned back further to show more of the studio. This was a moment of pure Fifties television. One could see cameramen, technicians and even some of the presenters, who, out of sight of the man and his wife, were for the most part trying to suppress their laughter. Some appeared to be finding this no simple task, and were almost doubled up as if in agony. It was superb spontaneous television that sadly we do not see today.
Tonight was a super programme and even after so many years I can still recall some of the specific items, but this one was for me the best and the most memorable.
Andrew Filmer.

If you have any comments or further information of interest, please e-mail webmaster@whirligig-tv.co.uk